Indiana overcomes slow start in 79-39 rout of Hillsdale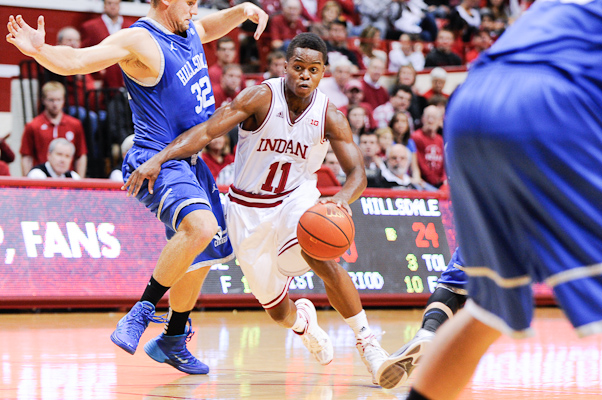 With Indiana trailing 13-5 at the under-12 timeout in the first half against Hillsdale (Mich.) College on Monday evening, silence took over Assembly Hall.
Fans were witnessing the Hoosiers — the defending Big Ten champions — trail by eight points to a Division II school (Hillsdale led 13-2 at one point). Indiana's own players were quiet, but they were not disappointed. They were determined to shake off their bad start.
Indiana followed that timeout with 11:37 remaining in the first half by producing a 74-26 run that lasted until the final buzzer, topping the Chargers by 40 points in the Hoosiers' final exhibition of the preseason.
"We knew what we wanted to do — we had a gameplan — but we just weren't as active as we needed to be," Indiana coach Tom Crean said after the game. "So the mind was right but the activity wasn't great."
In that huddle, with the team down eight points and already with six turnovers, Crean and his staff emphasized the need to stick together and raise their effort, both offensively and defensively.
After that timeout, Indiana went on to outscore the Chargers 28-11 for the remainder of the half.
"I think we can just learn from that to not get down early," sophomore Yogi Ferrell said, "Because especially when we get into conference play, once you're down, you're down for a while."
The way Indiana came back from that timeout, though, is what stood out in Crean's mind. In those final 28 minutes, the Hoosiers forced 14 turnovers and deflected the ball 64 times. Indiana ended the game with 13 steals, three more than in their earlier exhibition against Southern Indiana.
As Crean said on Sunday, his team needed to learn that its defense — not only its offense — truly creates scoring opportunities. Well, it appears his team is slowly starting to understand what he meant.
"It's going to start on defense for us," freshman Devin Davis said. "And then we'd like to get out and run and always play together."
Crean continues to adjust lineups
With an inherent lack of guard depth on Indiana's roster this season, 6-foot-8 sophomore Jeremy Hollowell continued to play guard on Monday evening, starting for the Hoosiers at the position.
With only three natural guards on scholarship — Ferrell, senior Evan Gordon and freshman Stanford Robinson — Hollowell has been forced to provide depth away from his natural position at times during games.
"He has to play in the backcourt for us this year, and is that natural for him? Probably not, but that's what we have to do," Crean said. "We don't have a lot of what you'd characterize as guards. That's why recruiting is so important. And that's why it's been such a huge focus for us, because we don't have that."
But even outside of using Hollowell as a guard, Crean experimented with many lineups on Monday. Take, for example, having Gordon, freshman Troy Williams, Hollowell, freshman Noah Vonleh and freshman Luke Fischer on the court at the same time. Or having Ferrell, Gordon, Robinson, freshman Collin Hartman and sophomore Hanner Mosquera-Perea on the court.
Such combinations occurred Monday night, and with a team that is so athletic and versatile as this one, Crean says he expects that might continue into the Hoosiers' regular-season opener on Friday night against Chicago State.
"When we were big and when we were in our smaller lineups, we were still switching everything," Crean said. "So, I think to us, it's more about the versatility of our lineups. We want to have great versatility."
Sheehey injured, but Crean is optimistic
With 14:27 remaining in the second half Monday night, senior Will Sheehey collided with Gordon near the north baseline and went down injured.
According to reports, Sheehey said that he hurt his calf, however he quickly got up and did not return to the game. After the Hoosiers' 40-point victory in which Sheehey scored 12 points, Crean told reporters that although Sheehey is sore, he remains optimistic that Sheehey won't miss any extended time.
"I think we're just trying to figure out exactly what happened there," Crean said. "I think he just kind of got bumped by Evan on that side out-of-bounds play. He's sore, but he'll go through the process of the doctors being with him. But I don't anticipate — I'm hopeful — that there's not anything that would be dramatic there."
Other notes:
· With Robinson and Davis seeing their first game action of the season, 11 Hoosiers got on the board Monday evening. Ferrell led all Indiana scorers with 14 points, and Sheehey followed with 12 of his own. Robinson and Williams had nine points each, and Vonleh finished two points and one rebound short of a double-double. Davis scored five points in 12 minutes of action.
· As Crean adjusts his team to the new NCAA hand-checking rules, referees called a combined 47 fouls Monday evening. Hillsdale was called for 28 of those fouls, and Indiana shot 23-of-35 from the free throw line on the night.
"The game is being called so differently," Crean said. "And who makes the adjustments, who understands it best, who can apply it and then retain it as they go through it, those are the teams that are gonna be successful. There's going to be some wild, wild games the first month of the season."
Filed to: Devin Davis, Tom Crean, Yogi Ferrell