Five takeaways from Indiana's win over Hillsdale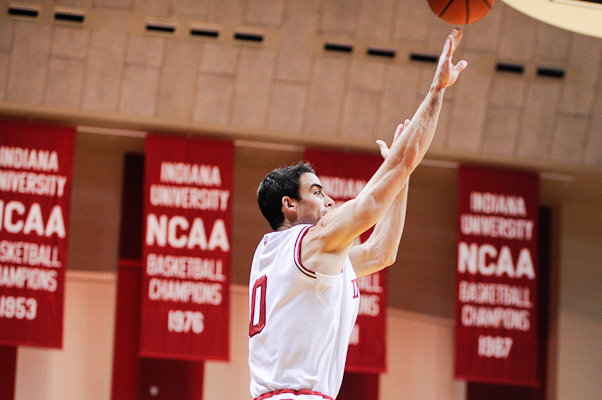 In a final tuneup before Friday's season opener, Indiana beat Hillsdale College, 79-39, on Monday night at Assembly Hall.
Here's a look at five takeaways from Indiana's exhibition win:
· Sheehey not forcing the issue offensively: With the scoring that Indiana lost from last year's Big Ten championship team, replacing that production is a major storyline going into the season. One guy who isn't attempting to force his way into a more prominent scoring role is Will Sheehey. This is a positive development for Indiana because Sheehey has always been a player who moves well without the ball, picks his spots and produces with efficiency. In the two exhibition games, Sheehey is 10-of-18 from the field and while his six turnovers are more than we've grown accustomed to, the senior forward appears to be making a seamless transition from Big Ten sixth man of the year to a starter.
· Robinson makes a strong first impression: After sitting out the first exhibition game with a bruised knee, Stanford Robinson came off the bench Monday night and delivered the following line: nine points (3-of-3 FG, 3-of-4 FT), two rebounds, two assists and two steals in 11 minutes. Robinson was effective both off the dribble in the halfcourt and in transition. But it's his energy on defense that may eventually earn him a spot in Indiana's starting lineup. "I think Stan got his fuel from defense," Yogi Ferrell said of the freshman's debut. "Stan has long arms, is a great on-ball defender, and gets many deflections.He was one of the top three leading deflections when he was healthy for practice. Once his defense got going he flowed within the game and he was driving the ball well and finishing."
· Vonleh struggles from the line again: Whether it's a blip on the radar or something more indicative of what's to come, Noah Vonleh is now 0-for-8 from the foul line through Indiana's first two exhibition games. As a player who projects to get to the foul line regularly and who is easily IU's best post player, Vonleh's free throw percentage carries importance. At Big Ten media day last week, Tom Crean said Vonleh has been fine from the foul line in practice, but thus far, what is happening in practice hasn't carried over to games. It's important for Vonleh to get off to a respectable start from the line on Friday to build confidence and to keep the free throw struggles from becoming a lingering issue.
· In the preseason, Ferrell has been Indiana's most effective player: Yogi Ferrell appears to have put in significant offseason work on his game and the early returns are very encouraging. The loss to Syracuse last season in the Sweet 16 clearly left a sour taste in Ferrell's mouth and the sophomore point guard knew his improvement had to start with his perimeter game. In the two exhibition games, Ferrell finished 8-of-15 from behind the 3-point line. We've witnessed guys like Christian Watford and Victor Oladipo come through Bloomington in recent seasons who have transformed from below average 3-point shooters as freshmen to above average as upperclassmen. If Ferrell can keep defenses honest with his jump shot, it opens things up for him to attack off the dribble.
· Better communication fuels defensive effort: Regardless of the final score, this wasn't a win that came particularly easy for Indiana. The Hoosiers led by just nine at halftime and trailed by as many as 11 early on. So what changed that allowed Indiana to take command? Defensive communication, according to Ferrell.  "I think the main thing that changed was our communication. I felt that when we first got out there, no one was really talking to one another – leaving guys on islands," he said. "We can't win when we're leaving guys on islands. We need to have a collective unit. After that first TV timeout, we said that we need to talk more and give better effort on defense and that will lead to our offense and get easier buckets for us." Hillsdale coach Jason Tharp agreed  that Indiana began to lock in defensively as the game moved along. "They really guarded us," Tharp said. "I thought they did a great job with their switching and their length defensively is incredible. What they do to you is they take away your opportunity to make a scoring pass because of their length."
Filed to: Noah Vonleh, Stanford Robinson, Will Sheehey, Yogi Ferrell