Crean looking for Hoosiers to establish identity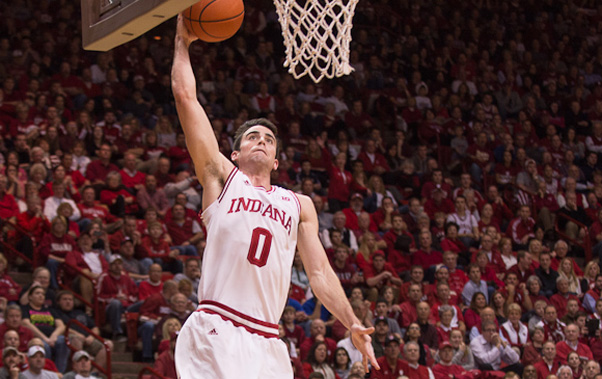 Tom Crean is anxious to get his team back on the court. He said it last week before Indiana's exhibition opener and said it again Sunday night before the Hoosiers' exhibition against Division II Hillsdale (Mich.) College tonight.
Heading into a 2013-2014 season in which the Hoosiers have only two upperclassmen on scholarship, Crean has been dealt a challenge he hasn't faced in multiple years: a young team that, he says, has a long way to go.
"We've got a ton of upside," Crean said Sunday night, "But we've got a long way to go to get to that upside."
Despite beating Southern Indiana, 83-68, on Oct. 26, Crean has had his fair share of frustrations through the first few weeks of practice. Trying to unlock athleticism and defensive effort hasn't been easy, yet he emphasized the need for those two aspects of Indiana's game to be successful if they want to win.
Faced with that challenge, Crean said he already wants this team to establish an identity. Yes, it's early, "probably very early" according to Crean, but it's one of the only ways he thinks the team will improve. That is, if they can lock into it.
"I've got to establish, for them, what their roles are right now," Crean said. "And it's a little early for that — it's probably very early for that — but get ourselves a sense of what our expectation level is when it comes to shooting the ball, who's shooting the ball from where, the ball handling, the level of screening we have to have, the level of rebounding that we have to be at, all of that.
"With a young team, it's really important that we do that. But I have to put my hands up sometimes with no idea where to go with some of that right now because we really are so young. They're working hard, but they just have to understand how to compete just a little bit longer."
Building an identity, Crean hopes, will also help eliminate some of the other major holes he thinks he sees in this team. In practice, players aren't pursuing the ball to the level he wants. The physicality isn't there. The offense is creating the defense.
In fact, heading into tonight's exhibition, he believes turnovers will be the biggest issue. Against Southern Indiana, the Hoosiers turned the ball over 17 times. Compared to last season, Indiana reached that number in only five games.
"Like I told the team, you're never going to dominate the games on fast-break points, but now you add the fast-break points, you add the hustle points and you get the points off turnovers and now you've got a really good chance to be good," Crean said. "But at the same time, we're trying to be fast. We're trying to be very, very up-tempo, so there are certain turnovers that are going to come with that.
"But it can't come from trying to do things that aren't there. It can't come from trying to make plays that can't be made. And we've got to learn and understand the difference."
Even though the Hoosiers lost 77 percent of their 3-point production from year ago, that doesn't mean Crean wants his players creating their own shot. In fact, as Crean tries to clean bad habits from the roster, selfish play is the last thing he wants to see.
"That's not what our team does," senior Will Sheehey said. "No one is going to try to create their own shot. If it's a shot-clock situation or something, Yogi's going to be the guy with the ball at the end of that. So I really don't think either of us are really going to be doing any isos or creating our own shots because that's not how our team plays."
As Crean tries to build this team, one in which they challenge shots better, use their athleticism to their advantage, show more accountability and leadership, limit turnovers and yet continue to play at a furious pace, Hillsdale presents the perfect challenge at the moment.
The Chargers are coming off an 85-84 overtime loss to Toledo on Sunday in which they attempted 30 3-pointers and made 13 of them. Against Valparaiso, they attempted 25 3-point shots. Valparaiso only beat Hillsdale by single digits. Toledo needed a buzzer-beater to sink the Chargers.
Tonight's exhibition won't be easy, Crean said. But then again, he wouldn't want it any other way.
"There's certain things we're going to want to take away in the game, and how we do that is going to say a lot about our improvement level because that's something they haven't had to do," Crean said. "How we play certain screens, how we play certain plays, how we play certain players, and that's something they're going to have to be very good at doing down the line.
"The old, corny term of 'play the right way' is really important right now, too. And our 'play the right way' may be a little bit different than some others because we want to play so fast, but we've got to take care of the ball and make the right decisions."
Other notes:
· Crean said that both Devin Davis (undisclosed) and Stanford Robinson (knee) have been cleared to play in tonight's exhibition. Last week was the first this preseason that each player fully participated in practice.
· In Sunday's game against Toledo, Hillsdale forward Tim Dezelski went 8-of-9 from beyond the arc and led all scorers with 29 points. The 6-foot-6 senior was the Chargers' leading scorer last season, as well, and averaged 16 points per game.
Filed to: Tom Crean, Will Sheehey