Announcement primer: 2014 wing Devin Robinson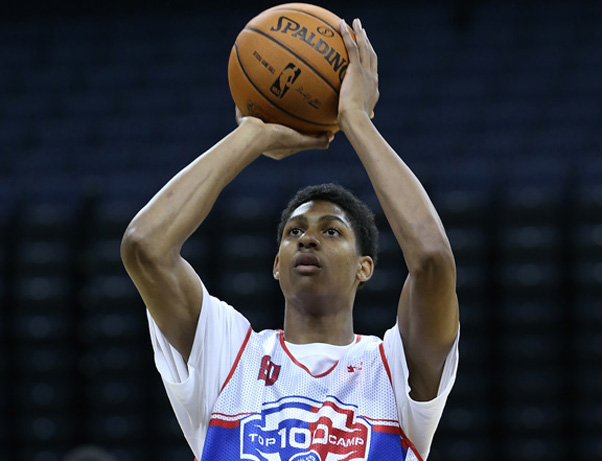 On Wednesday afternoon, Florida, Indiana, Notre Dame and Oklahoma State will learn where class of 2014 wing Devin Robinson will play in college. Johnson, a senior at the Christchurch School in Christchurch, Va., will announce his intentions at 3:30 p.m. ET in his school's boardroom.
Here's our primer for the announcement with everything you need to know:
The Essentials
Forward, 6-8, 178 pounds, Christchurch (VA.), Richmond Squires
247Composite: 5-star (21); ESPN: 4-star (28); Rivals: 5-star (20); Scout: 4-star (24)
Schools: Florida, Indiana, Notre Dame, Oklahoma State
Official visits (in order): Oklahoma State, Notre Dame, Indiana, Florida
The Primary Contenders
Robinson has four finalists and he's taken official visits to each school this fall. He initially had Connecticut on his final list but canceled his trip to Storrs a couple of weeks ago. Robinson hasn't done any interviews since August, which has made it extremely difficult to get an idea on the direction he's leaning. His high school coach, Ben Thompson and AAU program, the Richmond Squires, have handled the majority of the media requests for interviews.
· The Florida recruitment: The Gators got the final crack at Robinson as Billy Donovan, assistant Rashon Burno and staff hosted him and his family for an official visit the weekend of Oct. 11. The timing for the visit was interesting as there was no football game in Gainesville and no public event for the basketball team. The visit consisted primarily of time spent with the staff and players and also included several opportunities to observe practice.
· The Indiana recruitment: Indiana really turned up the heat on Robinson over the summer, offering him a scholarship on the night of the 2013 NBA Draft. His visit to Bloomington was for Hoosier Hysteria, a prime recruiting weekend for the program. Robinson was also able to observe practice in Bloomington.
· The Notre Dame recruitment: The Fighting Irish pushed heavily for Robinson beginning last spring, offering the five-star wing a scholarship in May. Assistant coach Anthony Solomon is, like Robinson, a Virginia native, and did a solid job building a relationship with both the player and his family. Notre Dame was the second of Robinson's four official visits.
· The Oklahoma State recruitment: Oklahoma State received the first official visit and was aggressive in its pursuit as members of the staff reportedly showed up in his hometown shortly after he arrived home from his visit to Notre Dame. With Marcus Smart and LeBryan Nash likely headed off to the NBA after this season, the Cowboys pitched Robinson on the opportunity to come in and make an immediate impact.
The Timing
The belief is that Robinson has been torn with the decision as his official visits wrapped up more than two weeks ago and he's taken some time to make an announcement.
A lot of the early buzz in his recruitment was with Connecticut, but the Huskies are no longer in play. More recently, Florida and Indiana are the two schools who have received the most attention in the 247Sports Crystal Ball, with the Gators getting a late charge of picks.
The Fit
· At Florida: The Gators have had success sending wing players to the NBA and a decent comparison for Robinson might be Corey Brewer, who won a pair of NCAA titles in Gainesville. As for where he fits on their current roster, Robinson's ability to shoot and handle the ball fits well into Florida's system.
· At Indiana: Indiana's player development is hard to argue with as the Hoosiers just put two players in the top four of the latest NBA Draft and Tom Crean has developed Steve Novak, Wesley Matthews, Dwyane Wade and others for prosperous pro careers. Crean loves players who can play multiple spots, which is a big part of Robinson's game.
· At Notre Dame: The Fighting Irish pitched Robinson on being able to play some games closer to home with their move to the Atlantic Coast Conference. Notre Dame hasn't produced a ton of pros under Mike Brey, which might have hurt its pursuit with a player who clearly aspires to reach that level.
· At Oklahoma State: Oklahoma State assistant Butch Pierre developed a solid relationship with Robinson and his family and having two future pros in the program in Smart and Nash was a positive factor for the Cowboys. Oklahoma State also plays an uptempo style that would suit Robinson well.
Robinson highlights
How to follow the announcement 
We'll have a quick story posted as soon as the announcement is made and you can also follow us on Twitter at the link below to get the news quickly. We'll also be sure to add any video streams if they become available between now and tomorrow.
In closing, please remember this is the college decision of a high school kid. Please adhere to the comment standards that have been set forth over the past six years here on Inside the Hall regardless of the outcome.
(Photo credit: Kelly Kline/Under Armour)
Filed to: Devin Robinson