Announcement primer: 2014 forward Goodluck Okonoboh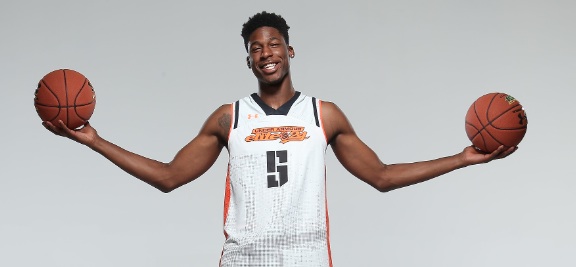 Tonight during halftime of an ESPNU college football broadcast, Indiana, Ohio State and UNLV will learn where class of 2014 forward Goodluck Okonoboh will play next season. Okonoboh, a senior at Wilbraham and Monson Academy in Massachusetts, will announce his intentions a little after 9:00 p.m. ET (assuming the first half of the Louisiana-Monroe and Western Kentucky first half doesn't run long) from a studio in Bristol, Connecticut.
Here's our primer for the announcement with everything you need to know:
The Essentials
Forward/Center, 6-9, 220-pounds, Wilbraham & Monson Academy (MA), Mass Rivals
247Composite: 4-star (24); ESPN: 5-star (21); Rivals: 4-star (32); Scout: 4-star (37)
Schools: Duke, Florida, Indiana, Ohio State, UNLV
Official visits: Indiana, Ohio State, UNLV
The Primary Contenders
Okonoboh has five finalists, but he's only taken three of his available official visits. That means it's a safe bet to assume he'll pick between Indiana, Ohio State and UNLV despite also listing Duke and Florida. For a long time, Indiana was widely considered a school to beat for Okonoboh, but opinion among national recruiting writers, most notably Evan Daniels of Scout and Jeff Borzello of CBS, has the Hoosiers on the outside looking in.
· The Indiana recruitment: Indiana really picked up the intensity with Okonoboh last spring with a visit to the Wilbraham and Monson campus, where Tom Crean and Kenny Johnson offered him a scholarship. A close friend of Noah Vonleh, Okonoboh visited Bloomington the weekend of Sept. 13-15 with his parents.
· The Ohio State recruitment: The Buckeyes joined the pursuit a bit later, offering Okonoboh in July after the adidas Invitational, but were front and center for most of his games throughout July. Ohio State received his second official visit on Sept. 27 for a football game against Wisconsin. LeBron James was also on campus.
· The UNLV recruitment: The Running Rebels also offered Okonoboh in July, but like Ohio State, have apparently made up significant ground as of late. UNLV was his final official visit, which took place immediately after his trip to Columbus. Khem Birch, who transferred to UNLV from Pittsburgh, is also a friend of Okonoboh.
The Timing
Okonoboh apparently saw what he needed to see in his three visits because he's announcing less than a week after concluding his trips to Ohio State and UNLV. Like many recruits who wait until the fall to decide and embark on multiple official visits, Okonoboh appears ready to lift a giant weight off of his shoulders and move on with his final year of high school.
The Fit
· At Indiana: Indiana has Luke Fischer, Hanner Mosquera-Perea and Peter Jurkin on its roster, but Okonoboh would bring a different element because of his unique shot blocking ability.
· At Ohio State: In Columbus, the Buckeyes will feature two senior centers for the 2014-2015 season in Amir Williams and Trey McDonald, but Okonoboh would certainly challenge for minutes from day one.
· At UNLV: The Running Rebels staff is no doubt putting the hard sell on Okonoboh as being a player who can come in and compete for a starting job from day one and the fact that Anthony Bennett just left the school as the No. 1 pick in the 2014 NBA Draft probably doesn't hurt, either.
Okonoboh highlights
How to follow the announcement 
Tune in to ESPNU at halftime of the Louisiana-Monroe vs. Western Kentucky football game tonight (kickoff is at 7:30 p.m. ET) to hear Okonoboh's announcement.
In closing, please remember this is the college decision of a high school kid. Please adhere to the comment standards that have been set forth over the past six years here on Inside the Hall regardless of the outcome.
(Photo credit: Kelly Kline/Under Armour)
Filed to: Goodluck Okonoboh