The Inside the Hall Mailbag: October 1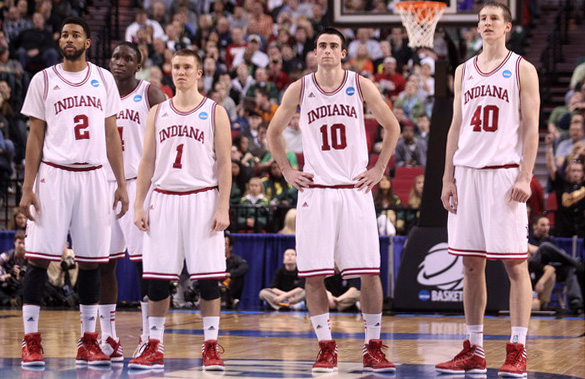 The Inside the Hall Mailbag is a collection of questions tweeted to us via Twitter (@insidethehall) and sent to us via our Facebook page. Submit your questions and we'll answer as many as we can.
Aaron Miller writes: Hey guys, love the site and appreciate all your hard work. I wanted to get your take on the attitude of this year's team compared to last year's. I absolutely loved Hulls, Watford, Zeller and Oladipo leading last year's team and they will all be revered as all-time great Hoosiers, but did you ever get the feeling that they were almost too nice? All four were very stoic during games, and it occurred to me that the more aggressive and outspoken attitudes of this year's leaders, Sheehey and Yogi, could bring a beneficial edge to the entire unit. Thoughts?
Thanks for the question. I don't agree that the four players you mentioned were stoic, but maybe some perceived it that way because of on court personalities. All four were intense competitors who really helped transform the program's culture back into one of winning. Their body language might have been different from a guy like Will Sheehey, but it's not fair to say that Cody Zeller was stoic just because he was quiet at times on the court. That's just his personality. I just don't buy the narrative that any of the four guys you mentioned could be considered "too nice."
As far as the edge of Sheehey and Ferrell being beneficial to a younger team, I think their experience in winning the Big Ten and away from Assembly Hall will certainly help to guide one of the youngest rosters in the conference. Sheehey especially will have a unique perspective to share because he joined the program at a low time and was there during the rise as well. — Alex Bozich
mcred24 writes: if CTC is not successful recruiting any of the remaining targets, could this be a one player class, or could/would other targets emerge this late in the game?
If Indiana only lands Robert Johnson in the fall, which is something I don't see happening, other players will be available in the spring due to coaching changes that Indiana would surely be interested in recruiting. But to answer your question directly, I don't view a one man class as much of a realistic possibility. — Alex Bozich
bkmaynard writes: Is Blackmon still an option and if not will they take one more guard in this class or just stay pat?
James Blackmon Jr. took an official visit to Michigan this past weekend and has an official visit scheduled to Kentucky for the weekend of Oct. 18. He has stated that he plans to take an official visit to Indiana as well. Indiana has never stopped recruiting him since his decision to reopen the process. I'm not sure how Blackmon Jr. views the Robert Johnson commitment, but Indiana still needs more backcourt players, so the fit is there. There's no doubt Indiana would like to add Blackmon Jr. back to the 2014 class and whether that happens could depend heavily on the recruitment of Devin Booker, another two-guard that both Michigan and Kentucky are targeting. — Alex Bozich
retrojay23 writes: I may have missed this in the past, but how long is IU's contract – with Adidas? In some instances, I would say Nike (schools) beats out Adidas (schools) for player's just because of the association with AAU teams, etc. Do I think it's right? No, but Nike has always had the better gear, etc. This question may not be entertained, but personally, I do know this can sway player's away from schools, depending on Brand Affiliation. Keep up the good work.
Indiana signed an eight-year extension with adidas in April of 2008, which means the deal runs through the 2015-2016 year. I can't speak to the theory of recruits picking a school because of shoe affiliations at other programs, but Indiana's roster has players that have come from both Nike and adidas programs. Stanford Robinson (Team Takeover) and Troy Williams (Boo Williams) both come from prominent Nike programs and Robert Johnson, who just committed last month, also played with Boo Williams. — Alex Bozich
Geoff_85 writes: What does Indiana need to be a top 4 seed or better in the NCAA tournament this year? What will they need to retain the Big Ten title? Man, it still feels good to say that.
Tough to put a hard number on what could be a cutoff for a four seed before the season even begins, but I would think a 11-2 non-conference showing with a 12-6 mark in the conference could be a good starting point for getting on the four line.
As for winning the Big Ten, Indiana is still the champion, but Michigan State is a clear cut favorite to win it this season. And the competition right behind the Spartans is brutal as both Ohio State and Michigan are being picked by some as preseason top ten teams. The key to winning any league is protecting home court, winning the road games you should and then stealing a game or two. Last year, Indiana was able to overcome a couple of home stumbles in conference by winning games at Ohio State, Michigan State and Michigan. Bottom line: The team that wins the Big Ten is going to win tough road games, so that's what Indiana or any other team will need to do to win the league. — Alex Bozich
Brklynhoosier writes: A question for the crystal ball (come on Alex — you were one of the few who pegged the RoJo commitment — time to spread your wings): which player will be the biggest surprise on this year's team?
I'll go with Stanford Robinson. I think he's coming in at a position of need and he's not really being talked about too much, either, so you could classify him as a surprise. Stan has a chance to become a fan favorite because he's really a likable kid with a great personality and he can contribute in a variety of areas. Defensively, he has the tools to contribute right away and he's Indiana's biggest guard on the roster at 6-foot-4. His perimeter shot is still developing, but he's effective at getting into gaps off the dribble and in transition. He's talked about less than Noah Vonleh, Troy Williams and probably Luke Fischer as well, but I'd look for Robinson to get his share of backcourt minutes as a freshman. — Alex Bozich
mcoghlan writes: What do you think the best and worst case scenario is for the team this year?
Best case scenario would be Sheehey and Ferrell making a smooth transition to larger offensive roles and guiding a young but talented roster to continuous improvement on its way to a run in March. In any scenario, the Indiana team you see at the beginning of the season is going to be different than the one you see in March, but the biggest area to watch is defense. Indiana's offense will surely fall back from an efficiency standpoint because of the roster departures, but the Hoosiers cannot afford to let the defense take a significant tumble.
Worst case would be not being able to overcome all of the youth on the roster and a failure to establish a reliable enough post presence to be able to overcome the loss of Cody Zeller. Whether you noticed or not, Zeller's efficiency was a major reason Indiana won big over the last two seasons and he's no longer around. As mentioned above, Indiana cannot afford to fall below the defensive standards of the 2011-2012 season (64th nationally) because the offense, as good as it may end up by season's end, is surely to take a few steps back because of Zeller leaving and losing elite 3-point shooters. — Alex Bozich
Dis.cbet writes: Your guess at starting 5?
As of right now, I'll go Yogi Ferrell, Evan Gordon, Will Sheehey, Noah Vonleh and Hanner Mosquera-Perea. That's purely a guess at this point and unlike last season, I think you'll see plenty of fluctuation in this year's lineups. — Alex Bozich
Filed to: Twitter Mailbag