Big Ten's Top 25 Players: 5-1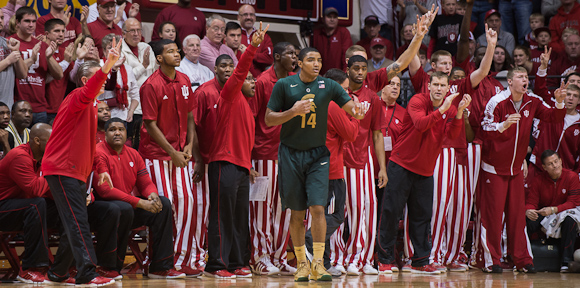 With the official start of practice less than three weeks away, Inside the Hall and UM Hoops have partnered to bring you a preseason breakdown of the top 25 players in the Big Ten for the 2013-2014 season.
Our selection process involved much deliberation to arrive at a list that we hope will provide plenty of reaction and debate. The series will be broken into five parts (25-21, 20-16, 15-11, 10-6) and our final installment of players 5-1 is available below:
5. Glenn Robinson III, Michigan (6-foot-6, wing, sophomore)
33.6 mpg, 11 ppg, 5.4 rpg, 1.0 spg, 61.1 eFG percentage
Robinson could be the first players picked from the Big Ten player in next year's NBA Draft but he is fifth on our list because so much of his NBA value is based on potential. Robinson was the 10th most efficient offensive player in the country, and most efficient player in the Big Ten last season. At times his offense came so easy that it was taken for granted. He makes the game look simple because of his raw athleticism and the smooth nature of his game, but he averaged 11 points and five rebounds per game as a freshman on a team that made the Final Four. He did have the luxury of the nation's best point guard setting him up and the majority of his production came from residual action. Two-thirds of his made field goals were assisted but Robinson still deserves credit for finishing whatever opportunities were presented to him.
Trey Burke is gone this season which means Robinson will have to prove that he can create his own offense. John Beilein emphasizes that it will be important for his future lottery pick to learn the difference between "running a play and being a player". His list for off-season improvements starts with improving his 3-point consistency (just 31 percent in Big Ten games) and developing a dribble-drive game from the wing.
4. Adreian Payne, Michigan State (6-foot-11, big, senior)
25.6 mpg, 10.5 ppg, 7.6 rpg, 1.3 bpg, .8 spg, 57.8 eFG percentage
Payne has always had length, athleticism and talent. That much has been obvious since high school when he was rated as a consensus top-30 recruit.  But every prospect develops at a different rate and Payne has taken the gradual route to success. He didn't set the world on fire as a freshman, averaging 2.5 points and 2.3 rebounds per game, but year-by-year he's added to his game and his production has increased. After opting to return to school this season, he should have a chance to prove himself as a potential first round pick.
Payne is the best defensive rebounder returning in the Big Ten and has always been a good defender (although his block percentage dropped from 6.9 to 5.6 last season). But his offensive production hit overdrive last season as he extended his range on his jumpshot (38 percent on 3-point field goals) and finished an impressive 58% of his shots inside the arc. Payne averaged 11.2 points and 7.4 rebounds per game in Big Ten play, hitting 46% of his 3-point attempts and posting the seventh best offensive rating in the league. Derrick Nix was a great complement for Payne's game down low but his graduation means that Payne should see more playing time and opportunity as long as he can keep his fouling under control and continue to improve his oft-questioned conditioning.
3. Aaron Craft, Ohio State (6-foot-2, guard, senior)
34.1 mpg, 10.0 ppg, 4.6 apg, 3.6 rpg, 2.2 spg, 46.1 eFG percentage
Craft is back in the top five again of this year's list after a productive junior season where he was one of the Big Ten's most complete players. His steal percentage (3.8) was down from his sophomore season, but was still good enough for third in the Big Ten. Harassing ball handlers is the bread and butter of Craft's game defensively and there are few in the country that do it better. With an increased offensive role last season due to the loss of Jared Sullinger and William Buford, Craft's efficiency took a bit of a dip as he was asked to do more. He still connected on close to 47 percent of his 2-point field goals and his assist rate of 26.1 was good for seventh among Big Ten players. He was also better with the ball as he posted a turnover percentage of 18.2, a career best.
With Deshaun Thomas moving on to the NBA, Craft is the leading returning scorer in Columbus, but the Buckeyes are probably best served with him acting as a facilitator rather than asking him to shoulder even more of an offensive load.
2. Mitch McGary, Michigan (6-foot-10, big, sophomore)
19.7 mpg, 7.5 ppg, 6.3 rpg, 1.1 spg, .7 bpg, 59.8 eFG percentage
While he only averaged a modest 7.5 points and 6.3 rebounds per game last season, Mitch McGary was a different player in the NCAA tournament. McGary averaged a double-double in six NCAA tournament games at 14.3 points and 10.7 rebounds per game. He resembled the player that scouts and coaches saw on the AAU circuit when his ranking rose to No. 2 in the country. He used his massive frame to dominate the glass on both ends of the floor but still showed his unique offensive skillset, starting fast breaks, busting Syracuse's 2-3 zone and dominating games. Michigan had some disappointing moments down the stretch in the regular season last year but McGary's transformation rescued the Wolverines' season and carried them to the Final Four.
His stock was soaring in NBA Draft circles but by opting to return to school, McGary will have an opportunity to prove his consistency over the course of an entire season. His rebounding should be a given. The 6-foot-10 big man had 10th best offensive rebounding percentage in the country last season is the second best returning defensive rebounder in the league. But if he's going to make a run at Big Ten Player of the Year honors he's going to have to produce offensively as the focal point of Michigan's offense, just as he did in the NCAA tournament.
1. Gary Harris, Michigan State (6-foot-4, guard, sophomore)
29.7 mpg, 12.9 ppg, 2.5 rpg, 1.4 apg, 1.3 spg, 55.5 eFG percentage
Despite battling a nagging shoulder injury for a majority of the season, Harris was the Big Ten's best freshman last season and arguably the best two guard in the league besides Victor Oladipo. In conference games, he scored 13.7 points per game, shot 47.2 percent on 3-pointers, hit close to 77 percent of his free throws and averaged 1.6 steals per game. Michigan State was the third best defensive team in the Big Ten and the presence of Harris, along with Keith Appling, was a primary reason. Assuming he is 100 percent healthy for his sophomore season (he's currently recovering from an ankle sprain), he should blossom into the go-to scorer for Michigan State and continue to establish himself as one of the Big Ten's best defensive players.
This quote from Tom Izzo at the conclusion of last season might best sum up the expectations for Harris this season: "I mean, you have not seen the Gary Harris I recruited yet. Now, he performed better, in some ways, than I thought he would as a freshman. But as far as the aggressive, take it to the hole, go get a rebound, we haven't seen that yet. And it's been because of that (injury) all season."
Filed to: 2013-2014 Big Ten preview