Notebook: IU freshmen adjust to college conditioning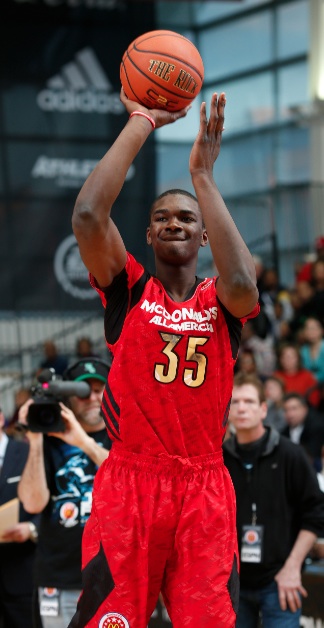 Meeting with the media for the first time as part of the Indiana basketball team Friday afternoon, IU's freshmen agreed on what aspect of the college basketball life had surprised them most.
"The conditioning," Troy Williams simply put it.
Though they are only one week into their first fall semester, IU's freshmen players have been on campus since early June, adjusting to the conditioning demands of the Indiana basketball program. And it wasn't easy, especially under strength and conditioning coach Je'Ney Jackson.
"You find out you're not in shape like you thought you was," Williams said.
"It's been pretty tough," Devin Davis added. "You have to get your mind right for every workout. You can't come in and just think you're going to get by. You really have to push yourself."
It hasn't gone unnoticed. Each player said they feel as if they have significantly improved in both strength and speed since they arrived in Bloomington.
And at the Amar'e Stoudemire and LeBron James skills academies this summer, other players took notice of Noah Vonleh's particular transformation, who has gone from 215 to 240 pounds.
"A lot of guys I played high school basketball and camps with were saying I got a lot bigger and a lot stronger, this and that," Vonleh said. "I just feel like I'm continuing to get better."
'You can follow in their footsteps'
In late June, Indiana's entire team, including the newcomers, watched from their locker room as former Hoosiers Victor Oladipo and Cody Zeller were selected in the top four of the NBA draft.
"We all saw the faces on Cody and Victor," Davis said, "and we just realized how much hard work they put in to get to their dream."
Now, only two months from the start of their freshman season, IU's newcomers have seen how they can get to the next level from Bloomington: mainly, through a strong work ethic.
"After hearing everything about those guys and how great their work ethic was, it was passed down and all of us are expected to do that stuff now," Luke Fischer said.
"When you hear about the great people that have been through here and you see how that work ethic helped them, you just want to do it yourself and get in their position, too," Williams added. "Someone that you can follow in their footsteps."
With that expectation and desire to learn, Stanford Robinson thinks it has created a team dynamic where everyone is helping each other become better players.
"Everyone is listening to everybody," Robinson said. "If Troy was to tell Will Sheehey something on his game, like something he should change, Will Sheehey will take it into consideration and change it or talk to him and discuss things about that. That's what's special about our team: We all listen to one another."
As far as if there's any pressure following the team that was Big Ten champions and a No. 1 seed in the NCAA tournament and making sure there isn't a dip in results, Robinson thought this team has the chance to live up to the past.
"I don't think there's any pressure, because coach Crean is teaching us the same thing he was teaching them last year," Robinson said. "If we keep doing what they did, there has to be some kind of repeated result."
Quotable: "I definitely feel improvement. Sometimes, I just touch my arms to see how much bigger I got. If you ask (strength and conditioning) coach (Je'Ney) Jackson right now, I'll walk around with my shirt off all the time, just because I feel like I'm that much bigger. He always tells me to put my shirt back on, that I still have a bird chest." — Robinson
Other notes: Hartman has gained 15 pounds since he initially arrived in Bloomington, which he said has helped him become more confident defending against bigger players. … Vonleh attributed his weight-gain to eating more meals, drinking protein shakes and lifting weights. Now at 240 pounds, he arrived in Bloomington at 215, he said. …  Fischer said he's been nicked up this summer (he didn't go into specifics), but said he is now 100 percent. … When Yogi Ferrell and Will Sheehey were away from the team for the World University Games, Fischer said Austin Etherington stepped up as a team captain and led workouts.
Filed to: Noah Vonleh, Stanford Robinson, Troy Williams