Recruiting rewind: Johnson calls IU visit one of his "best experiences"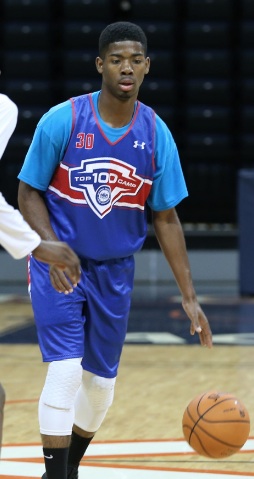 Robert Johnson returned home to Richmond, Va., from his official visit to Indiana late Monday night and on Tuesday afternoon, he provided a brief, but telling, comment on his first official visit.
"It was one of the best experiences I ever had," Johnson, the first of IU's 2014 targets to take a fall official visit, told Inside the Hall.
In the days leading up to the trip, Johnson and his father, Robert Sr., wouldn't rule out a commitment while in Bloomington, but the older Johnson was also specific about many of the things he was hoping to see on any visit.
The detailed list of factors, which included education, graduation rate, the program's culture and the environment, have all been strong suits for the IU program since Tom Crean took over in the spring of 2008.
The Hoosiers put on the full court press on Johnson beginning in July, when Crean was able to see Johnson average 20.2 points and shoot 46.2 percent on 3-pointers at the Nike Peach Jam.
In July at the Nike Global Challenge, Johnson said style of play would weigh heavily into choosing a school.
"Just somewhere I would fit style of play-wise and go in and have an opportunity to play," he said. "Where they let their guards play. Ball screens, high-tempo offense, things like that."
Whitehead eyeing return visit to Bloomington?
Isaiah Whitehead, the No. 35 player nationally in the class of 2014 according to ESPN.com, completed his unofficial visit to Indiana on Monday night.
According to Zagsblog.com, Whitehead, who is a guard at Lincoln High School in Brooklyn, will take additional visits and Indiana looks like a strong bet to receive an official.
"It went very well," Whitehead's high school coach, "Tiny" Morton told Zagsblog. "There were a lot of questions answered. It was a great visit. I'm assuming he is going to take an official."
Other schools that could get a visit from Whitehead include Louisville, Minnesota, Seton Hall, Syracuse and UCLA.
Hurt sets official visit to Indiana
Northwest Florida State College center Stephen Hurt will take an official visit to Indiana on Sept. 21, his fourth scheduled visit this fall.
Hurt, the Atlantic Sun Freshman of the Year last season at Lipscomb, averaged 11.5 points and 7.8 rebounds before transferring to Northwest Florida after a coaching change.
He also has visits scheduled for Kansas State on Aug. 30, Miami (FL) on Sept. 6 and Wichita State on Sept. 13. Hurt took an unofficial visit to Indiana in June.
Battle on Indiana's campus
Class of 2016 five-star guard Tyus Battle of Gill St. Bernard's in New Jersey began an unofficial visit on Tuesday that will last through Thursday night, when IU football opens its season at Memorial Stadium against Indiana State.
It's the second trip for Battle to Indiana, who also visited in February for the Michigan game.
In July, Indiana tracked Battle heavily, and he told Inside the Hall at the Live In AC event in Galloway, N.J., that IU and Villanova were the two schools recruiting him the hardest.
"Great school, good development, how they developed [Victor] Oladipo and all," Battle said. "And a great, great coach. I think they can make me a lot better, stronger, quicker, faster."
Hill includes Indiana in his final five
Ahmed Hill, a class of 2014 guard from Augusta, Ga., trimmed his list to five on Tuesday and Indiana made the cut, along with Florida, Florida State, Marquette and Missouri.
"Of those five schools, me and the head coach have a great relationship, they're basketball schools, and I think that I can help them out tremendously and I'd fit into their program," Hill told Inside the Hall of the finalists.
He's expected to take official visits to all five finalists, but said that Florida, Marquette and Missouri are recruiting him hardest right now.
One of the main reasons Indiana has stood out in his recruitment, according to Hill, is because Crean came to watch him work out on the first day coaches were allowed on the road last fall.
Hill plans to sign in the fall.
Filed to: Ahmed Hill, Isaiah Whitehead, Robert Johnson, Stephen Hurt, Tyus Battle