Oladipo 'right at home' in return to Bloomington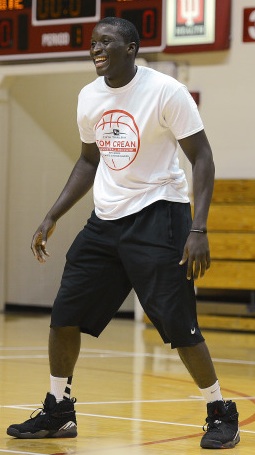 As Victor Oladipo entered the Assembly Hall media room Saturday morning for a scheduled press conference, it was like he had never left the Indiana basketball program to pursue an NBA career.
That is, until he found Indiana coach Tom Crean sitting in his typical spot, the middle of three chairs at a table overlooking the media.
"I usually sit in the middle, but it's cool," Oladipo said.
Oladipo's seat wasn't the only unfamiliar part when he spoke. This time, he was doing it as a former Hoosier and host of the Tom Crean Basketball ProCamp, along with D.J. White.
And in the four months since he had last spoken at Assembly Hall when he announced he was leaving Bloomington for the chance at a professional career, he has gone from being a college junior to a member of the Orlando Magic, selected No. 2 overall in June's NBA draft.
"It's kind of been a whirlwind," Oladipo said. "They tell you that before it happens, but when you're actually in it, it's like 'Whoa, they weren't lying.'"
For Oladipo to be back in Bloomington meant it felt like business as usual for the Indiana basketball program, according to Crean. Having arrived earlier in the week, Oladipo trained in Cook Hall, participated in pick-up games and interacted with current players and recruits.
"It was really truly like he had never left. And I figured it would be like that, but then I realized when I could hear him all the way from my office through all kinds of walls and doors with him downstairs, I knew he was truly back home," Crean said. "And then you realize how much you missed that energy and charisma."
That energy and charisma has taken Oladipo to new heights since graduating a year early in May.
First there was draft day, where Oladipo was picked second overall, the highest for an IU player since Isiah Thomas went in the same slot in 1981. He then dominated the Orlando NBA Summer League at a new position — point guard — while averaging 19 points, 5 assists and 4.3 rebounds per game.
And to top it off, before the season even has started, ESPN's Chad Ford projected Oladipo to be the 2013-14 NBA Rookie of the Year.
"But I feel like there's so much more I can do," Oladipo said. "I haven't even reached the pinnacle of how good I can be, so I've just been trying to stay in the gym, trying to stay on my game and trying to think the game, because it's no boys allowed. There's no days off, so I've got to prepare myself not only physically, but mentally, as well."
Oladipo knows, though, that he isn't going through the journey alone. And he doesn't have to look far to find someone sharing the same experience. He and former teammate Cody Zeller, the No. 4 overall selection by the Charlotte Bobcats, stay in touch "pretty much every day," and the two always talk about their experiences, Oladipo said.
He also has White for support, an NBA veteran who played for the Boston Celtics last season. White gave some advice to Oladipo on Saturday, saying he should "be ready for his rookie dues."
"Main thing is just listen to the veterans and just know that every night, somebody's coming at you," White said. "Everybody, from 1 to 15 on the roster, is there for a reason. Just bring it every night and take care of your body. He's a smart kid. He'll be fine."
As Saturday's press conference went on, Crean left early to resume camp activities. As he stood, he told Oladipo to "Take your middle seat."
This time, Oladipo declined.
While he won't be staying in Bloomington as classes begin on Monday, Oladipo knows this won't be his last time back. On Oct. 29, his Orlando Magic will play their regular season opener in Indianapolis against the Pacers. "I can only imagine how that's going to be when I check into the game. That's going to be surreal," Oladipo said.
And though it might not happen again for some time, Crean can expect to hear Oladipo's voice down the hall in the future.
"That's just because I'm right at home. It's what I'm used to and it's what I'm comfortable with," Oladipo said. "Like I've always been saying, I'll always be a Hoosier."
(Photo credit: IU Athletics)
Filed to: Victor Oladipo