Recruiting roundup: Busy weekend ahead in Bloomington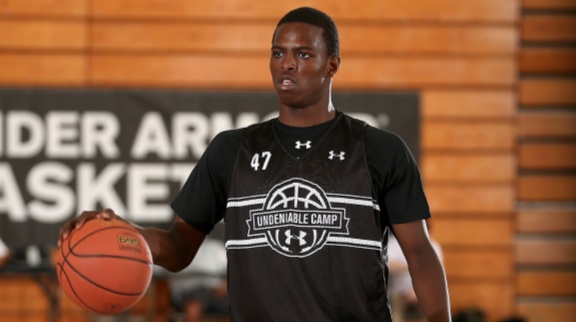 It's already been a busy week recruiting wise for Indiana, and this weekend, it will heat up even more. Former Indiana All-American Victor Oladipo is in town working Tom Crean's ProCamp and the Hoosiers will have several recruits on campus.
Here's a rundown of the prospects who are expected to visit this weekend along with other news and notes from the past week:
· Malachi Richardson: One of Indiana's top targets for the class of 2015, Richardson will take an unofficial visit to Indiana this weekend, as well. A five-star wing player, he is the No. 11 player in the 2015 class, according to ESPN.com.
· Isaiah Whitehead: Only hours after he will play in the Elite 24 game on Saturday night (7 p.m., ESPNU), Whitehead (pictured) will fly to Indiana for an unofficial visit on Sunday and Monday after being offered only two weeks ago. The 2014 guard is also considering Syracuse, Minnesota and UCLA, among others.
· Robert Johnson: The 2014 guard will make his first official visit to Indiana this weekend and will arrive Saturday afternoon. The four-star prospect has previously told Inside the Hall that he could commit on an official visit, though he already has additional visits scheduled to Virginia (Sept. 7) and an in-home visit with North Carolina (Sept. 10). Florida State could also get an official visit later in September.
· James Blackmon Jr.: When 2014 Marion guard James Blackmon Jr. renounced his commitment to Indiana two weeks ago, he made it clear he still had interest in the Hoosiers' program. Well, he wasn't kidding. Blackmon will make an unofficial visit to Indiana on Saturday, delaying a previously-planned Michigan State trip to Sunday to make room for a trip to Bloomington. He also is planning visits to Louisville and Kentucky, according to UMHoops.com.
· Kris Wilkes: A 2017 forward from North Central, Wilkes is scheduled to take an unofficial visit to Indiana on Friday. He does not yet have an offer from the Hoosiers.
· Kyle Guy: Guy, a 2016 guard from Lawrence Central, participated in Indiana's open gym on Thursday during an unofficial visit and told Inside the Hall he played pick up games with Devin Davis, Remy Abell, Luke Fischer and Victor Oladipo. He called it "a great experience," and when asked where IU stands with him, he said, "You know, I couldn't tell you. I'm too young and I have no clue, so as of right now, I'm just interested in any school that's interested in me."
· Devin Robinson: Robinson has scheduled two official visits, including one to Indiana for Hoosier Hysteria on Oct. 4. The other official visit he has planned is to Oklahoma State, on Sept. 13. The 6-foot-8, 2014 forward cut his list on Friday to Connecticut, Florida, Indiana, Michigan, Notre Dame and Oklahoma State.
· Quentin Snider: Despite an earlier invitation to visit Indiana this weekend, as of right now, Snider will not be making the visit, his father told Inside the Hall on Friday morning. Snider, a Louisville decommit, is the No. 28 prospect in the 2014 class, according to ESPN.com, and is currently considering Connecticut, Cincinnati, Illinois, Memphis and UCLA.
· Goodluck Okonoboh: Earlier this week, Okonoboh, a 2014 forward trimmed his list to Duke, Florida, Indiana, Ohio State and UNLV, in no particular order. He will be playing in Saturday's Elite 24 game and will be teammates with Whitehead.
(Photo credit: Kelly Kline/Under Armour)
Filed to: Isaiah Whitehead, James Blackmon Jr., Malachi Richardson, Robert Johnson