Indiana coaching staff checks in with 2014 guard Ahmed Hill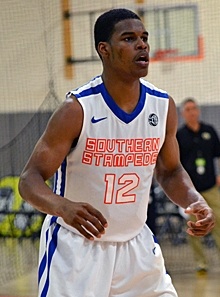 After James Blackmon Jr. decommitted last week, it seemed likely Indiana would turn its attention to other 2014 guards it had already offered. Instead, Tom Crean issued a new offer to Isaiah Whitehead, who hadn't heard from the Hoosiers until last Friday night.
But Whitehead wasn't the only contact Crean made in the aftermath of Blackmon Jr.'s decision.
Crean also reached out to Augusta (Ga.) guard Ahmed Hill, who has had a good relationship with Indiana for some time.
Hill, who got a scholarship offer from Indiana last summer, told Inside the Hall he received text messages from Crean and assistant coaches Tim Buckley and Kenny Johnson.
"They asked if I was serious about them," Hill told Inside the Hall.
His response?
"Of course," he said. "Since day 1."
Hill, who is ranked 34th in the 2014 class by ESPN.com, said he doesn't talk to the Indiana coaching staff as much as he used to. Earlier this summer, Hill listed Indiana among four schools he talked to most often.
Hill has not yet scheduled any official visits, and said he doesn't know if he will take a visit to Indiana.
"I just don't know yet," Hill said. "I'm very interested in Indiana, but I don't know when I will schedule visits."
Earlier in his recruitment, Hill had planned to make a college decision during the early signing period (by November), but he seems to be in no hurry. He has yet to take any official visits.
Filed to: Ahmed Hill