Indiana to play in 2014 Jimmy V Classic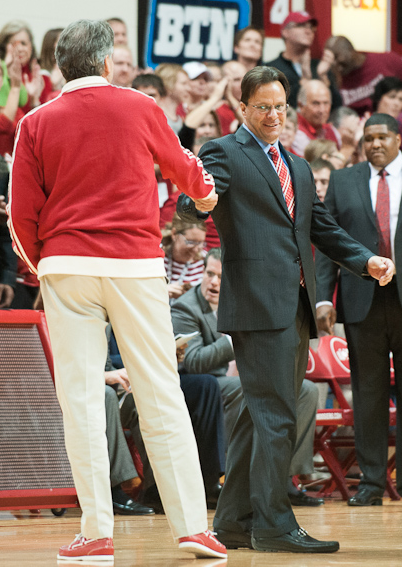 Ever since Indiana's talks about continuing a series with Kentucky broke down, athletics director Fred Glass and Tom Crean have been working to find another marquee non-conference opponent.
Glass and Crean may have finally found one, though not for this upcoming season.
As first reported by The Indianapolis Star, Indiana will play in the Jimmy V Classic at Madison Square Garden in December of 2014. Indiana will receive $200,000 for playing in the event from an agreement with ESPN. The Star gained access to the contract via a public records request from the school's legal department.
The Star's report said Indiana's Jimmy V Classic opponent would be Louisville, which Inside the Hall reported as a possibility back in June.
But Louisville has not yet signed an agreement to play in the event, associate athletic director Kenny Klein told WDRB's Rick Bozich Wednesday night.
"We have had discussions about playing in that event but do not have an agreement," Klein told Bozich. "That's premature."
Louisville has been discussed as a potential home-and-home candidate for Indiana ever since Kentucky was dropped from the schedule, but no such agreement has been reached to this point.
An Indiana-Louisville matchup could still happen in 2014 at Madison Square Garden, but it's too soon to say it's a done deal.
"To say that we have a deal to play that game is premature," Klein told Bozich.
(Update: Rick Pitino to C.L. Brown of The Louisville Courier-Journal on playing IU at MSG: "Excited to be playing back in a special arena where we won back-to-back Big East championships.")
Louisville, which will begin play in the ACC in 2014-2015, has been open to a series with Indiana ever since the agreement with Kentucky could not be reached.
Louisville coach Rick Pitino told Eric Crawford in May of 2012 that he pursued a game with Indiana, but the Hoosiers didn't have room on the schedule.
"But we're definitely interested in doing something for the next season," Pitino said at the time, "because I think it would be a great series for both programs and for college basketball."
Filed to: Fred Glass, Jimmy V Classic, Louisville Cardinals, Madison Square Garden