2014 guard Robert Johnson to take official visit to Indiana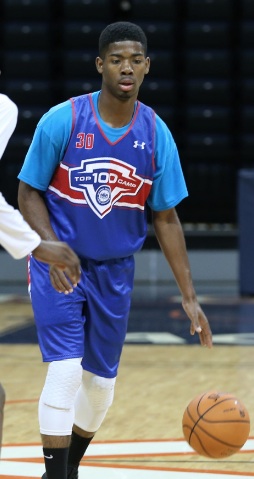 Richmond (Va.) Benedictine guard Robert Johnson told us in July that he would "definitely" take an official visit to Indiana.
The 2014 guard kept his word, telling Scout.com's Evan Daniels on Wednesday that he will visit Bloomington the weekend of August 24.
Johnson also confirmed the visit date with Inside the Hall.
Daniels also reported that Johnson will visit Pittsburgh the following weekend, but Johnson later denied he had scheduled a trip to Pittsburgh on his Twitter account.
Johnson, a 6-foot-3, 190-pound combo guard, has been one of the nation's fastest-rising guards this summer.
He also has offers from North Carolina, Miami, Villanova and Georgetown, among others.
"The last month or so, they've been recruiting him hard," said Johnson's AAU coach, Boo Williams, who is also the uncle of Indiana freshman Troy Williams. "He can really play now. He can play the 1, he can play the 2. He can really shoot. He just knows how to play. He's got great footwork.
"Not a lot of people before this season knew a lot about him, but now almost everybody knows about him."
Indiana has also recently started recruiting 2014 guard Quentin Snider, who decommitted from Louisville last week. Indiana has not yet offered Snider, but he has serious interest in the Hoosiers and is expected to visit the campus later this month.
Malachi Richardson, a 2015 guard with heavy interest in Indiana, will also visit Bloomington the weekend on August 24.
Welcome week, which kicks off on the official opening day for the IU campus, begins on Wednesday, August 21 and runs through Sunday, August 26.
Filed to: Robert Johnson