Indiana a "dream school" for 2016 forward Miles Bridges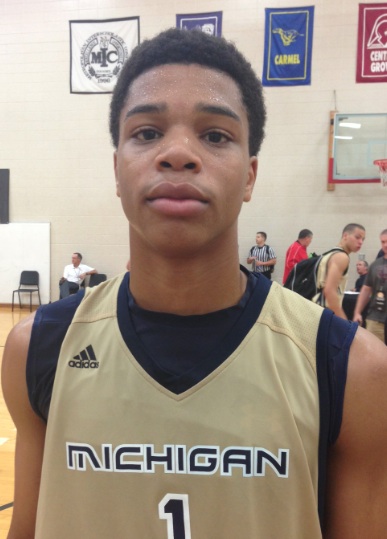 Going into last week's adidas Invitational, class of 2016 Flint Southwestern (Mi.) forward Miles Bridges was primarily hearing from local schools.
But after his performance at the event, where he was dominant at times for the Michigan Mustangs 16-and-under team, Bridges is on the rise nationally.
Scout.com national analyst Brian Snow named the 6-foot-5, 190 pound forward one of the top six performers at the event. With his combination of size, athleticism and strength, Bridges is difficult to contain. He acknowledged after a pool play game that he's come a long way in recent months with his game.
"I've improved my shot, athleticism, my defense and rebounding," Bridges said.
Bridges listed Oakland, Michigan, Iowa State and Michigan as the four schools primarily involved in his recruitment, but Indiana associate head coach Tim Buckley also watched him in Indianapolis.
He's already visited Michigan State four times and Michigan once, but said that Indiana and Kansas share a unique distinction from the local schools he's hearing from: They are his two dream schools.
"The crowd, I like the way the fans cheer them on. And I like the coaches," he said of Indiana. "They work their players hard so they can get them ready for the NBA level. I want that."
Bridges said Indiana has been one of his dream schools since he was 7. His father, Raymond Bridges, is a big reason why the younger Bridges has followed the Hoosier program.
"I think my Dad always wanted to go to Indiana," he said. "He always talked about it."
As a freshman, Bridges was named honorable mention all-state for Class A in Michigan. He said it's possible that he'll go to the prep school route beginning with his junior year — Huntington Prep in West Virginia was a school he mentioned — but he isn't thinking much about a college decision at this point. (Update: It was announced Friday that Bridges will go to Huntington Prep next season.)
"I think I'll make my decision my senior year," Bridges said.
Filed to: Miles Bridges