What to watch for: July evaluation period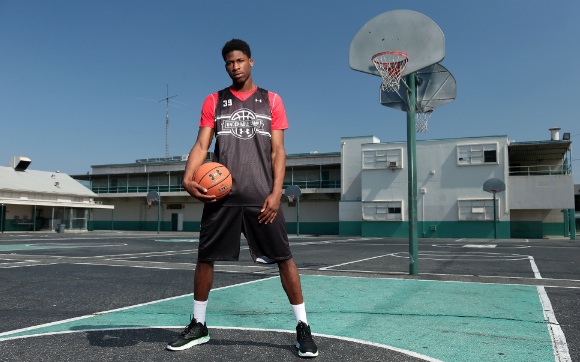 (Photo credit: Kelly Kline/Under Armour)
The first of three five-day July evaluation periods begins Wednesday at 5 p.m. and Inside the Hall takes you through five things we'll be watching for as college coaches hit the trail to evaluate prospects:
· The pursuit of Goodluck: It's no secret that Indiana is in hot pursuit of class of 2014 big man Goodluck Okonoboh. The Hoosiers have recruited the nation's top shot blocker as diligently as anyone in recent months. And as a close friend of Noah Vonleh, it's safe to say Okonoboh is well versed in what Indiana has to offer as a program. The first chance to see Okonoboh up close this summer for coaches will be Thursday morning in Indianapolis as the Mass Rivals, an adidas AAU program that also produced Vonleh, will play in the adidas Invitational. Okonoboh is a potential program changer defensively because of his shot blocking prowess.
· How will Indiana fill out the rest of 2014? The Hoosiers already have a great start to the 2014 class with Marion guard James Blackmon Jr. But the potential for another top 10 (or higher) class is there with Okonoboh, Dante Exum, LeRon Black, Devin Robinson, Phil Booth and several others still on the board. Exum doesn't figure in for July because he won't play in any NCAA certified events, but everyone else listed will and how closely each player is tracked this month could shed a little more light on who the top priorities are. July was a pivotal month last year in IU's pursuit of Vonleh and Troy Williams and we may look back in a few months and say the same about this July and IU's top 2014 targets.
· Blackmon Jr.'s rise: Speaking of Blackmon Jr., his play in the Nike Elite Youth Basketball League (EYBL) has been a big reason he's now in the top 25 of ESPN's rankings. The future IU guard can continue his ascent with a strong showing in the EYBL Finals at the Peach Jam, which tip off Thursday in North Augusta, South Carolina. In what is considered the highest level of competition on the AAU scene, Blackmon Jr. enters the Peach Jam with the following numbers: 19.3 points on 54.2 percent shooting, 3.9 rebounds and 2.4 assists per game. He leads the EYBL in 3-pointers made with 56.
· 2015 comes into focus: As you may have noticed in our most recent update, Indiana is appealing to a broad number of prospects in the class of 2015. The Hoosiers are already laying a strong foundation with guys like Malachi Richardson, Bryant Crawford (who will miss July with an injury), Marcus Derrickson, Jalen Coleman, Carlton Bragg and many others. But as each class evolves, guys either continue to play their way up the priority list or stagnate and take a tumble. With 15 days to evaluate prospects, July is important for separating those who have continued to improve since April from those who have not.
· 2016 and beyond: With early offers out to Eron Gordon, Vijay Blackmon, Quentin Goodin, De'Ron Davis and Tyus Battle, we've already got a solid reference point on early priorities for the class of 2016. Gordon, Blackmon, Goodin and Battle, all backcourt players, have already been on campus for unofficial visits. Davis, one of the top 2016 front court players, told us in April that he's "very interested" in Indiana. This is also a month where we'll likely hear more about some 2017 prospects like Southport's Paul Scruggs and Pike's Justin Roberts.
Filed to: Goodluck Okonoboh, James Blackmon Jr.