A new role awaits Cody Zeller at next level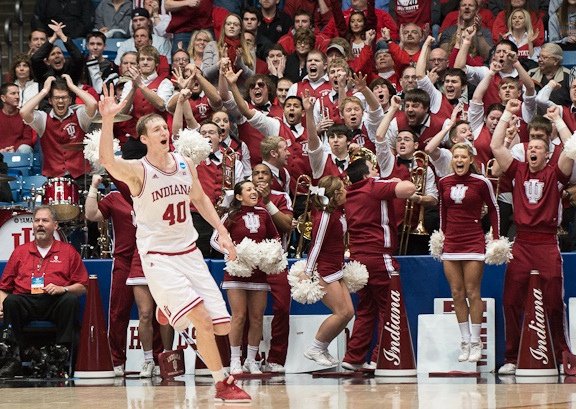 Cody Zeller came to Indiana with impossible expectations.
And so maybe there's some freedom and change on the horizon as he makes the leap to the next level.
He's no longer the program savior taking the Hoosiers back to the promised land. Sports Illustrated and ESPN The Magazine won't be asking him to grace their covers this season. The golden boy glamour fades, and he simply becomes another young kid trying to establish himself during the grueling slog of an 82-game NBA season — arriving in cities he's never visited in the middle of cold winter nights.
His relative anonymity may also lead to a basketball re-invention.
Tom Crean asked Zeller to do what was best for the team in the halfcourt — use his height and athleticism to either score or draw fouls and go to the line. It was a role, for the most part, he excelled at. The 2012-13 Hoosiers had plenty of perimeter shooters in an offense that led the nation in efficiency for most of the season; Zeller's offense outside of the post simply wasn't needed. But the Washington native's back-to-the-basket game wasn't always smooth. It's unlikely his best path to offensive success in the league, especially against bigger and better talent. (Though that's not to say he can't get buckets at the rim. He'll just need to pick his spots.)
So Zeller may have to look elsewhere to bring offensive value in the NBA. He can use his quickness in a face-up game when the matchup calls for it. (If he lands at No. 10 to Portland, LaMarcus Aldridge would be a great mentor to show him the ropes here.) But it's perhaps more likely that his jumper that never really saw the light of day in Bloomington will be most essential for Zeller if he wants to become a consistent starter or rotation player.
The Modern NBA is pick-and-roll heavy; Zeller might find 15-18 footer opportunities as a pick and pop roll man. And in a league that values proper halfcourt spacing to keep defenses moving, his ability to hit jumpers would draw the opponent's rim protector away from the basket. If he finds himself on a team that likes to run? His transition scoring may continue at the next level as well.
While he's not an intimidating rim protector himself, his quickness, smarts and size — despite an average wingspan — could serve him well in the right defensive system on the other side of the pick-and-roll. Zeller has the ability to stop a guard and recover back to his man.
The 7-footer was once in the mix for the No. 1 spot in this draft, but a sophomore season exposed some weak spots as far as an NBA package is concerned. He will have to work for it against the greatest players in the world if he wants to matter. It'll help if he gets on the right team — one with a system that works with his game, has good teammates and where he's offered proper opportunity.
Filed to: Cody Zeller