NBPA Top 100 Camp Wrapup: Player stats, observations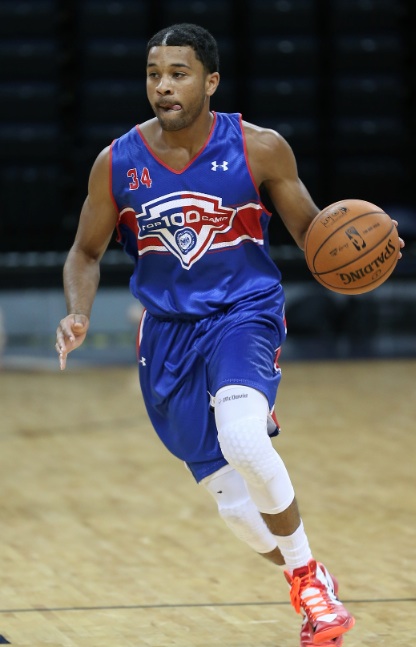 CHARLOTTESVILLE, Va. — The National Basketball Players Association Top 100 Camp ran Thursday morning through Saturday night at Paul Jones Arena on the campus of the University of Virginia.
Inside the Hall was in attendance and has compiled final stats and observations on many of the Indiana recruiting targets who participated:
CLASS OF 2014
· James Blackmon Jr. (10.0 ppg): Blackmon Jr. didn't arrive in time to participate in Thursday morning's session due to commitments the previous night with the Indiana Junior All-Stars, but he quickly found his shooting touch on Thursday evening. The future IU guard scored 11 points to cap off the night and stayed consistent throughout the camp which helped earn him a spot on the 10-man all-star team. Blackmon Jr. does an excellent job of using screens to get his shot off and even when he's being checked closely, he has the ability to create space and get his shot off.
· LeRon Black (8.9 ppg): This is the second time we've watched Black in a month and a half and both times, he's been a high energy guy that can score the ball in multiple ways. His midrange game is becoming a strength at 6-foot-7 and he can also step out to the 3-point line and knock down shots. He still seems to be at his best when he's operating in the paint and using his upper body strength and athleticism to finish through contact at the rim. If he can continue to improve his midrange and perimeter stroke, he'll become an even tougher matchup at the three or four.
· Phil Booth (9.8 ppg): Booth is capable of playing either guard spot, but in the two games we watched, he was primarily playing with the ball in his hands on the perimeter. While he's not an overly explosive athlete, his handle is good enough to get him where he needs to be on the floor and he did a nice job of finding big men in the post. Off the dribble, Booth seems most comfortable either pulling up just short of the rim or going to the floater. He's also more than capable of knocking down the 3-point shot as he connected on a couple of shots from distance in the two games we watched.
· Devin Robinson (5.9 ppg): After just arriving back in the U.S. from a trip to the adidas EuroCamp in Italy, Robinson could have coasted through camp, but instead, he showed why he's quickly becoming one of the hottest names in the country. At 6-foot-8 and 178 pounds, Robinson is a long wing or stretch four that can put the ball on the floor and also step out and knock down 3-point shots. He's grown three inches in the past year, which probably explains the above average ball handling ability for a player his size. In a lot of ways, he resembles former IU forward Christian Watford both physically and in how he plays. He'll need to add strength, but Robinson was impressive in Charlottesville.
· Ahmed Hill (4.4 ppg): It wasn't a particularly good showing for Hill, who was hounded by five-star guard Devin Booker in the game we watched. Hill told us that he's comfortable at either guard spot, but his best position seems to be as a scorer on the wing where he can use his athleticism to get into the lane.
· JaQuan Lyle (7.5 ppg): Like Blackmon Jr., Lyle arrived late for camp. In his first camp game on Thursday evening, Lyle started to fire off deep 3-pointers and got on a roll. After knocking down a couple of shots from distance, Lyle capped it off with a 28-footer with a man in his face. After that game, Lyle announced that his list of schools is down to four: Florida, Indiana, Louisville and Tennessee.
CLASS OF 2015
· Perry Dozier (5.3 ppg): One of the new names to come out of the camp as a possible IU target, Dozier is a tall guard at 6-foot-5 that can play a little of both backcourt positions. He was mostly off the ball in the games we saw, but scored in a variety of ways. On one sequence, he brought the ball up in transition, broke his man down off the dribble out near the 3-point line, got into the lane and used a nice pivot move to create space and score. He also knocked in a 3-pointer and tried to throw down a dunk over North Carolina commit Theo Pinson, which showed his athleticism.
CLASS OF 2016
· Caleb Swanigan (7.8 ppg): The last time we saw Swanigan at Spiece Fieldhouse, he was playing with two different teams in an attempt to work on his conditioning and shed weight. In Charlottesville, he told us he's down nearly 10 more pounds over the last month and his game continues to improve. For a player his size — 6-foot-8 and 250 pounds — Swanigan moves extremely well, has good hands and has terrific footwork in the post. Because of his size, he's able to easily create space and once he seals off his man, it's usually either a basket or a trip to the foul line. As he continues to improve his conditioning, the intrigue with Swanigan, who Indiana is expected to begin pursuing heavily, will only grow.
(Photo credit: Kelly Kline/Under Armour)
Filed to: Caleb Swanigan, James Blackmon Jr., Jaquan Lyle, LeRon Black, Phil Booth