2014 guard JaQuan Lyle says relationships are strongest with Crean, Pitino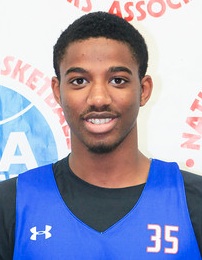 It's been a busy couple of weeks for class of 2014 Evansville Bosse guard JaQuan Lyle.
On June 1, Lyle worked in a stop at Indiana while in town to watch a friend compete in the state track meet and followed that up with an unofficial visit to Louisville on June 9. In between, Lyle participated in practices and a pair of exhibitions for the Indiana Junior All-Stars against Kentucky.
Speaking after the Indiana Juniors dismantled Kentucky 86-73 on Saturday at St. Xavier, the five-star guard said that out of the head coaches recruiting him, he has the best relationship with Tom Crean and Rick Pitino.
"They just care about you as a person first before they care about you as a player," Lyle said. "That's what I really like and I think that's what I really need.
"Coach Crean is a great person. He cares about you as a person and that's what I really like."
Indiana was the first school to offer Lyle in late 2010 and are one of the final seven schools he's considering along with Louisville, Ohio State, Tennessee, Illinois, UCLA and Florida.
He said he plans to follow up his most recent visit to Bloomington with another unofficial next week after he returns from the NBPA Top 100 Camp in Charlottesville, Virginia.
"I just went over, talked to Coach Crean, watched film and watched them workout," he said of the June 1 visit. "Pretty much just talked to them and had fun. I'll probably take another visit this month, like an actual unofficial and play up and down with them."
The next couple of weeks for Lyle will be full of travel as he'll play in the Indiana Junior-Senior All-Star exhibition games, attend the NBPA Top 100 Camp, the Nike point guard Skills Academy, the LeBron James Skills Academy and play in front of college coaches at the EYBL Finals at the Peach Jam.
In early May at the Hensley Memorial Spiece Run-N-Slam Classic, Lyle talked about making a fall decision, but said in Louisville that he doesn't have a definite timetable.
"I don't know yet. Whenever I think it's time, that's when I'm going to make it," he said. "I didn't get to take the ACT this morning because there was something wrong with the paperwork, so I think I take it in like two weeks."
Lyle said that close friend and AAU teammate James Blackmon Jr., who committed to Indiana in September of 2010, continues to pitch the possibility of joining him in Bloomington for college and singled out Noah Vonleh and Yogi Ferrell as two current IU players he has good relationships with.
"He's recruiting me all the time," Lyle said. "He just tells me to make the decision for me. And if it's IU, he'll be happy with that.
"I know Noah from a lot of the camps last year. We're real cool. He committed to IU. We talk all the time and I just ask him what he likes about it, why he committed there. He's a cool guy. Yogi, I know him through basketball and we're cool."
While Lyle figures to be in line for a healthy amount of playing time from day one at whichever school he chooses, none of the schools recruiting him are making any guarantees in that regard.
"No school is really making promises," he said. "They just tell me if I want to play right away, I've just got to come in and work. It's not going to be easy."
Filed to: Jaquan Lyle