Crean: "We've got to have collective leadership"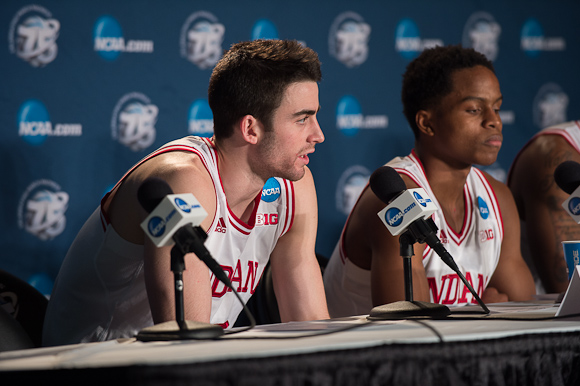 STARLIGHT, Ind. — When Indiana takes the floor next fall, the Hoosiers will be without two likely lottery picks in Cody Zeller and Victor Oladipo and two four-year, 1,000-point scorers in Jordan Hulls and Christian Watford. Will Sheehey will be the only four-year player in the program and seven new players, including six freshman, will be counted on to play significant roles.
From a depth perspective, Indiana could be stronger top to bottom than it was last season, but losing four starters also leaves a potential void in leadership.
But just as the Hoosiers had different players lead throughout the 2012-2013 season, Tom Crean said Wednesday night at the IU Tailgate Tour stop at Huber Winery that next season's team might not have a definitive leader.
"I don't know if this is a team that you say, 'this is the one leader,' Crean said. "We've got to have collective leadership. I don't think this is a thing where it's going to be one or two guys that we bestow the leadership mantle to in the summer."
The Indiana players currently on campus have already started summer workouts and all seven newcomers are expected in town by the end of next week.
While much of the offseason dialogue will be centered around what Indiana lost to early entries to the NBA and graduation, the opportunity to mold a new group of players into a team is exciting for Crean.
"It's really going to be important that so many of them can step in and play," he said. "I think we have a chance to have a deeper team. I think our athleticism is going to be really strong. The glass half empty is that we lost a lot of people. The glass half full is we've got such a young team and they're going to have that much more of a chance for growth."
A future game with Louisville?
While Indiana is unlikely to add a marquee home opponent to next year's schedule, Crean was asked about the potential to play Louisville in the future.
The Hoosiers and Cardinals played a two-year series that ended in 2003, but haven't met since.
"Yeah, I think so, absolutely," Crean said when asked about a future matchup. "The Jimmy V Classic is something that's a potential for down the road."
A sticking point in future scheduling for Indiana seems to be centered around taking into account some opportunities that may exist involving the Big Ten, but neither Crean nor Athletics Director Fred Glass could go into specifics on what those might be.
"I think right now with anything home-and-home, all of that stuff is on hold as we wait to see what our league decides to do and if there's some other opportunities that could come up," Crean said. "The last thing we can do right now is get into too many road game situations where all of the sudden we'd be home games short because something hadn't come to reality yet or something hadn't been acted upon yet that could come up.
"But the Jimmy V is definitely something that we're looking forward to in due time with them and hopefully something else. But it's too early to tell past that."
Other notes
· Crean on Sheehey, Ferrell and USA Basketball: It was announced Tuesday that Sheehey and Yogi Ferrell would have an opportunity to try out for the World University Games roster for USA Basketball and Crean said Wednesday night he's looking forward to seeing how both guys perform later this month at a training camp in Colorado Springs.
"Will really wants to be in that environment. I mean you say, 'Will, they're going to Russia.' He says, 'That's awesome.' That's how he's looking at it," Crean said. "He doesn't care where they're playing. He wants to go play. I thought it was great that they picked up Yogi. I think that both of them being on that list is good for us. I'm looking forward to seeing it. It's going to be great for them, but I think the beneficiaries at the end of the day will be Bob McKillop and his staff and USA Basketball for having them because those two guys really understand how to make their teammates better. They have a great work ethic, they're low maintenance individuals, which is exactly what you want in those environments and they play to win. I'm hoping that they do well."
· Player bullets: While addressing close to 900 Indiana fans, Crean talked a bit about each player on next year's roster. Here's a sampling of comments from Crean on each player:
— Sheehey: "When we're in a situation where we were last season at Michigan, down five, 50 seconds to go, he's on the court making sure he's one of the loudest voices and making sure his teammates know that we won't lose. That's exactly what he did. So we need him in more of that this year."
— Evan Gordon: "We had our first workout with him today. I've had a smile on my face all day. He is going to fit in, he can shoot the ball, he's going to be a defender."
— Austin Etherington: "He's ahead of where we thought he'd be at this point. He's got a great attitude, he can make shots and I'm starting to see that confidence coming."
— Jeremy Hollowell: "Jeremy needs to become a consistent defender in the sense of being able to guard numerous people because of his athleticism. He's got to be able to step into somewhat of the role that Christian Watford had in trailing that break and becoming a 3-point shooter."
— Hanner Mosquera-Perea: "Hanner just needs to play. And he just needs to spread out and use that athleticism."
— Ferrell: "He's got a hunger. He's got a chip on his shoulder. It's one of the reasons we recruited him. We saw it early. We've seen it even more so since he's been there. And for him to take the next step as a player right now, its got to be with the 3-point shooting, its got to be in the pick-and-roll game of not only being able to get to the rim, but being able to trust that pull up in the lane and knock down threes."
— Peter Jurkin: "It'll probably be somewhere near the end of summer before we can really get him back on the court in a full-time way, but he's out there working on it now."
— Noah Vonleh: "The thing I love about him is that already, in his third workout with the team, he's already on his teammates. He's already encouraging them, not in a negative way, but encouraging them. When they get tired, he's got the ability to pick that up right now. And that's really important."
— Troy Williams: "He's a 6-7 pogo stick that needs to become a consistent shooter for us. His best days are ahead of him. I'm excited about Troy's potential and athleticism."
— Stanford Robinson: "He's a combination guard. He's tough, he can defend, he wants to be like Victor. And my thing is, if you work like Victor, I have no worries."
— Luke Fischer: "He's got to play for us. We always recruited him in the sense that you're either going to play alongside Cody and back him up or you're going to be playing for him if he's gone. Here we are."
— Collin Hartman: "He can play without the ball. He's a lot like Will Sheehey. He can shoot the ball."
— Devin Davis: "A tremendous athlete that can rebound it and plays tough and hard."
Filed to: Tom Crean, Will Sheehey, Yogi Ferrell