Crean: Indiana may go without marquee non-conference home game next season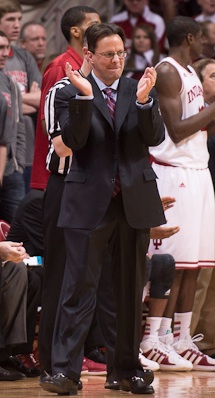 INDIANAPOLIS — Ever since Indiana's home-and-home series with Kentucky after the 2011-2012 season, there has been a lingering question of which school would replace the Wildcats on the schedule in the long term.
Many schools have come up over the last year, including Kansas and Louisville, but no deal has been reached with any team to this point.
Indiana coach Tom Crean said Tuesday night at a Tailgate Tour event at Lucas Oil Stadium that the Hoosiers are still working to fill the void in the schedule left by Kentucky, but he was rather vague as to what that might mean.
Crean said he had discussions with Gonzaga last week about scheduling a home and home with a game this season at Assembly Hall and one in the future at Gonzaga, but Mark Few's team already had enough non-conference road games scheduled for this season.
"Nobody wants to do that," Crean said. "It's too big of a deal to play at home. It's a big deal not only for the program but for the athletic department.
"It's so hard right now with what could happen down the road. There's no question losing Kentucky screwed us up for the home and home situation. But there's things that could potentially be out there for the future that we can't talk about publicly but we have to plan for privately. The last thing we wanna do is get caught in a situation where we're trying to play too many non-conference road games."
As it stands right now, the Hoosiers will play in the 2K Sports Classic at Madison Square Garden in November with Boston College, Connecticut and Washington. Indiana will also play at Syracuse in the Big Ten-ACC Challenge and against Notre Dame in the Crossroads Classic at Bankers Life Fieldhouse in December.
Crean was asked specifically if the possibility remained that the Hoosiers would not get another marquee home game this season.
"Oh, absolutely," he said. "Because I don't if we're gonna know what we need to do in a year or two years to put that together. But I do know this: TV is a huge part of what we're doing, certainly with ESPN."
When asked to comment on the current scheduling situation, Indiana athletic director Fred Glass only said that he and Crean are working on it and that he has nothing to announce as of yet.
Filed to: Gonzaga Bulldogs, Tom Crean