Indiana to play Iowa, Minnesota, Ohio State and Purdue once in 2013-2014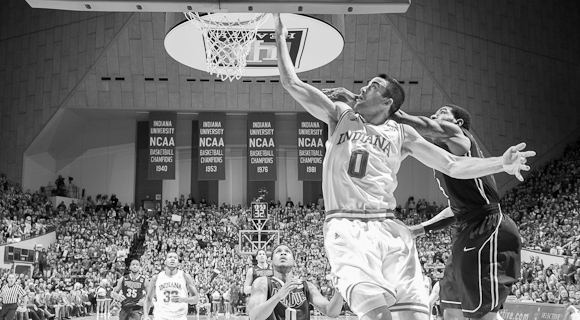 Single plays for the 2013-2014 Big Ten schedule were announced Tuesday afternoon and Indiana will play Iowa (home), Minnesota (away), Ohio State (home) and Purdue (away) just once next season.
In the past, the conference rotated single plays, meaning IU would have kept the same single play opponents next season but swapped venues. That's unlikely to be the case in 2014-2015 as Maryland and Rutgers join the league. With 14 teams in the Big Ten beginning next season, teams will play five league opponents twice and eight opponents once, which could result in an extremely unbalanced schedule for some teams.
It is possible, according to Scott Dochterman of The Gazette, that protected rivalries could be enacted as early as next season, but the Big Ten has no plans to split basketball into divisions.
The complete 2013-2014 Indiana schedule won't be released until later this summer, but in addition to the 18 league games, five non-conference games have already been announced. Indiana will play two of the following three teams in Madison Square Garden in the 2K Sports Classic: Boston College, Connecticut and Washington, at Syracuse in the Big Ten-ACC Challenge, Evansville at Assembly Hall and Notre Dame at Bankers Life Fieldhouse in the Crossroads Classic.
Up to eight additional non-conference games will be announced at a later date, two of which will be part of the 2K Sports Classic to be played at Assembly Hall.
Here's a complete list of Big Ten single plays by team:
· Illinois: Michigan, Purdue, at Northwestern, at Minnesota
· Indiana: Ohio State, Iowa, at Purdue, at Minnesota
· Iowa: Purdue, Nebraska, at Penn State, at Indiana
· Michigan: Northwestern, Penn State, at Ohio State, at Illinois
· Michigan State: Nebraska, Minnesota, at Purdue, at Wisconsin
· Minnesota: Indiana, Illinois, at Michigan State, at Nebraska
· Nebraska: Wisconsin, Minnesota, at Iowa, at Michigan State
· Northwestern: Illinois, Penn State, at Ohio State, at Michigan
· Ohio State: Michigan, Northwestern, at Wisconsin, at Indiana
· Penn State: Iowa, Wisconsin, at Michigan, at Northwestern
· Purdue: Indiana, Michigan State, at Illinois, at Iowa
· Wisconsin: Ohio State, Michigan State, at Penn State, at Nebraska
Filed to: 2013-2014 schedule