Theo Pinson on IU: "They're looking good right now"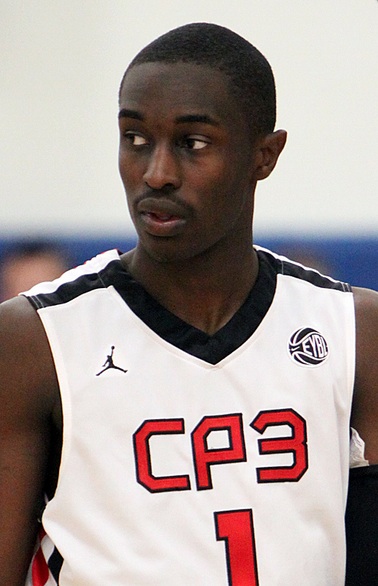 The transformation story of Victor Oladipo from under recruited athlete to probable lottery pick is one that is sure to resonate with future Indiana recruiting targets.
But more than a month before Oladipo walks onto the stage at the Barclays Center after hearing his name called, his ascent has captured the attention of one of IU's top recruiting targets in the class of 2014.
Theo Pinson, a consensus top 20 player nationally, has already taken an official visit to Bloomington and was tracked heavily by the IU staff over the winter and in the two April evaluation periods.
Oladipo served as his host during his official visit in February and his story is an intriguing one to Pinson.
"It does help (Indiana) just seeing how it took him from where he was to a lottery pick," Pinson told Inside the Hall over the weekend at the third Nike EYBL session in Dallas. "He wasn't really a big-time player in high school. He was good and really athletic. But they took him to a whole different level."
Pinson enjoyed another successful weekend with the CP3 All-Stars in EYBL session three. His team went 4-0 and he averaged 15.0 points, 5.8 rebounds and 2.0 assists despite playing just six minutes in his team's final game of the session.
As he prepares for his final high school season at Wesleyan Christian Academy in High Point, N.C., Pinson has a lengthy list of things he's aiming to improve upon.
"Just trying to keep the jump shot consistent and have a good field goal percentage," he said. "Also be more active on the defensive end with deflections, blocks, steals and all that kind of stuff. I know how important it is in college so I might as well work on it now."
Several schools — including Duke, Georgetown, Indiana, Louisville, Kentucky, Maryland, North Carolina and North Carolina State — are currently in the mix for Pinson, but his father, Theo Sr., told Inside the Hall recently that the Hoosiers are in his son's top three.
The younger Pinson didn't confirm his father's comments, but didn't exactly shoot them down either saying the following when asked where IU stands on his list: "They're looking good right now," he said.
The next step in the process for Pinson will be trimming his list, which could come later this month. He plans to make a decision and sign a Letter of Intent this fall.
From Pinson's perspective, he's learning plenty about what life will be like if he chooses Indiana from the approach of Tom Crean and assistant coach Kenny Johnson are taking in his recruitment
"They're telling me that they aren't only trying to recruit me, they're trying to coach me," Pinson said. "They're trying to show me if I decide to go there, how they're going to coach me.
"And they're trying to make sure that I know that I'm a priority for them."
Chris O'Dell of Star Local News contributed to this report.
Filed to: Theo Pinson