Lyle recaps Indiana in-home visit, updates process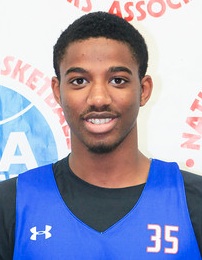 Indiana was the first school to offer a scholarship to JaQuan Lyle in late 2010.
And as his list of schools has been trimmed to seven — Indiana, Florida, Illinois, Louisville, Ohio State, Tennessee and UCLA — the Hoosiers remain active with the five-star guard from Evansville Bosse.
Tom Crean and associate head coach Steve McClain were in Evansville on April 24 for an in-home visit. Also in that week for in-home stops were Florida, Louisville, Ohio State and Tennessee.
The meeting with IU was a positive one, according to Lyle.
"We just talked a lot about the academic part and a lot about what I need to work on and what I need to do to be the best player I can be now and at the next level," Lyle told Inside the Hall this weekend. "Coach Crean, he's a great guy and really told me a lot of stuff that I didn't know. We talked about the player development on the court, off the court and in the classroom. It was a great visit."
Lyle has played well this spring for the Spiece Indy Heat, which has compiled a 6-3 record in EYBL play and is in good position for a berth in July's Peach Jam.
At the first EYBL session in Los Angeles, he averaged 7.8 points, 6.0 rebounds, 4.0 assists and 2.8 steals and followed that up with 15.4 points, 6.8 rebounds, 3.4 assists and 1.2 steals per game at the second EYBL session at Boo Williams. This weekend at the Spiece Run-N-Slam Classic in Fort Wayne, Lyle had a 44-point game in a win over the Eric Gordon All-Stars.
He said some schools are recruiting him as a point guard and some view him as a combo guard. Regardless of his position in college, he knows there a few areas he needs to improve upon before he arrives on a campus in the fall of 2014.
"Decision making. Sometimes I make the wrong pass or do the wrong thing," Lyle said. "Staying in shape and getting a lot stronger."
After this weekend's Run-N-Slam, Lyle has two more EYBL sessions (Dallas and Minneapolis) before he takes his ACT on June 8. He'll then look to set up his official visits.
He plans to take all five that are available to him.
"I'll decide where I'm going to take my five officials [after the ACT]," he said. "The other two schools won't be out of it. After that, I'm just going to take my time and whenever I think it's time, that's when I'm going to commit."
Proximity to Evansville won't be a factor in deciding where to take official visits, which are paid for by the institution.
"That won't have anything to do with it," Lyle said. "I'm really considering all seven schools, but it will just be where I want to take my officials."
Lyle's familiarity with Indiana is well-documented as he's taken unofficial visits to Bloomington during each of his high school seasons. He was courtside for Indiana's win over Kentucky back in December of 2011 and several other key wins for the program.
A conversation he had with Crean the summer after his freshman season is still a memory that resonates and had an impact on his growth, he believes.
"He told me a lot of stuff I didn't want to hear," he said. "That was whenever I was first put into the rankings. My head was big and when I had a meeting with him, it really brought me down and humbled me. Now I am where I am."
Lyle has talked to enough coaches and had the chance to see plenty of programs up close now that he feels confident in what he's looking for at the next level.
"I just need great coaches. A coach that's going to push me non-stop," Lyle said. "A great program, a great school and a school where I'm going to fit in the best. The best plan for me and that's really it.
"Coach Crean is a great coach. They obviously have great player development. A lot of people say IU can't develop pros, but Victor Oladipo and Cody Zeller are great. They were the first school to offer me. It's just a great place to be and I'm from Indiana. I like them a lot."
Filed to: Jaquan Lyle