Notebook: Recruiting updates, Big Ten single plays, more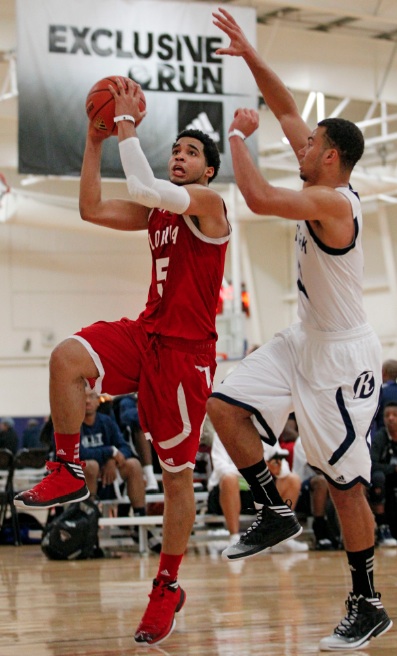 This weekend marks the final of two April evaluation periods for college coaches to watch prospects and today is the final day of the April recruiting period where schools can make in-home visits with 2014 prospects and watch younger prospects work out at their schools.
The Indiana staff has been active this week, with the following reported stops:
· Associate head coach Tim Buckley was in Florida Tuesday watching 2014 guard D'Angelo Russell of Montverde Academy and 2014 guard B.J. Taylor. Russell has an offer from Indiana and took an unofficial visit to Bloomington two summers ago.
· Tom Crean watched 2015 Bolingbrook (IL) guard Prentiss Nixon, according to Illinois Wolves coach Mike Mullins. Nixon visited Indiana last October.
· Crean is scheduled to have an in-home visit with 2014 Evansville Bosse guard JaQuan Lyle today and also watch 2014 guard Brandone Francis and 2014 forward Dante Buford of Arlington Day in Florida, according to Justin Byerly. He also, according to Kyle Neddenriep of The Indianapolis Star, checked in on 2015 Cathedral guard Jalen Coleman.
Lyle is considering six schools: Florida, Illinois, Indiana, Louisville, Ohio State and Tennessee. Francis (pictured) won the MVP in the 17-and-under division of last weekend's adidas Exclusive Run in Dallas.
· The Twitter account for the Mass Rivals AAU program tweeted earlier that assistant coach Kenny Johnson is expected to stop in on 2013 signee Noah Vonleh and 2014 target Goodluck Obokonoh on Wednesday.
Big Ten single plays to be announced soon
The Big Ten has already made its decisions on conference single plays for next season and based on a report by Scott Dochterman of The Gazette in Iowa, an announcement is expected soon.
"I can tell you on the men's side, that each team's four single-play opponents will come from the seven teams that they played home and away last year," Big Ten senior associate commissioner Mark Rudner, head of scheduling and television administration, told The Gazette. "What we tried to do was look at match-ups, look at single plays that may have not scheduled for a period of time for whatever reasons just to try and catch up."
Indiana will play Illinois, Nebraska, Northwestern and Wisconsin home and away next season.
IU's four single plays will come from these seven teams: Iowa, Michigan, Michigan State, Minnesota, Ohio State, Penn State and Purdue. Based on Rudner's comments, the most likely single plays for IU appear to be Iowa, Ohio State, Minnesota, Michigan or Purdue.
Here's a listing of the possible single play opponents and when IU last had a single play with each school:
·  Iowa: 2004-2005
·  Minnesota: 2006-2007
·  Ohio State: 2006-2007
·  Michigan: 2008-2009
·  Purdue: 2008-2009
·  Michigan State: 2010-2011
·  Penn State: 2010-2011
Indiana's 2013-2014 non-conference schedule will include a game with Notre Dame at Bankers Life Fieldhouse in Indianapolis, Evansville at home, a road game in the ACC-Big Ten Challenge and two games in Madison Square Garden in the 2K Sports Classic.
Other bullets
· Cody Zeller will be represented by Sam Goldfeder, according to Draft Express. Goldfeder also represents Luke and Tyler Zeller.
· The start of practice this season could be either September 27 or October 4, if the NCAA's Board of Directors approves the move in a vote scheduled to take place on May 2. It's a change that Crean favors, according to ESPN.com.
· With finals rankings released from ESPN, Rivals and Scout, Indiana again has the top ranked recruiting class in the Big Ten.
Filed to: 2013-2014 schedule, Brandone Francis, Jaquan Lyle, Prentiss Nixon