Scouting notes: 2013 Derby Festival Basketball Classic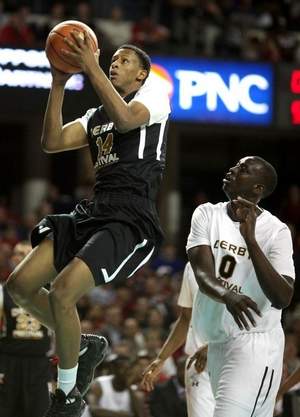 LOUISVILLE, Ky. — One of the final opportunities to watch five of IU's 2013 signees before they arrive in Bloomington in early June came over the weekend at Freedom Hall in the 2013 Derby Festival Basketball Classic.
The all-star game has become a regular stop for IU recruits in recent seasons as Cody Zeller, Victor Oladipo and several others have participated. Inside the Hall was in attendance at Wednesday's closed practice, Thursday's night of the future stars event at Floyd Central and Friday's game, which was won by the black team featuring all five IU signees, 124-113.
Here are game statistics, observations and scouting notes on all five guys:
· Troy Williams – 21 points (9-13 FG, 2-2 3PFG, 1-1 FT), five rebounds (two offensive), four assists, two turnovers, one block in 18 minutes
Williams walked away with MVP honors for the black team and there's a good argument to made that he was the best player on the floor on Friday. That wasn't the case in Wednesday's closed practice as he forced some shots and didn't finish particularly well around the rim. Williams was once ranked as high as No. 6 nationally in the 2013 class and he's an elite athlete that gets into the lane and finishes plays with dunks. While the setting of an all-star game doesn't lend itself to defense or rebounding being areas of focus, Williams has the tools to be very good in both areas. He's a long, high motor player with the ability to score in a variety of ways, which should earn him minutes from day one in Bloomington.
· Collin Hartman – 7 points (2-7 FG, 1-5 3PFG, 2-2 FT), four rebounds (all offensive), two steals, one assist in 18 minutes
Hartman's forte is perimeter shooting, but it wasn't his week to excel in that area. He struggled in the 3-point contest and in the game, but all was not lost as he found other ways to make an impact. Hartman was active on the glass with four offensive rebounds and also had two steals. Health has been an issue for Hartman over the past year as he battled concussions and also a wrist injury that forced him to miss time during the past high school season. He said he's ultimately emerged stronger from missing time and said that unlimited gym access is what he's looking forward to most in college. With work in the weight room, there's potential for Hartman to grab a role as early as next season.
· Luke Fischer – 12 points (5-7 FG, 2-3 FT), six rebounds (three offensive), three steals, two blocks, one assist, one turnover in 17 minutes
Fischer is often compared to Cody Zeller and it's a comparison that makes some sense because of their similar games and build. Zeller probably has a solid two inches on Fischer in shoes, but much like the former IU All-American, the Wisconsin native is a sound post player who understands how to play the game. Fischer was efficient all week in Louisville and didn't need the ball thrown to him to make an impact. His footwork and ability to catch the ball are both very good and while he's probably not the athlete Zeller is, he finishes well through contact and runs the floor hard. He's also a very good passer who can come out to the high post and find his teammates. Like most incoming players, adding strength to prepare for the rigors of the Big Ten will be key, but the tools are present for Fischer to play significant minutes early.
· Devin Davis – 14 points (7-8 FG), eight rebounds (five offensive), four assists, two turnovers, one block in 17 minutes
The name of the game for Davis is activity and in an all-star game where most guys were focused on dunks and getting shots up, he was hitting the offensive glass, sharing the ball and making the shots he did take, which were all inside of a couple of feet. Davis is probably a bit undersized to play the four and might not handle it well enough to play the three, but he's a guy you don't really worry about a position with and just let him make plays. I don't recall seeing Davis taking any plays off dating back to the first time I saw him play as a rising sophomore and that mentality has followed him throughout his high school career.
· Stanford Robinson – 6 points (3-9 FG), four rebounds (two offensive), four assists, three turnovers, one steal in 20 minutes
Robinson was impressive in Wednesday's closed practice as he competed hard defensively and excelled at scoring the ball in transition and also facilitating for teammates. His stat line wasn't gaudy in Friday's game, but he did tie for the team-high in assists and seems to be at his best when he's attacking the rim off the dribble. Robinson said on Wednesday that he's really working on his ball handling so that he can be prepared for potential backup minutes at the point guard following the transfer of Remy Abell. He's got the length and quickness to be a very good defender and also seems to be a very bright kid who enjoys playing the game and competing.
Filed to: Collin Hartman, Devin Davis, Luke Fischer, Stanford Robinson, Troy Williams