Goodluck Okonoboh "very intrigued" by Indiana offer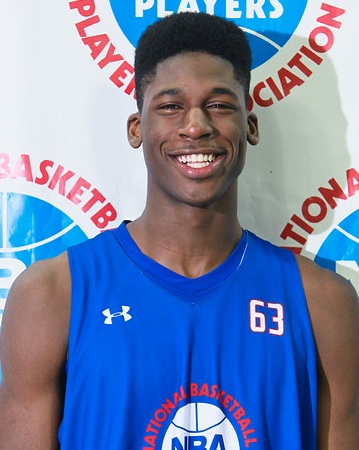 As a former AAU teammate of 2013 signee Noah Vonleh, Indiana has tracked Goodluck Okonoboh closely for quite some time.
But that interest took the next step earlier this month as Tom Crean and assistant coach Kenny Johnson traveled to Wilbraham and Monson Academy near Boston to watch Okonoboh work out and extended a scholarship offer.
Okonoboh has earned a reputation as one of the premier shot-blockers in the country and the IU staff has made him a priority in its recruiting efforts for the 2014 class.
"I know he was very impressed with Coach Crean, as was I," Wilbraham and Monson coach Chris Sparks told Inside the Hall this week. "He's a professional in every sense of the word. Having a chance to watch them play this year and then also getting a chance to talk to him some more and meet him, I think he's very impressed with them and also very intrigued by their interest and flattered."
Originally a member of the 2013 class, Okonoboh reclassified to 2014 to work on his game and his body so that he'll be ready to contribute from day one in college.
It's a move that is paying major dividends for Okonoboh's development, according to Sparks.
"I think his game has really evolved at this point from not only being a threat on the defensive end, but also the offensive end," his coach said. "He's been extremely focused in the offseason and determined to improve his game on the offensive end, being a threat inside and out. He's also had a big improvement in his body. He's put on some weight and his explosiveness has even improved a little bit. He's becoming more of a complete player."
At 6-foot-9 and 220 pounds, Okonoboh, born in 1994 to Nigerian parents, is an imposing figure in the paint that can change games by altering and blocking shots. Off the court, according to Sparks, he shares a lot of similarities with his close friend Vonleh as a quiet and humble kid.
"He laughs a lot, he's got a great smile. He's just got a really  good personality," Sparks said. "But on the court, it's like a switch goes off. As a coach, it's such a pleasure to be around because he's so focused and determined."
Rated the No. 20 player nationally and a five-star prospect by ESPN.com, Okonoboh has a lengthy list of suitors, but is still very early in his process.
The fact that Vonleh will be in Bloomington beginning this summer will only aid the Hoosiers in the pursuit of the highly touted center.
"Noah was an incredible get for Indiana," Sparks said. "It obviously helps. He respects Noah and they value each other's friendship and I think that obviously will help."
Obokonoh will again play for the adidas-sponsored Mass Rivals AAU program this spring and summer, coached by Vin Pastore. Their first event, the adidas VIP exclusive run in Dallas, tips off later tonight in front of college coaches in the first of two April recruiting evaluation periods.
—
Filed to: Goodluck Okonoboh