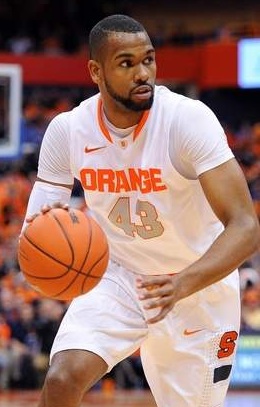 WASHINGTON — Indiana will be looking to advance to the Elite Eight for the first time in 11 years when it takes on Syracuse on Thursday night in an East Region semifinal at the Verizon Center.  
The game will tip at approximately 9:45 p.m. on CBS with Verne Lundquist, Bill Raftery and Rachel Nichols on the call:
With three-plus days to prepare, Indiana will have the daunting task of trying to solve the zone of the Syracuse Orange, a defense unlike any the Hoosiers have seen this year. Not only is the Big Ten a league stocked full of man-to-man defenses, the teams in the league who do play some zone, like Iowa, Penn State and Northwestern, don't have athleticism or length that compares to Syracuse.
"There is really nobody that we have played, nobody that these kids have played that you can look at and say, yeah, we went through forty minutes of this," Indiana coach Tom Crean said Wednesday. "That's the beauty of the tournament."
But as much of the focus centers around IU solving the zone of Syracuse, the Orange must contend with a hard-nosed Indiana defense that ranks in the top 20 nationally and an Indiana offense that is feasting on the offensive glass, which is an area that has given Jim Boeheim's team problems this season.
PERSONNEL
Boeheim's zone needs long, athletic players in order to be successful and those are two characteristics his current roster is stocked with. Syracuse typically plays only three guards and this season, it's been just two for the most part with sophomore Michael Carter-Williams and senior Brandon Triche occupying the majority of the playing time.
Carter-Williams had to wait his turn last season with Scoop Jardine and Dion Waiters ahead of him on the depth chart, but he's emerged this season as one of the nation's best point guards. His assist rate of 41.5 percent ranks 11th in the nation and his steal percentage (4.7) is 14th nationally. He's a guy that Indiana could play off of a little bit because he's much better going off the dribble and either finishing at the rim or creating for others than he is shooting from the perimeter. Carter-Williams has connected on just 27.9 percent of his 3-point attempts.
Triche is also a solid distributor, with an assist rate of 21.4 percent, but like Carter-Williams, he's struggled with his outside shooting. The senior guard is knocking down just 29.8 percent of his attempts from distance and is much better around the rim, where he finishes 63 percent of his shots. Triche's 13.8 points per game are second on the team. If either player encounters foul trouble, it's possible Indiana could see freshman Trevor Cooney, another poor perimeter shooter, in limited backcourt minutes.
An important matchup for the Hoosiers will be 6-foot-8 junior C.J. Fair, who averages team-highs of 14.5 points and 6.9 rebounds. Fair is hitting 49.2 percent from three and rarely turns it over (13.9 turnover percentage). James Southerland (pictured), a 6-foot-8 senior, missed some time earlier in the season due to undisclosed eligibility issues, but has since returned and is capable of carrying Syracuse with his perimeter shooting. Southerland has hit four or more 3-pointers in nine games and shoots 40.5 percent from distance. He's also a capable defender, as evidenced by his steal percentage (3.1) and block percentage (3.4). Freshman Jerami Grant, a DeMatha product, averages 3.9 points off the bench.
The center position isn't one of much offensive production, but Boeheim has a pair of capable defenders and rebounders at his disposal in Rakeem Christmas and Baye Keita. Christmas is the starter and is strong on the glass with a defensive rebounding percentage of 15.1 and also has the 20th best block percentage (11.2) in the country. Keita is the team's best offensive rebounder (13.8 OR%) and typically finishes (63.1 FG%) his limited offensive opportunities.
POMEROY PREVIEW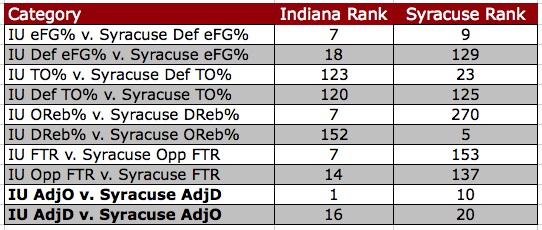 The chess match of Indiana attempting to break the Syracuse zone is a compelling storyline to watch on Thursday and there are two key areas the Hoosiers will need to master in order to march on to Saturday. The first is taking care of the ball. The Orange are forcing opponents to turn it over on 23.5 percent of possessions and careless turnovers against a team with the athletes of Syracuse will result in easy baskets on the other end.
If there's a major hole in the zone, it lies in the inability of Syracuse to lock down the defensive glass. The Orange rank just 270th nationally in defensive rebounding percentage, which is a number that could be troublesome against an IU team that ranks seventh in the country on the offensive glass. Syracuse can also pound the offensive glass, and given that the Orange shoot a somewhat average percentage from the field, the Hoosiers must limit second chance opportunities.
As I mentioned earlier in the week, Indiana was the best Big Ten team against the zone this season, scoring 1.12 points per possession, according to Synergy Sports. Whether that's any indication of what's to come on Thursday remains to be seen, but if Indiana can get the ball into the middle or on the block and then work it back out and around the perimeter, open looks will be available for the nation's third best 3-point shooting team.
WHAT IT COMES DOWN TO
Indiana will take the Verizon Center floor as a slight favorite, with Vegas giving IU 5.5 points and Pomeroy predicting the Hoosiers to win by four at 71-67. Pomeroy puts the chances of an IU win at 67 percent.
As noted earlier by Crean, the challenge of facing the Syracuse zone is difficult because there aren't any other teams who Indiana has faced that have given the Hoosiers a similar look. And as well scouted as the zone may be, Boeheim is capable of throwing in a wrinkle or two to keep the opposition guessing. If the Hoosiers are to advance to face the winner of Miami (FL) and Marquette, points in transition before the zone gets set and second chance points are major keys.
Filed to: Syracuse Orange