The Minute After: James Madison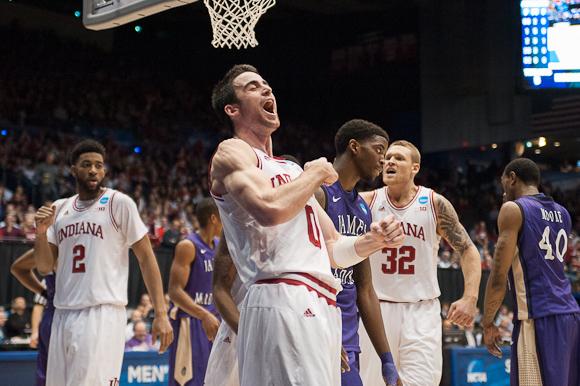 Thoughts on an 83-62 win against the Dukes:
This was how it was supposed to go.
Indiana did not mess around, did not let the Dukes for a second think an upset was brewing. Yogi Ferrell, with JMU perhaps keying on Cody Zeller and all the shooters around him, hit on drives at the rim and from beyond the arc. He scored the Hoosiers' first nine points as JMU scored none. 9-0 Hoosiers, and the blowout was on.
This had the look and feel of an early season non-conference home game for the Hoosiers. The talent gap between them and their opponent was vast and the game was pretty much over at halftime. But as we also saw in those games, Tom Crean made sure his Hoosiers remained engaged after halftime. They would full-court press; they would trap in the halfcourt; they would keep the pedal firmly to the metal. Their edge remained intact. Some late 3-pointers from JMU would take this from a 30-ish point victory for the Hoosiers to where it finished up — a 21-point win.
The numbers impress: The Hoosiers ended the game scoring 1.297 points per possession with an eFG percentage of 60.9. Indiana also snagged 41.4 percent of their offensive rebounding opportunities for 12-second chance points and scored 15 points on the fastbreak. It also was pretty good with the ball, turning it over on just 14.1 percent of its possessions.
They held JMU to .969 points per possession and just 41.9 shooting from the field. (Though, Andre Nations, who had five blocks in the Dukes' win against LIU-Brooklyn deserves some love here. He led all scorers with 24 points and appears to have a bright future ahead of him as a two-way player.) Ferrell finished the early evening with a (sorta) near triple-double: 16 points (7-of-12), eight rebounds and six assists. This was a terrific debut for Indiana's quarterback to start the NCAA Tournament. Jordan Hulls got out of his slump some, as he hit 2-of-5 from distance, 3-of-6 overall and 2-of-2 from the line for 10 points. Others joined Hulls and Ferrell in double-digits. Zeller had 11 (4-of-5 from the field, including some strong dunks, 3-of-4 from the line). Victor Oladipo scored 11 (3-of-7, 4-of-4 from the line).
Will Sheehey had a nice game off the bench, slashing in off the wing for buckets in the paint and hitting from beyond the arc as well. He finished with 15 points (7-of-14). Christian Watford almost joined his teammates in double-digits with nine (2-of-4 from distance, 3-of-4 from the line). The comfortable margin also allowed for Crean to use his bench. Derek Elston got eight minutes and maybe his knee is going to hold up just enough to get some minutes in the tourney. Remy Abell hit two threes and 2-of-2 from the line for eight points in 16 minutes. And even Hanner Mosquera-Perea got points in this one. He had a late putback and also hit 1-of-2 from the line for three points in four minutes of action. He also snagged a quick three offensive rebounds during his time on the court, too.
The first one's in the books, and Indiana will face Temple on Sunday. A tougher opponent awaits, but the Hoosiers started exactly like they needed. It was a dominant performance against a team they clearly outclassed.
Filed to: James Madison Dukes