Five takeaways from Indiana's win over James Madison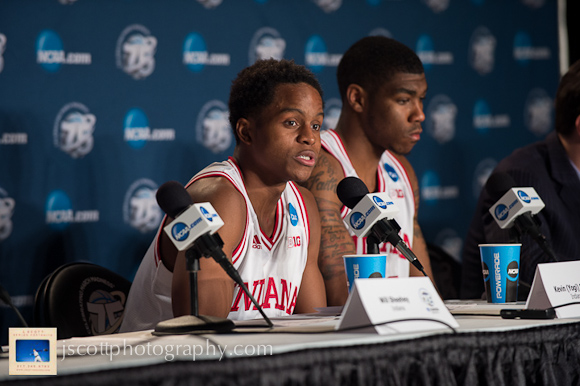 DAYTON, Ohio — There was plenty of talk about a 16-seed beating a one-seed leading into this NCAA Tournament, but Indiana would have none of it on Friday afternoon at the University of Dayton Arena. The Hoosiers started quickly en route to a comfortable 83-62 win over James Madison.
Here's a look at five takeaways from the Hoosiers' win over the Dukes:
· Ferrell fuels quick start: His scoring numbers weren't gaudy, but Yogi Ferrell quietly engrained himself as the point man on one of the nation's best teams. Early on against James Madison, it appeared that the Dukes were so focused on trying to contain Cody Zeller and Victor Oladipo that they almost didn't realize that Ferrell was capable of putting up points in bunches. Those of us who covered Ferrell throughout his prep career know he's more than capable of doing just that and James Madison learned the hard way on Friday as the Park Tudor product scored nine points in three minutes and eighteen seconds. Ferrell's start set the tone for a game that was really never close the rest of the way. "He was awesome," James Madison coach Matt Brady said. "We knew how fast he was. We knew he's really talented. We know he's the guy that kind of makes them go."
· IU puts on an offensive clinic: James Madison didn't put up much resistance, but Friday marked IU's best offensive performance from an efficiency standpoint since a 76-47 beat down of Nebraska in Assembly Hall. The Hoosiers finished with 1.28 points per possession, hit 9-of-23 attempts from three, dished out 17 assists and only committed nine turnovers. Indiana also had five guys finish in double figures and had a sixth player, Christian Watford, with nine. "They ran. They ran faster than any team we ever played," James Madison freshman Andre Nation said. "They threw the first punch, and they threw another punch, and they kept throwing them, and we weren't throwing any back."
· Hoosiers get engaged defensively: Defense stopped IU's NCAA Tournament last March as the Hoosiers allowed eventual national champion Kentucky to put up 102 points in a regional semifinal loss in Atlanta. But the Hoosiers have gone with the narrative of defense  leading to offense all season long, and that was the case against James Madison as 10 turnovers by the Dukes turned into 15 IU points. The Dukes finished with just .97 points per possession. "We weren't giving them easy baskets," Tom Crean said when asked to evaluate IU's defensive performance. "There was a couple here and there, but we were challenging our guys. We were talking about pick-and-roll coverage, really, really locked into personnel. I can't stress enough how proud I am of the way that they did that because they've done that all year long."
· Hulls finds his shot, Abell continues tournament charge: After hitting just six of his last 24 three-point attempts prior to Friday, Jordan Hulls found his range against James Madison. The IU senior hit 3-of-6 of his field goal attempts, knocked down a pair of free throws and finished with 10 points. And Abell, who scored 10 points in two Big Ten Tournament games last weekend, continued to shoot the ball with confidence and chipped in seven points off the bench. "To have Remy with seven, to be able to play as many people as we did was a big deal today," Crean said in his postgame comments.
· Nation shines for James Madison, IU shuts down Goins: If there was a bright spot for James Madison, it was the play of freshman Andre Nation. After finishing with 14 points, seven rebounds, five blocks and four assists in JMU's first four win over LIU-Brooklyn, Nation pumped in 24 points on Friday against Indiana. James Madison's leading scorer, Rayshawn Goins, said this on Thursday when he was asked about his team's strategy to keep the game close with the Hoosiers: "We're going to attack them and try to get them in foul trouble so they'll be forced to use their bench." Goins, who came into the game averaging 12.4 points and 7.4 rebounds, was essentially a non-factor all afternoon and finished with two points on 1-of-6 shooting and six rebounds in 22 minutes.
Filed to: James Madison Dukes