Surprised by Yogi's stat line? You shouldn't be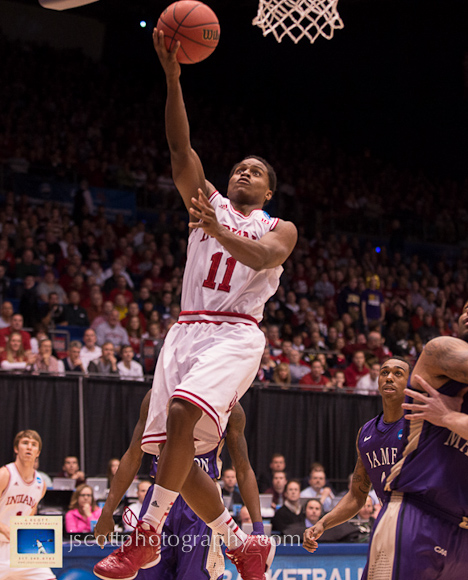 DAYTON, Ohio — Yogi Ferrell is often ignored and overlooked because, frankly, you can't talk about everybody at the same time. Ferrell happens to play on a team with guys named Victor Oladipo and Cody Zeller with a coach named Tom Crean. There aren't enough headlines to go around.
But if you spend any amount of time around the Indiana program, you know how important Ferrell is to this program. How valued he is. How loved.
Ferrell's first-half burst against 16th-seeded James Madison in the second round of the NCAA Tournament on Friday was probably viewed by some as a coming out party of sorts. His name was trending on Twitter nationally by halftime. He finished with 16 points, eight rebounds and six assists.
"I helped recruit and coach Jameer Nelson for four years," said James Madison coach Matt Brady, a former assistant at St. Joe's. "He's got some of Jameer's qualities. He's got that same burst of speed. Jameer's probably a little better long-range shooter, but he seems to have the leadership skills that Jameer had. He seems to have control of that team. It's fun to watch."
Ferrell's performance on Friday was impressive, but what is often forgotten is that Ferrell has been one of the steadiest forces on this team all year long. He's quarterbacked the Hoosiers from the start, despite his youth and inexperience. When Ferrell comes off the court, the team doesn't function nearly as well on either end.
"He's always on the attack," junior Will Sheehey said. "He makes everyone so much better when he drives in the lane and kicks, gives everyone else opens shots. I know I always benefit off of Yogi's drives."
Crean, Oladipo and Zeller have gotten the majority of the credit for Indiana taking the next step this season, and rightly so. But don't forget about Ferrell, who has quietly become one of the nation's best on-ball defenders and more efficient point guards.
"The stars were out, the lights were on, and he came to perform. He did a great job for us," Oladipo said.
Sheehey described Ferrell as "Hollywood" when he stepped on campus for the first time last summer. He thought highly of himself, perhaps too highly, and had to be put in his place.
"He grew out of that quick because we brought him down to Earth," Oladipo said. "Reality set in when we started doing conditioning and he wasn't in front of the pack."
Ever since then, Ferrell has stayed pretty quiet, and simply worked. His freshman numbers won't jump off the page at you, but Ferrell's growth and production have been every bit as important to Indiana's success as any other single factor.
Friday's performance was just another step in Ferrell's development. When it was clear early on that James Madison was going to play off of Ferrell to help on Christian Watford and Zeller in the post, Ferrell made them pay. He's not normally the team's first scoring option, but he had no problem being it when the Dukes dared him to be.
"We were gonna leave Yogi when the ball went in the paint," said James Madison coach Matt Brady. "We were undaunted by his threes, it was the speed at which he put the ball down. He just blew by our guys. He gets so low to the ground. When you get low like that, you're hard to stay in front of."
Only three teams in the last 20 years have won a national championship with a freshman point guard (Arizona 1997, Syracuse 2003, Kentucky 2012). If Ferrell continues to play like he has lately, the Hoosiers just may become the fourth.
"He's a star," Brady said. "I don't see any holes to stop them from doing what [the state of] Indiana wants them to accomplish. At St. Joe's in '04, we had the No. 1 team in the country. That St. Joe's team was great, but that Indiana team has all the answers. They have size, athletic ability, they play really hard, they run so many sets, and they share the ball as well as the St. Joe's team I was a part of."
Filed to: Victor Oladipo, Will Sheehey, Yogi Ferrell