What to Expect: James Madison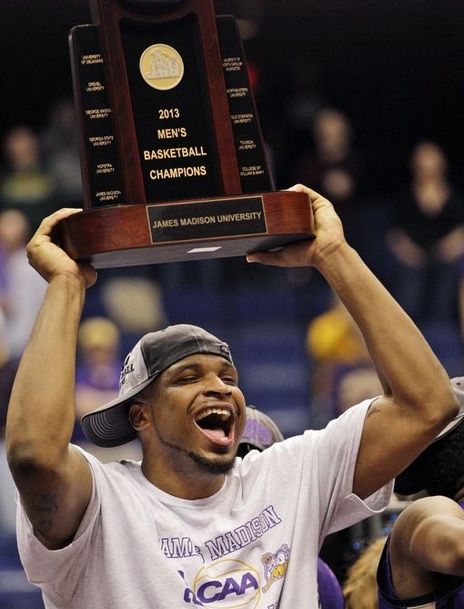 Indiana tips off the NCAA Tournament on Friday as a No. 1 seed for the first time since 1993. The Hoosiers will play the James Madison Dukes, champions of the Colonial Athletic Association. The Dukes advanced to the second round of the tournament with a 68-55 win over LIU-Brooklyn on Wednesday night.
The game will be broadcast on TBS at approximately 4:10 p.m. ET with Jim Nantz, Clark Kellogg and Tracy Wolfson on the call:
With six days of rest, Indiana will return to the court on Friday to begin what it hopes will be a deep run into the NCAA Tournament. The circumstances of this year's tournament appearance are quite different from a season ago. The Hoosiers aren't being picked by anyone to lose their first game as was the case last year with New Mexico State. Nate Silver of The New York Times puts the probability of IU advancing past the first game at 98.5 percent, the second highest winning probability among second round games.
First up for the Hoosiers is James Madison, which will be facing just its fourth top 100 Ken Pomeroy opponent this season. The teams share one common opponent: North Dakota State. The Hoosiers beat the Bison 87-61 on Nov. 12 at Assembly Hall and the Dukes fell to North Dakota State 66-44 on Nov. 21 on a neutral court in Pittsburgh.
PERSONNEL
After serving a suspension in the first half of James Madison's win over LIU-Brooklyn, the teams's leading scorer, senior Rayshawn Goins (pictured), will be available for all 40 minutes on Friday afternoon. Goins was arrested Sunday night and university policy later determined that he would have to watch from the sidelines for the first half as his teammates opened the NCAA Tournament. Fortunately for James Madison, his absence wasn't much of a detriment and after leading by one at halftime, the Dukes took control down the stretch for a comfortable 13-point lead. Goins uses 27.4 percent of his team's possessions and averages 12.7 points on 41.1 percent shooting. He's the team's leading rebounder on both ends (8.9 OR% and 22.6 DR%), but at 6-foot-6, is going to give up plenty of size to Indiana's front line.
As is the case frequently at the mid-major level and below, size on the front line is scarce and that's certainly the case with James Madison. With Goins unavailable to start, the Dukes started five players who are listed as guards against LIU-Brooklyn. The team's second leading scorer, A.J. Davis, is a taller guard at 6-foot-6 that loves to shoot the three. Davis has hoisted 184 threes this season and has connected 69 times for 37.5 percent. He was hot on Wednesday night, hitting four of his attempts from distance to finish with a team-high 20 points. Devon Moore, a native of Columbus, Ohio, has multiple 20-point games under his belt and is also the team's leading assist man (32.3 assist rate).
Freshman Andre Nation, another big guard at 6-foot-5, turned in arguably his best all-around game of the season against LIU-Brooklyn with 14 points, seven rebounds, five blocks and four assists. Nation hit 6-of-12 shots, but came into the game shooting just 42.3 percent. His primary strength lies in his defensive ability. His steal rate (3.6) and block rate (5.5) are team highs. Charles Cooke, a 6-foot-6 freshman guard, turned in just his sixth game in double figures with 15 points against LIU-Brooklyn. Cooke is typically a poor shooter, particularly from the perimeter where he's hitting just 28.7 percent of his attempts.
POMEROY PREVIEW
Note: The below chart list national ranks prior to Wednesday's game.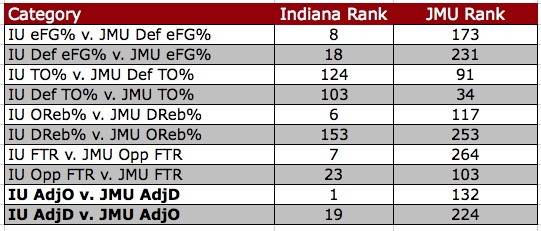 James Madison plays a much more deliberate pace than Indiana, averaging just 64.5 possessions per game. The Dukes actually led the Colonial defensively from a points per possession perspective, allowing league opponents to score just .97 points per trip. Their league, however, was just the 19th best in the country according to the KenPom ratings, and the Dukes actually stole a bid by winning the conference tournament after finishing just fourth in the regular season standings.
One strength for James Madison is taking care of the ball. JMU is turning it over on just 17.2 percent of its possessions. The rest of the offensive profile doesn't read like one capable of keeping up with the nation's best offense if the game turns into an up-and-down affair. James Madison shoots just 33.3 percent on threes, a shade over 46 percent on twos and doesn't get to the foul line nearly as frequently as IU.
Defensively, James Madison ranks just 235th nationally at defending the three and is foul prone with an opponent free throw rate (FTA/FGA) of close to 40 percent. With Indiana ranking second nationally in 3-point shooting percentage and seventh in free throw rate, the challenge of attempting to slow down the Hoosiers is a significant one for JMU.
WHAT IT COMES DOWN TO 
This is a game Indiana should win and do so comfortably. Goins is listed at 265 pounds and will probably attempt to move Cody Zeller away from the basket, but IU's big man has shown the ability to face up and draw fouls going to the rim. It's really a pick your poison predicament for JMU: Play Zeller straight up and risk foul trouble for Goins or use the double team and open up the perimeter for guys like Christian Watford and Jordan Hulls to get back on track.
As I wrote earlier today, a key for Indiana in the tournament is limiting turnovers. James Madison does a decent job of forcing mistakes, but the resistance they'll put up should be minimal in comparison to a team like Ohio State or Wisconsin, two of the country's best defensive teams that were able to slow down the Hoosiers in recent weeks.
Jeff Sagarin's predictor likes Indiana to win by 21, setting up a date with either North Carolina State or Temple in the round of 32 on Sunday in Dayton.
All tempo-free stats via KenPom.com.
Filed to: James Madison Dukes