Keys to NCAA Tournament success for Indiana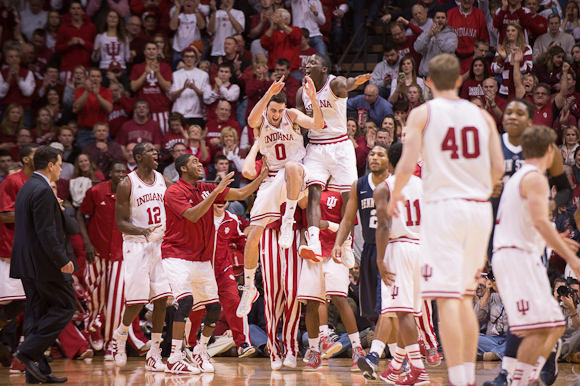 As Indiana enters the 2013 NCAA Tournament, expectations couldn't be higher. After winning the regular season Big Ten title, the Hoosiers are battle tested and possess the experience and talent necessary to make a run to this year's Final Four in Atlanta. If that run is to become reality, there's plenty Indiana must do well to continue advancing in the tournament.
Here's a look at the keys for Indiana as tournament play begins in a little more than 48 hours:
· Take care of the ball: If there's one black mark on an otherwise brilliant offensive profile for IU, it's turnovers. Indiana is turning the ball over on 19.1 percent of its possessions, but since winning at Michigan State on Feb. 19, that figure has been on the rise. Over the last six games, Victor Oladipo, who has the ball in his hands as often as any Hoosier, has 18 turnovers and Cody Zeller has 22 turnovers. Indiana, of course, is 3-3 over those six contests. Oladipo and Zeller have been as good of a combo as there is in college basketball this season, but it's tough to win consistently with your best players turning it over at a higher rate than usual.
· Play through Zeller early and often: With four players averaging in double figures and two others not far behind, Indiana doesn't have to rely on one or two guys to carry the load. This is a team that can score the ball in so many ways and it starts with establishing Zeller in the post early, which is what Indiana did well in its wins at Michigan State and Ohio State. It may sound simplistic, but playing through Zeller typically opens the floodgates for IU offensively. When the Hoosiers couldn't get the ball inside against Wisconsin in the Big Ten Tournament, the offense stalled and quality looks were few and far between. Taking away Zeller is going to be all over the opposition's scouting report, but the importance of Indiana figuring out how to pound the ball inside can't be overstated.
· Get consistent production from Christian Watford and Jordan Hulls: Through 14 Big Ten games, it appeared as though Watford had finally shed the inconsistent label as the senior from Birmingham had scored in double figures in every game over a two-month span. He's now scored in double figures in just three of his last six and he's averaging under five rebounds during that same time span. When at his best, Watford is engaged on the glass and defensively, which typically brings along his offense. Hulls is marred in a bit of a shooting slump with just six makes on his last 24 attempts from three, but it's nothing he shouldn't be expected to come out of soon. And if that happens, Indiana becomes even tougher to guard.
· Own the defensive glass: Indiana's defense is better nearly across the board from a season ago, with one exception: defensive rebounding. It's an area where the Hoosiers are still vulnerable and in four of IU's six losses, the defensive glass was a major factor. The good news, at least early in the bracket, is that none of IU's opponents on the immediate horizon typically excel on the offensive glass. The bad news, however, is that the farther they advance, the likelihood of running into a team that thrives off of second chance points improves (like Syracuse). Zeller and Watford have been IU's best defensive rebounders all season and that must continue once the tournament tips off.
· Get to the foul line: Indiana leads the country in free throw rate (FTA/FGA) at 46 percent, but in its two most recent losses, has fallen well short of that mark. The key to getting to the line lies with playing through Zeller as IU's sophomore big man has a free throw rate of 73.5 percent, which ranks 23rd nationally. Indiana is most effective offensively when, as Yogi Ferrell said after the win over Illinois, it "sprays the ball around." That typically leads to action off the dribble-drive and either finishes at the basket, fouls being drawn or the ball being kicked out to open shooters. As important as the 3-point shot has been to IU's success, the free throw line has been perhaps more important because it can be relied on when shots from the outside aren't falling.
Filed to: 2013 NCAA Tournament