Film Session: Zeller's dominant finale
Hoosier fans have often griped about Cody Zeller's touches this season, but a re-watch of the final minute and a half of Indiana-Michigan reveals this simple fact: IU's last five possessions were all about getting its big man the ball.
The first two didn't end so hot: A quick entry pass from Yogi Ferrell on the right wing to Zeller on the right block resulted in a turnover — the ball going out of bounds. The second possession was again a pass off the right wing. Victor Oladipo entered the ball to Zeller, who was set up down in the right corner. A move to the middle of the lane resulted in a travel call for Zeller and IU was on the ropes.
But the Hoosiers stuck with it, running similar action on the last three plays, all resulting in Zeller scores. It was enough to top the Wolverines by a point and win an outright Big Ten title.
A look at these three scores in the latest edition of Film Session:
I. Ferrell streaks down the right side of the court. Oladipo is in a familiar spot in the corner. Christian Watford trails and heads to the familiar left wing. Like we similarly saw on the Ferrell entry pass turnover, Zeller comes over from the left block as Jordan Hulls looks to get a body on Jordan Morgan to set a screen for Zeller and free him:
Hulls gets some body on him and there appears to be a small window to hit Zeller on the right block: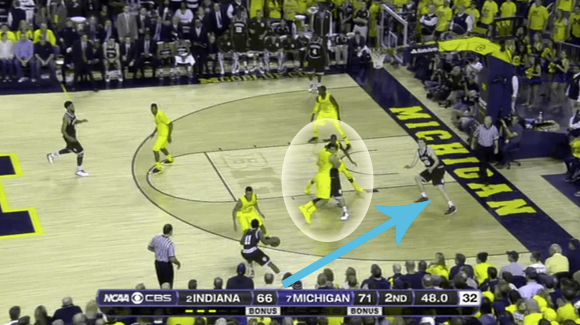 But Yogi decides against it. As he brings the ball back up a bit, we see some secondary action, as Watford sets a screen for Hulls to try and free him up top for a 3-pointer. Zeller is also trying to make himself more available up near the right wing: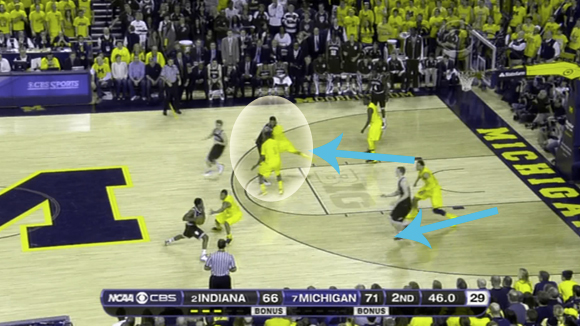 With Zeller now out near the 3-pointer line, he receives the ball. Morgan gives him some space because he's so far out: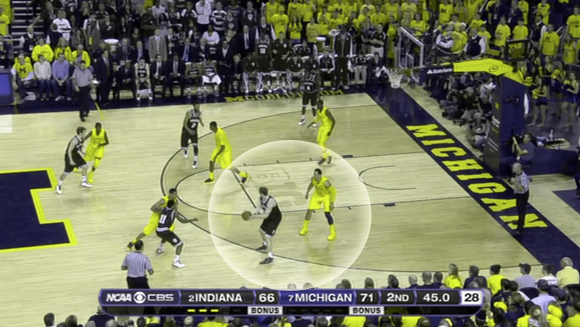 Ferrell comes around for a handoff, but it doesn't happen: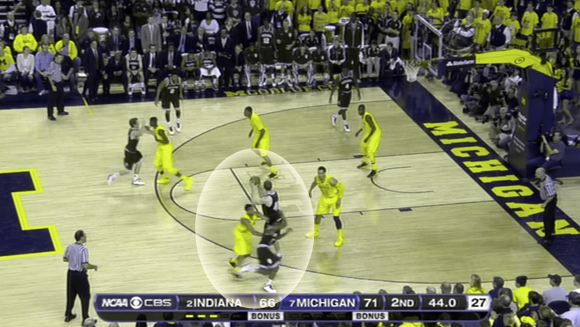 So with a little space — and with plenty of ability to make a move from this far out and score, something we've seen from Zeller this season on occasion — he curls left and goes to work: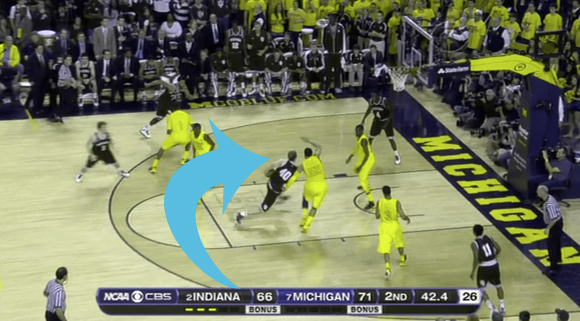 He gets a shot up relatively untouched, but it misses: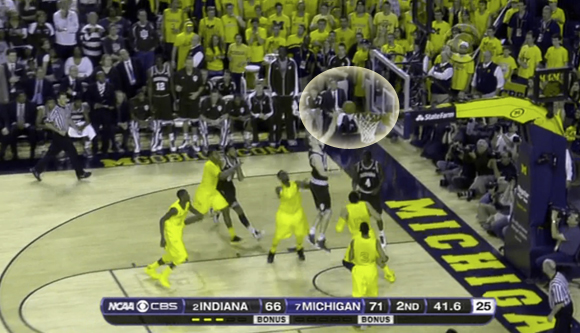 The miss comes right back to him, and he scores for two points. 71-68 Michigan: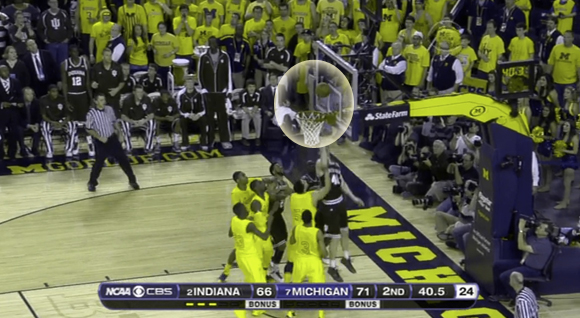 Video:
Filed to: Cody Zeller, Michigan Wolverines