Big Ten Power Rankings: March 4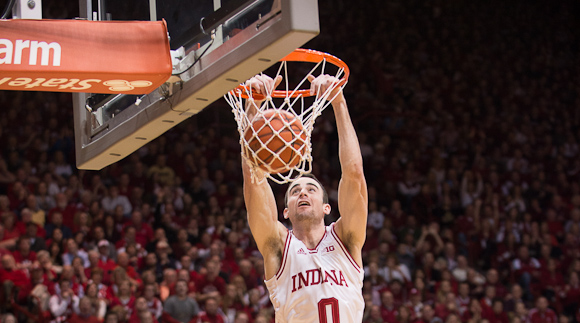 Indiana clinched at least a share of the Big Ten title on Sunday with losses by Michigan State and Wisconsin, but there's still plenty to decide as we head into the final week of the regular season. Will Indiana win an outright conference crown? Which teams will receive a bye in the conference tournament? And who will shine in the final week and win Big Ten player of the year?
12. Northwestern (13-16, 4-12) (LAST WEEK: 11) … The standings indicate the Wildcats are tied with Nebraska for tenth place. But in its current state, Northwestern is the league's worst team. In February, Bill Carmody's team won just one game and failed to score 60 points in six straight losses. It might be time for a change in leadership in Evanston.
11. Penn State (9-19, 1-15) (LAST WEEK: 12) … The Nittany Lions have been competitive all year, but looked like a legitimate threat to finish winless in the country's toughest league. But credit Pat Chambers and the strong play of Jermaine Marshall and D.J. Newbill for Penn State's shocker last Wednesday over Michigan. To ensure it won't finish at the bottom of the power rankings, Penn State must win at Northwestern this week.
10. Nebraska (13-16, 4-12 ) (LAST WEEK: 10) … Another mediocre week for the Cornhuskers. They were blown out at Wisconsin and then lost at Illinois. One of the few bright spots for Tim Miles has been the play of freshman Shavon Shields, who might be the team's top option next winter.
9. Iowa (18-11, 7-9) (LAST WEEK: 7) … The Hawkeyes have a legitimate shot to finish 9-9 in the conference, but they're not in the NCAA Tournament conversation because of a mediocre non-conference strength of schedule. They've also feasted on the bottom teams in the league with four of their seven wins coming against Northwestern and Penn State.
8. Purdue (14-15, 7-9) (LAST WEEK: 9) … Yes, the Boilermakers lost by double digits this past week to Iowa. But the teams split the season series and Purdue went to Wisconsin on Sunday and knocked off the Badgers on senior day. That's good enough for a bump up in the rankings.
7. Illinois (21-9, 8-8) (LAST WEEK: 6) … The Fighting Illini played just once last week, a 72-65 triumph over Nebraska. The victory moved Illinois back to .500 in conference play, but with games at Iowa and Ohio State to close out the season, a sub .500 mark in league play is a distinct possibility.
6. Minnesota (20-9, 8-8) (LAST WEEK: 7) … The Golden Gophers were spiraling downward quickly heading into last week. That trajectory changed for the time being as they knocked off No. 1 Indiana on Tuesday and then beat Penn State. If Trevor Mbakwe continues to play well, Minnesota could be a tough out in March.
5. Wisconsin (20-9, 11-5) (LAST WEEK: 4) … Many believed the Badgers had an excellent shot to capture a piece of the Big Ten title if they could go to the Breslin Center and win this week, but that game lost much of its luster when Purdue went to the Kohl Center and won convincingly on Sunday. As well as Wisconsin has played this season, it also benefitted greatly from drawing Indiana and Michigan as Big Ten single plays.
4. Michigan (24-5, 11-5) (LAST WEEK: 3) … Michigan had a chance to control its own destiny for a piece of the Big Ten title after Indiana lost at Minnesota on Tuesday, but the Wolverines quickly lost that opportunity in a loss at Penn State the following night. They picked themselves up off the ground with a Sunday win over Michigan State, but a loss to the Nittany Lions dictates a drop in the rankings.
3. Ohio State (21-7, 11-5) (LAST WEEK: 5) … Since losing three of four, the Buckeyes have responded with three straight wins and because of that recent success, they leapfrog Michigan and Wisconsin, who both took bad losses last week. Ohio State still struggles to score beyond Deshaun Thomas, but its defense is good enough to win.
2. Michigan State (22-7, 11-5) (LAST WEEK: 2) … Three straight losses for the Spartans and they still don't drop. Here's why: The Spartans own a 3-2 record against the teams tied with them for second place and Sunday's one-point loss at Michigan isn't a bad loss when you consider the Wolverines are unbeaten at Crisler Arena.
1. Indiana (25-4, 13-3) (LAST WEEK: 1) … With a two-game lead in the loss column, Indiana has already clinched a share of the Big Ten title and can win it outright with a win at home over Ohio State on Tuesday. The Hoosiers were outplayed at Minnesota last week, but bounced back and were able to grind out a win over Iowa at Assembly Hall.
Filed to: Big Ten Power Rankings