Notebook: Ferrell has big offensive night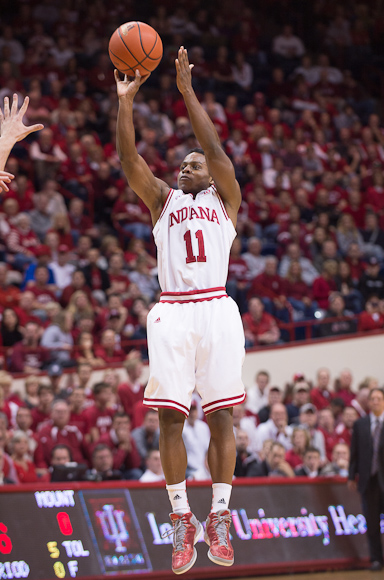 Indiana's regular offensive weapons weren't contributing. Jordan Hulls continued to struggle against Iowa (0-of-17 in two games this season), Christian Watford didn't make a single field goal, and Victor Oladipo spent considerable time on the bench with foul trouble.
That left freshman point guard Yogi Ferrell, who rarely makes headlines for his scoring, to carry a heavier load. But as the season goes along, Ferrell continues to develop as an offensive player, and that was again the case in Indiana's 73-60 win over Iowa on Saturday night.
Ferrell finished with a career-high 19 points on 5-of-8 shooting and five assists.
"The decision-making continues to improve," said Indiana coach Tom Crean. "Tonight he went to the rim and didn't try to get the contact. In the Minnesota game, he tried to get the contact, and he didn't get either. Tonight he really focused on making the basket, and he did a much better job with that."
When asked after the game what the difference is between the Indiana team Iowa played on Dec. 31 and the one the Hawkeyes saw on Saturday, Iowa coach Fran McCaffery pointed to Ferrell.
"Yogi is a little bit of a different player," he said. "Early on, I thought he was a facilitator. Now, he's a big-time weapon. He goes coast to coast, he can come off a ball screen and shoot, he can hit 3s. That really creates problems because everybody on the floor is an offensive threat, so they've got you all spread out."
Zeller 'phenomenal' 
There's no denying the fact Cody Zeller was outplayed in Tuesday night's loss at Minnesota. It was one of Zeller's worst performances as a collegiate player, and it came at an inopportune time.
But Zeller answered the bell in a big way against the Hawkeyes. The sophomore center had a game-high 22 points and 10 rebounds, marching to the free-throw line 13 times.
"Cody was phenomenal," Crean said. "When he takes it up a notch like that, he's at a completely different level. But he's at a high level every night that he plays because of the attention he gets. … Nobody that I've seen has the physicality used against him [like he does]."
On one particular sequence in the first half, Zeller dove at an Iowa ball handler from behind near midcourt, stripped the ball, got up and accepted a behind-the-back pass from Will Sheehey for a dunk that brought the Assembly Hall crowd to its feet.
"Will being Will, getting fancy with it," Zeller joked. "It was a fun play I guess."
Zeller did miss five free throws, but he dealt with the physicality thrown at him much better than he did at Minnesota.
"There's really nothing in the game that Cody isn't capable of doing," Crean said, "but at the same time it's that much harder because everything is focused on stopping him."
Notes
· 3-point struggles: The Hoosiers went without a 3-pointer for more than 39 minutes on Saturday night before making two shots from beyond the arc in the final minute (Victor Oladipo and Yogi Ferrell).
"We noticed we weren't really making any shots," Ferrell said. "We know we're a good shooting team. We kept shooting them. We were hoping one would go down."
· Senior struggles: It's a good thing Indiana's Senior Night is Tuesday against Ohio State and was not on Saturday night. Hulls and Watford were a combined 0-of-15 from the field and scored a total of only seven points. Derek Elston was actually the leading scorer among the seniors with five points.
· 14 points!?: Indiana held Iowa to 14 points in the first half, a low for an Indiana opponent for a half this season. Last season, the Hawkeyes scored 89 points in their game at Assembly Hall.
Filed to: Yogi Ferrell