Five takeaways from Indiana's win over Iowa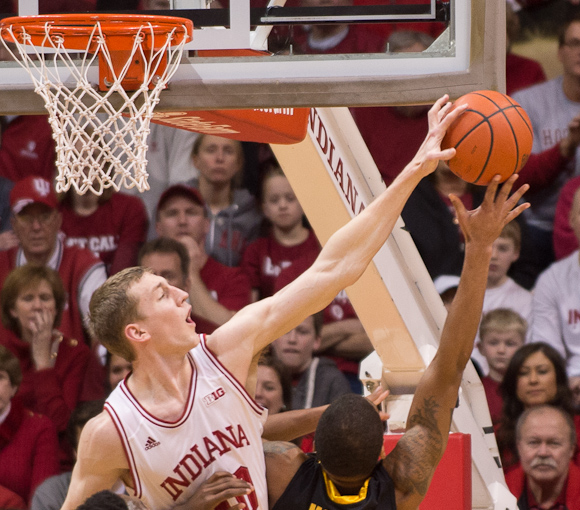 For the fourth time this season, Indiana bounced back from a loss with a convincing win. With Saturday's 73-60 win over Iowa, the Hoosiers notched their 25th win of the season and moved a step closer to clinching a Big Ten regular season championship.
Here's a look at five takeaways from IU's win over the Hawkeyes:
· Defense shines through: Both teams shot the ball poorly which resulted in perhaps the ugliest win of the season for Indiana, but with just two games to go in conference play, it's safe to say that improvement on defense is the reason the Hoosiers have become elite. Iowa scored just .88 points per possession on Saturday and Indiana is limiting Big Ten opponents to .97 points per trip, which is nearly a tenth of a point better than a season ago. No longer does this team simply have to rely on a hot shooting night to win: Indiana can string together stops. Yogi Ferrell noted in his postgame comments that IU stopped Iowa on three straight trips on six occasions in the first half. "I'd say the defensive tone set us up for the second half," Ferrell said.
· Iowa's physicality doesn't slow down IU: The Hawkeyes came out with a similar approach to Minnesota: Bring physicality to the game. It was a big reason the officials took over and whistled 31 fouls in the second half. But the physicality didn't deter Indiana from doing what it does best, which is to continue attack and get to the free throw line. As IU assistant athletics director Jeremy Gray noted on Twitter, the volume of free throws Indiana has taken this season has drawn the ire of opposing schools, but IU's style of play combined with its vast array of weapons leads to free throws. Indiana is far and away the leader in free throw rate in conference games, shooting one free throw for every two field goal attempted.
· Ferrell's ascent continues: When I asked Fran McCaffery what he believed the biggest difference was between Indiana on Dec. 31 compared to Indiana on March 2, he cited the continued improvement of Yogi Ferrell. On a night where Christian Watford and Jordan Hulls combined for only seven points, the freshman from Indianapolis poured in a career-high 19 points and still managed to dish out five assists. Michigan State's Gary Harris and Wisconsin's Sam Dekker are receiving the most chatter for freshman of the year in the Big Ten and rightfully so given their respective performances, but Ferrell deserves his due for helping to captain this team on both sides of the ball. As Crean has talked about frequently, Ferrell is truly a two-way player, which is difficult to find.
· Looking for a spark from the bench: For the second straight game, Crean went a little deeper into the bench with Remy Abell logging 14 minutes, Derek Elston playing nine and Jeremy Hollowell totaling seven. Foul trouble dictated some of it, but I also wonder if Crean is still looking for a reliable option or two beyond Will Sheehey that can be counted on for the stretch run. Abell had one nice drive and finished with two points and two rebounds, Elston chipped in five points and Hollowell went scoreless. With the quick turnarounds that the Big Ten and NCAA Tournaments present, Indiana could use valuable minutes from its bench, but last night didn't answer the question of where those minutes might come from.
· Zeller bounces back: Tuesday's loss at Minnesota was especially tough for IU's star sophomore. He scored nine points on 2-of-7 shooting, committed four turnovers and was outplayed by Trevor Mbakwe. But as we've seen from Cody Zeller throughout his two seasons in Bloomington, his incredible composure and maturity led him right back to a stellar performance. Zeller did it all Saturday night as he finished with 22 points, 10 rebounds, three blocks, two steals and an assist. He dove for loose balls, ran the floor and had a couple of incredible dunks. Lost in some of the unnecessary jabs from the national media regarding a perceived lack of dominance are these facts about Zeller's sophomore season: He leads IU in scoring, rebounding, free throws attempted, blocked shots and is second in field goal percentage.
Filed to: Iowa Hawkeyes