What to Expect: Iowa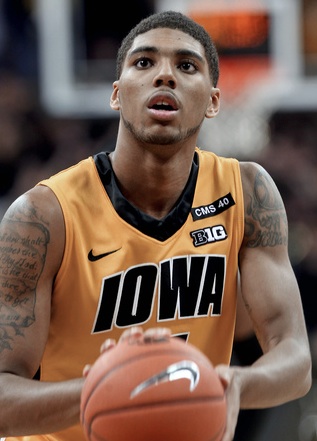 Indiana returns to Assembly Hall on Saturday night to host Iowa in the first of its final two home games. The Hoosiers are coming off a 77-73 loss on Tuesday at Minnesota and the Hawkeyes are coming off a 58-48 home win over Purdue on Wednesday. Indiana won the first meeting between the two teams, 69-65, on Dec. 31 at Carver-Hawkeye Arena.
The game will be broadcast on BTN at 7:30 p.m. with Kevin Kugler, Jim Jackson and Stephanie White on the call:
Indiana and Iowa will both have plenty to play for when the two teams get together on Branch McCracken Court on Saturday night. The Hoosiers are looking to not only solidify a No. 1 seed for the NCAA Tournament, but also move a step closer to a regular season championship. The Hawkeyes, meanwhile, find themselves with 18 wins but on the wrong side of the tournament bubble and without a signature win on which to hang their hat.
Iowa is one of the league's worst road teams with a 2-6 record in conference play. The two wins came over Penn State and Northwestern. Indiana is 6-1 at home in the Big Ten and over the past two seasons, the Hoosiers have compiled a 14-2 record in conference games at Assembly Hall.
PERSONNEL
Iowa comes into Saturday with a fairly significant injury in its backcourt as freshman Mike Gesell, the team's third leading scorer, will be unavailable for a second straight game with a right foot injury. That means Roy Devyn Marble, the team's point guard last season, will shift back into that role in Gesell's absence and sophomore Josh Oglesby will likely receive his second consecutive start.
Marble, the team's leading scorer at 14.0 points per game, will now have the difficult task of not only trying to facilitate for teammates, but also carry a significant piece of the scoring load. He's using 24.5 percent of Iowa's possessions, but is average from an efficiency standpoint with an effective field goal percentage of 46.3. Marble is at his best offensively when he doesn't settle for jump shots and instead attacks the rim and either finishes, dishes off (assist rate of 20.5) or gets to the foul line.
While Oglesby will likely draw the start, he'll likely split the minutes vacated by Gesell with freshman point guard Anthony Clemmons and senior Eric May. Oglesby, who was expected to be the team's best shooter, has been woeful from the perimeter this season. His 126 attempts from distance are a team-high and his percentage, 26.6, is the second-worst on the team. Clemmons, who has started 13 of the team's 28 games, is second in the Big Ten with an assist rate of 37.2, but offers little else offensively. May, who finishes well at the rim, is shooting close to 51 percent on twos.
Iowa's frontcourt play is highlighted by Aaron White, who deserves some type of All-Big Ten recognition. White is second on the team in scoring at 13.6 points per game, leads the way in rebounding at 6.2 per game and has very few holes in his game. White is fourth best in the nation at getting to the foul line (204 attempts), rarely turns it over (12.6% turnover rate), doesn't commit many fouls (2.1 per 40 minutes) and is shooting close to 56 percent on twos. White was one of the surprises in the league a season ago and he's only gotten better as a sophomore.
Freshman center Adam Woodbury has started all 28 games, but has struggled to stay on the floor due to foul issues. Melsahn Basabe has returned to the starting lineup and is the team's best defensive rebounder and shotblocker. Zach McCabe, a 6-foot-7 forward, prefers to hoist threes rather than play inside and Gabriel Olaseni, another foul prone big man who can block shots, is coming off a four-rebound performance in the win over Purdue.
POMEROY PREVIEW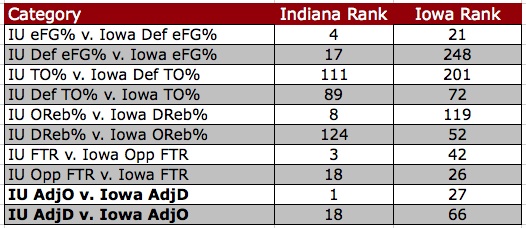 Iowa's defense has been good enough in conference play to win games at .97 points per possession allowed, which ranks third behind Wisconsin and Ohio State. Iowa allowed close to 1.09 points per possession a season ago in Big Ten games, so the improvement is actually even better than Indiana, which is allowing .98 points per possession compared to 1.06 last season.
The offense has been a different story as the Hawkeyes are tenth in league play in effective field goal percentage and are scoring just one point per possession. Perimeter shooting has been a major deficiency as Iowa is 304th nationally in 3-point shooting. Like IU, Iowa does well as a team in getting to the line with a free throw rate of 40.7 in conference play.
Last year's game in Assembly Hall produced a 103-89 win for Indiana and the pace at which these teams are operating suggests another high scoring game could come to fruition. Indiana is setting the league pace with 65.8 possessions per game with Iowa not far behind at 65.1 per contest.
WHAT IT COMES DOWN TO
While Iowa has shown remarkable improvement defensively, its offense has actually regressed from last year and that leaves the Hawkeyes again staring at a finish in the bottom half of the Big Ten. While they've won four of their last five, a loss at Nebraska on Feb. 23 was a major setback for the program's NCAA Tournament hopes.
With the loss to Minnesota and a chance to clinch a share of the Big Ten title looming on senior night, Indiana has plenty to play for and this team has been resilient all season when coming off a loss. The Hoosiers answered a loss to Wisconsin with a win at Northwestern and a loss at Illinois with a win at Ohio State.
Both teams have a similar profiles defensively in Big Ten games, so this one will likely come down to whether Iowa can shoot well enough to stay within range of the nation's highest powered offense. Iowa was able to keep the game close in Iowa City, but the Hawkeyes have been shaky on the road and Indiana's recent success at home is well-documented. Pomeroy likes Indiana to win comfortably, 81-65, with a 91 percent chance of the Hoosiers moving to 13-3 and another step closer to the program's first Big Ten championship since 2002.
Filed to: Iowa Hawkeyes