Five takeaways from Indiana's win over Purdue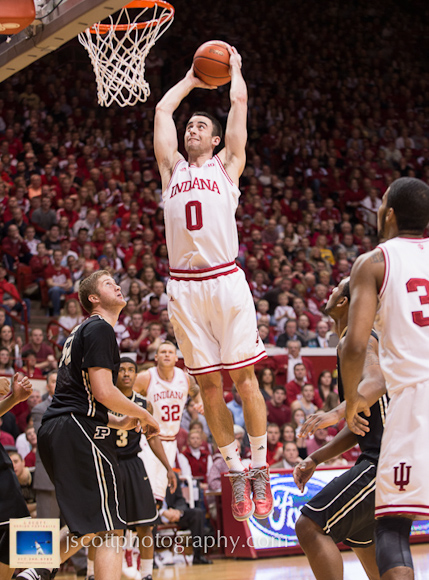 Indiana won its third game in seven days on Saturday with an 83-55 romp over rival Purdue at Assembly Hall. The Hoosiers scored 1.23 points per possession and limited the Boilermakers to .82 points per trip in the lopsided win.
Here's a look at five takeaways from IU's fourth straight win over Purdue:
· Will Sheehey shines: After Victor Oladipo went down with a sprained left ankle late in the first half, IU's sixth man was thrust into a more prominent role and turned in the best offensive effort of his career. Sheehey finished with a career-high 22 points and set a school record by shooting 9-of-9 from the floor. The junior from Stuart, Florida scored 16 of his points in the second half and the damage came from all over the court. Sheehey hit two 3-pointers and scored at the basket, including back-t0-back layups that pushed the lead to 20 at 53-33 with 13:52 to go. Afterward, Sheehey said his increased aggressiveness wasn't the result of Oladipo's absence. "I just try to stay aggressive regardless of what the situation is," he said. "That's just the way I am as a player."
· IU made the right call holding Oladipo out for the second half: With a comfortable halftime cushion, Tom Crean decided to hold Oladipo out for the remainder of the game after twisting his ankle with just under a minute to go in the first half. Given the upcoming schedule and Oladipo's importance in IU's quest for a deep run in March and April, it was only logical to proceed with caution. Crean said that Oladipo wanted to re-enter the game and the junior even rode a stationary bike near the IU bench to stay warm, but Tuesday's showdown with Michigan State looming, Oladipo was reduced to the role of cheerleader for the second half. "I just don't think any of us were comfortable enough to say, 'let's go do it.' He wanted to go back in, but we just weren't going to do that at that point," Crean said. "I don't think that anybody felt, medically, that it was the best thing to do at that point."
· A.J. Hammons was a non-factor: After scoring 30 points in the first meeting on Jan. 30 in West Lafayette, Purdue freshman A.J. Hammons didn't score in the first half and finished with just six points on 3-of-10 shooting. Rather than going with Cody Zeller, Crean deployed Christian Watford to slow down Hammons for a different look defensively. The change in strategy paid off as Watford was aggressive and never allowed Hammons to consistently establish position in the post. The defensive performance from Watford was just another example of how he's evolved from a player who struggled to defend his first two seasons to a veteran that can guard multiple positions. "He can guard anybody," Crean said. "I'm glad that people are seeing that. He's got a toughness to him."
· A quiet 19 points and nine rebounds for Cody Zeller: With most of the postgame buzz focused on Sheehey and Oladipo's injury, Cody Zeller's performance flew a bit under the radar. He finished with 19 points (7-of-12 shooting), nine rebounds, two assists, two blocks and a steal. Zeller's averages in Big Ten play currently sit at 16.8 points and 8.5 rebounds and he's vaulted into the No. 1 spot in Ken Pomeroy's player of the year standings which place a heavy emphasis on a player's efficiency. "He played very, very efficiently today," Crean said. " Scoring the ball, rebounding the ball, defending, helping, blocking shots. All the different things." Oladipo and Michigan's Trey Burke are dominating much of the conversation for Big Ten player of the year, but Zeller belongs in that conversation, too.
· With a marquee game looming, IU maintained its focus: Before the first IU-Purdue game, some wondered if the Hoosiers would be looking ahead to an ESPN College GameDay showdown with Michigan. IU won that game in Mackey Arena by 37 points. Similar questions popped up leading into this game with Michigan State looming on Tuesday. Indiana again erased any doubt about its focus by completely dismantling Purdue. The Boilermakers had no answer early for Christian Watford and as the game moved along, both Sheehey and Zeller imposed their will for a combined 41 points. "I thought our team was asked enough let down questions," Crean said. "The human dynamic can sometimes play into it, but not today, not at all. Now with the way they are maturing, not with the way we feel about the rivalry with Purdue."
Filed to: Cody Zeller, Purdue Boilermakers, Will Sheehey