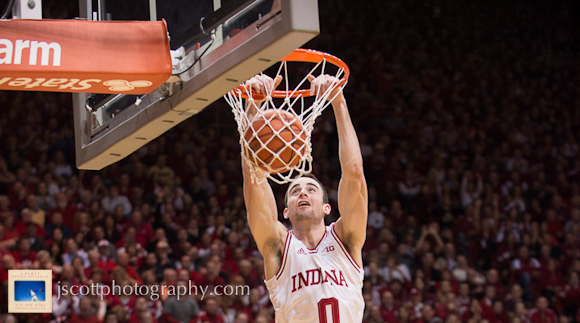 Thoughts on a 83-55 win over the Boilermakers:
Another rivalry matchup against the Boilermakers, another familiar result: A beatdown in Bloomington, 83-55. Christian Watford, as he so often does, got things going early by hitting a bucket at the rim and two threes. It resulted in Indiana's first eight points to get the Hall rocking. Justin touched on this after Wednesday's victory over Nebraska, but Watford has put together a terrific Big Ten season. He's posting double-doubles and the days of hunting shots in favor of working within the context of the offense are over.
Watford also reminded us why this was still Indiana-Purdue despite the 28-point margin of victory: He jawed with Terone Johnson in the first half and a referee would tell them to can it. Later, a contested tie-up on the floor had Watford hot and bothered. He finished the afternoon with 14 points and four boards, including a 3-of-4 effort from distance.
Save for a dip in the first half where Indiana starting taking bad shots too quickly, which allowed Purdue to make a mini-run to try and keep this one respectable before half, the Hoosiers would continue to do what they do on offense: Turn defense into scores, get up the court quick, run a little of something for a good look, make the extra pass and share the ball. With Victor Oladipo saddled with an ankle injury for the second half, Will Sheehey was the benefactor of Indiana's ball movement, scoring on sharp cuts to rim and from distance.
Sheehey, who has struggled at times this Big Ten season to score at the efficient rate of some of his teammates, was perfect on the afternoon (9-of-9 for a career-high 22 points). If there was a silver lining to Oladipo's injury — which seems like a minor blip, but further word is sure to come on that soon — it's that Sheehey got to spread his wings a bit more. His 9-of-9 performance will also go down in the record books: It's the most field goals attempted in a game without a miss in Indiana history.
Cody Zeller also scored the ball in multiple ways: He registered a tip-back dunk that harkened back to the Michigan game. Zeller would also score on the break, on a drive from the top of the key, in the post and from the line. He scored 19 points and grabbed nine boards, another (almost) double-double performance. Jordan Hulls hit 3-of-6 from distance and 2-of-2 from the line for 11 points, and that's just a vintage Jordan Hulls performance. The Hoosiers again failed to take care of the ball at an acceptable rate (21.3 percent). But this may just be their flaw, and on an afternoon where they won by 28 points and forced a higher rate of turnovers on their opponent (25.5 percent), it doesn't much matter.
Purdue continues to go through its growing pains and immaturity and you just can't come into Assembly Hall and expect to win if that's your makeup. Matt Painter sat A.J. Hammons to start the second half and though he got great looks at times, he failed to connect much. He would not repeat his tremendous performance at Mackey like last time around. Instead, he'd scored just six points on 3-of-10 shooting.
So the Hoosiers rolled through this week as expected: Comfortable home wins against inferior opponents. But Tuesday brings perhaps the toughest test of the season. A trip to East Lansing against the Spartans awaits, and the Big Ten's best two squads are about to do battle.
Filed to: Purdue Boilermakers