Oladipo leaves Saturday's game with sprained left ankle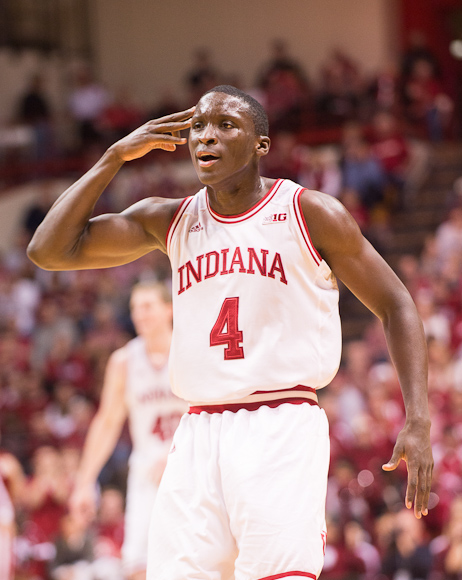 Victor Oladipo has played so well for Indiana this season that he has entered the race for the national player of the year award.
So when Oladipo went down late in the first half of Saturday's 83-55 win over Purdue, the Assembly Hall crowd and Hoosier Nation collectively held its breath. Oladipo grimaced, rolled around in pain, and then eventually limped to the locker room under his own power.
Oladipo did not return to the game, and Indiana coach Tom Crean said afterward that his star guard suffered a sprained left ankle. Oladipo's status for Tuesday night's showdown with Michigan State in East Lansing is up in the air.
"Right now I would go between precautionary and day-to-day," Crean said. "He did some things in the back. I just don't think any of us were comfortable enough to say, 'let's go do it.' He wanted to go back in, but we just weren't going to do that at that point. I don't think that anybody felt, medically, that it was the best thing to do at that point."
Oladipo was chasing Purdue's Terone Johnson on a fast break when he sustained the injury. After looking at video replays, it appears Oladipo turned his ankle when trying to change directions just inside the free-throw line. Johnson slowed a bit in an attempt to avoid Yogi Ferrell, forcing Oladipo to change directions.
"I hope that he's gonna be OK, he thinks he's gonna be OK, but it's gonna be a lot of time spent in this building getting it back to where it needs to be," Crean said. "So wishful thinking will be that he'll play, but we have to see how the next 24-36 hours turn out."
Sheehey shines
In Oladipo's absence, Indiana sixth man Will Sheehey got more minutes, and he was very effective in his increased role.
The junior forward had a career-high 22 points on a perfect 9-of-9 shooting in 27 minutes of action. Sheehey's nine made field goals without a miss set a school record.
"Well, I missed three free throws that were not very good," Sheehey said. "Besides that, I felt good. My teammates found me. I thought I played pretty good defense. Like I said last game, if you play good defense, your offense will come.
It seemed every time Purdue made any semblance of a run to try to narrow the Indiana lead, Sheehey was there to provide a big basket to keep them at bay. He scored off drives, pull-up jumpers, in transition, from the 3-point line — pretty much every way imaginable.
"To tell you how good he was, I had no idea that he had scored that many points, and I'm usually somewhat tuned into that in the game," Crean said. "He was just so active. … He's got the edge and he's got the personality and all that, but he has completely bought in to the fact that he is a starter quality guy coming off that bench. He epitomizes student of the game right now, and he's really maturing because of that. He was all over the place."
Watford stops Hammons
Pretty much the only bright spot for Purdue in the first meeting against the Hoosiers was the play of freshman center A.J. Hammons. The big man scored 30 points against the Hoosiers on Jan. 30 in West Lafayette.
Crean and the Hoosiers knew that couldn't happen again on Saturday. So instead of having Cody Zeller guard Hammons as he had in the first meeting, Crean put Christian Watford on him and used Zeller as a helper instead.
"Our guys had memories of that game, they'd seen film, and they'd heard plenty enough about how A.J. had 30 points in the first game," Crean said. "We wanted to get into his body a little bit better. We wanted to be more aggressive."
The plan worked. Hammons didn't score until the 13:25 mark of the second half, and he finished with only six points and three rebounds on 3-of-10 shooting.
"Christian really rose to the challenge," Crean said. "He can guard anybody. I'm glad people are seeing that. He can really, really defend. That's big."
Purdue coach Matt Painter wasn't thrilled with Hammons' effort, especially in the first half. In Painter's mind, many of Hammons' points in the first meeting came during garbage time when the game was well out of hand.
"Score when it counts," Painter said.
But while Painter was critical of his own players and their ineffective offensive performance, he was also quick to credit Indiana. When asked what made the Hoosiers such a better team this year, Painter didn't hesitate.
"The thing that makes them better this year is they're a good defensive team," Painter said. "They weren't a good defensive team before. They'd do different things, mix defenses, whatever, and a lot of times when you mix up a bunch of defenses, you never get good at one thing. I think [Crean's] been really smart sticking to the man-to-man."
Notes
· Back to .500: With Saturday's win, Crean's record at Indiana got back to .500 at 78-78. The Hoosiers have won 50 games in the last two seasons.
· Indiana by the numbers: The Hoosiers shot 56 percent (30-of-54) from the field, out-rebounded Purdue 39-30, and scored 25 points off turnovers.
· Painter applauds Hulls, Watford: During a sequence in the first half, Watford and Jordan Hulls threatened to run Purdue out of the building. The two seniors connected on back-to-back 3-pointers and put Indiana ahead 33-14. At the time, Watford and Hulls were a combined 6-of-7 from beyond the arc.
Painter has now played against those two players eight times over the last four years. He might not have witnessed their growth first hand, but he's had a pretty good view of it. And he's impressed. After the game, Painter told his players there is a lot they can learn from Hulls and Watford.
"They coulda ran, they coulda transferred, they coulda done a lot of different things besides staying and working, and that's what they did," Painter said. "That ball's not going in by magic. Christian Watford's had to put in just numerous hours because his ball wasn't going in like that when he arrived on campus. He gets into those kill spots on the wing and it's almost automatic. Jordan Hulls works out 2-3 times a day."
Filed to: Christian Watford, Matt Painter, Tom Crean, Victor Oladipo, Will Sheehey