What to Expect: Purdue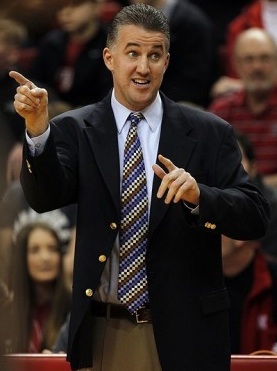 Indiana will finish a two-game homestand on Saturday afternoon as arch rival Purdue comes to Assembly Hall. The Boilermakers are 5-7 in the conference and have dropped five of their last seven Big Ten games. Indiana won the first meeting this season 97-60 on Jan. 30 in West Lafayette. Saturday's game will be the 200th meeting all-time between the two schools.
The game will be broadcast at 2 p.m. on ESPN with Bob Wischusen and Dan Dakich on the call:
Rivalry games have a way of producing closer than expected outcomes even when the odds are heavily in favor of one team, but that wasn't the case when Indiana traveled north to Mackey Arena last month. Not only did the Hoosiers deliver a lopsided beatdown, they handed the Boilermakers their worst home loss ever and sent their season into a downward spiral.
In its four games since losing to IU, Purdue lost at Northwestern by 15, won at winless in the Big Ten Penn State by 9, lost by 13 to Michigan State at home and lost by 20 at Illinois. The frustration reached a boiling point (no pun intended) in the Illinois loss as Matt Painter was ejected.
Indiana, meanwhile, has surged back to No. 1 in the Associated Press top 25 poll and responded to a last-second loss at Illinois with double digit wins over Ohio State and Nebraska. The Hoosiers are looking for a second consecutive sweep of the Boilermakers in a meeting of two teams going in vastly different directions.
PERSONNEL
If there's one thing Indiana won't be pleased with after reviewing the tape of the first meeting between these two teams, it'll be the fact that A.J. Hammons was saddled with foul trouble and still managed to score 30 points. Hammons has been one of the few bright spots for Painter in conference play with averages of 13.1 points (51.8 percent shooting) and 7.8 rebounds per game. Talent has never been a question with Hammons, but effort and a willingness to compete consistently have been. If Hammons is engaged, he's one of the better big men in the league.
The rest of Purdue's frontcourt is a mostly forgettable committee of players that don't bring much in the way of production. Donnie Hale, Jacob Lawson and Travis Carroll have all contributed at different junctures, but none of the three averages more than five points or 3.5 rebounds.
The backcourt and wing positions are where Purdue gets most of its offensive production with junior Terone Johnson leading the team at 13.0 points per game. Johnson's efficiency is woeful (43.5 eFG%), but he can get into the lane and finish plays when at his best. His younger brother Ronnie, a freshman, has been even worse from an efficiency standpoint (37.5 eFG%), but has a team-high 26.3 assist rate (95 total assists). Better suited as a pure point guard than a scorer, the younger Johnson has been thrust into more of an offensive role than Painter would probably like due to a lack of offensive options.
On the wing, D.J. Byrd is the closest thing Purdue has to a reliable threat as the senior shoots a team-high 35.5 percent on 3-point field goal attempts. Byrd's shot selection is heavily skewed to the perimeter as 155 of his 205 field goal attempts have been from distance. Sophomore Anthony Johnson and freshman Raphael Davis also see minutes on the wing and the numbers suggest Purdue is better off going with Davis whenever possible. Davis is shooting 52.1 percent on twos while Johnson is at 40.4 percent. Davis is also the better rebounder and defender.
POMEROY PREVIEW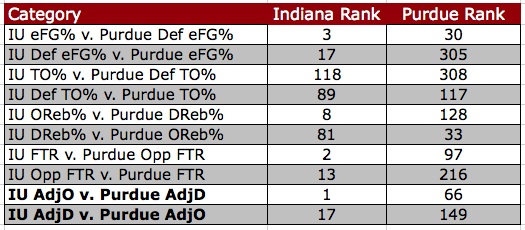 As woeful as Purdue's offense has been in Big Ten play (.95 points per possession), the defense has also been inept. Simply put, successful Painter teams have been built on defense and this one isn't. The Boilermakers are giving up 1.06 points per possession to conference opponents. Both figures rank 10th in the Big Ten.

Purdue has actually defended twos well (44 percent), but the Boilermakers are allowing league opponents to shoot 35.5 percent on threes and are last in forcing turnovers with a defensive turnover percentage of 14.6. An inability to force the Hoosiers to turn it over and failing to guard the perimeter is a recipe for getting beat handily.

From an offensive standpoint, Purdue relies on shots inside the arc to score more than any other team. The Boilermakers are scoring 62.3 of their points in Big Ten play on twos, which leads the league and just 18.7 of their points on threes, which is last in the league. The strategy on Saturday will likely consistent of trying to establish Hammons early and see if the Hoosiers choose to play him straight up again with Cody Zeller.

Two other areas to keep an eye on are offensive rebounds and turnovers. In the first meeting, Indiana grabbed 54.5 percent of its misses, which is a season-high for IU in Big Ten play. Indiana also limited its turnovers in West Lafayette, posting a turnover percentage of just 11.9 percent. Both of those factors combined with a solid shooting night created what was essentially a perfect storm offensively for the Hoosiers, which resulted in a 37-point blowout.

WHAT IT COMES DOWN TO

On paper, this game is a total mismatch and the fact that it's taking place at Assembly Hall makes it even more lopsided. That said, expecting Indiana to replicate its performance in West Lafayette would be foolish. Ken Pomeroy likes the Hoosiers to win easily, 82-59, with a 97% chance of the Hoosiers picking up their 11th Big Ten win.

As was the case in the first meeting when some wondered if Indiana would look past Purdue with Michigan looming, a similar scenario comes into play here with Michigan State waiting in East Lansing on Tuesday. In previous seasons, looking ahead may have been a realistic concern, but the focus and maturity this Indiana team has exhibited in recent weeks suggests the "one game at a time" approach is actually the reality for this group.

All tempo-free stats via KenPom.com.

Filed to: Matt Painter, Purdue Boilermakers