Watford's play a big reason why Hoosiers are back on top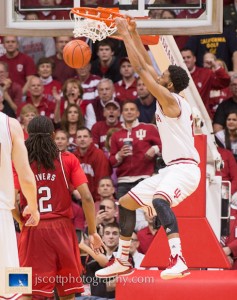 Sometimes he gets lost in the box score because of the seasons Victor Oladipo and Cody Zeller are having, but it's becoming harder and harder to ignore Christian Watford.
A look at the numbers: Watford has scored in double figures in all 12 Big Ten games, and in 15 straight games overall. During that stretch, he's pulled down at least eight rebounds on eight occasions, and he has two double-doubles. Dating back to last season, Watford has scored in double figures in 17 straight Big Ten games.
In Wednesday night's 76-47 win over Nebraska, it was more of the same from the senior forward. Watford had 13 points and 11 rebounds in 29 minutes.
There are many reasons why the Hoosiers have returned to the No. 1 spot in the rankings, but Watford's prowess on the defensive glass and acceptance of his role is one of the primary ones.
"He has been playing with a lot of confidence," junior forward Will Sheehey said. "I think it comes off of his defensive rebounding. You get a couple of boards, a couple of assists, you get a good feel for the game from the start, and that's when I think shots are going in for him."
Earlier in the season, I criticized Watford for too often being a ball stopper. The Hoosiers displayed good movement on offense, but the ball would hit Watford's hands and the movement would stop as he jab-stepped and contemplated which one-on-one move he wanted to go to.
That isn't happening anymore.
"He's come a long, long way," said Indiana coach Tom Crean. "When he's consistent, he's really, really good. What he's learned is he has really good teammates that he can make better and they can make him better. When they're locked in defensively, great things happen."
Along the same lines, Watford isn't forcing shots. He's making strong moves in the post and shooting open 3-pointers off the trail or on a swing. Watford made the biggest shot during the Crean era, but if he wants to be part of the ultimate prize, he had to make personal sacrifices.
If Watford keeps playing like he has recently, it's hard to see Indiana losing anytime soon.
"He has high personal goals, and he's a part of very high team goals," Crean said. "And I think it's coming in his play."
Notes
· Zeller's short night: Cody Zeller led all scorers with 16 points, but he played only 18 minutes due to foul trouble. Zeller had just three points at the half, but piled up 13 points in the second half. He also was responsible for getting Nebraska big men Brandon Ubel and Andre Almeida in early foul trouble.
· Slow start: The Hoosiers started extremely slow and led just 27-18 at halftime, with 13 of their 27 points coming from the foul line. Crean said some players were concerned with Indiana's lack of scoring in the first 20 minutes. He wasn't.
"A couple of the guys mentioned we only had 'X' amount of points," Crean said. "We're not trying to set records. We're trying to win a national championship."
· Not first time at the Hall for Miles: Wednesday night marked the first time Nebraska coach Tim Miles visited Assembly Hall as a coach. But that doesn't mean he hadn't been in the arena before.
"I came as a college kid, too," Miles said, smiling. "I snuck in."
Despite the loss, Miles enjoyed his trip to Bloomington. He also called Indiana "as good a team as I've seen in a long, long, long time. Not just this year."
"It's a very cool environment," Miles said. "I brought my son. That was a lot of fun. Great fans. Last night, we filmed practice. We came in to watch practice today, and it just brought back memories of being a little kid watching IU games with Bobby Knight out there on CBS. It brought back some pretty cool childhood memories."
Filed to: Christian Watford, Tom Crean, Will Sheehey