Five takeaways from Indiana's win over Nebraska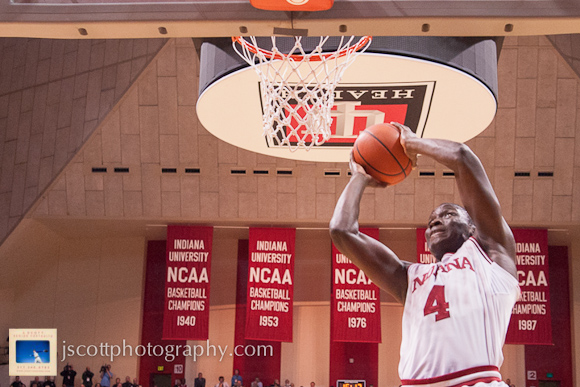 At times it lacked the energy of the marquee games we've seen this season inside Assembly Hall, but Indiana kept pace with Michigan State in the Big Ten standings on Wednesday night with a 76-47 dismantling of Nebraska.
Here's a look at five takeaways from Indiana's 10th conference win:
· Nebraska was able to slow Indiana down … and still lost by 29. Nebraska stuck to its guns in this one as the game was played at just 58 possessions, the second slowest pace the Hoosiers have played at this season. The slowest? A January win at Northwestern that produced just 54 possessions. For a half, Tim Miles was able to keep his team within striking distance as the Hoosiers went to the locker room leading just 27-18. Indiana, one of the best 3-point shooting teams in the country, hit just 2-of-7 attempts from distance in the first half, but began to connect after intermission. Indiana hit six of its nine 3-point attempts in the second half. "The trouble in the second half came with their 3-point shooting and their ability to get to the foul line," Miles said. "They are always on the attack. That's just how they are."
· Quietly, Victor Oladipo had another great game: It obviously won't grab the headlines that his work in Columbus did, but IU's player of the year candidate put together another statistically sound performance. His line in 27 minutes: 13 points (5-of-8 FG, 2-of-2 FT), eight rebounds, three steals, an assist, a block and a turnover. It's staggering when you examine Oladipo's shooting numbers compared to a season ago. On 3-pointers, he's jumped from 20.8 percent to 52.4. On twos, he's climbed from 52.3 percent to 67.5 percent. "His improvement, everybody thinks they see it, but when you look at where it was a year ago to where it is now, it's astronomical," Tom Crean said. "When he's shooting the ball and when Will's [Sheehey] shooting the ball that way and as we get Mo [Creek] shooting the ball better, then our team has a chance to be that much better."
· Indiana's free throw parade continues: Getting to the foul line was a big reason the Hoosiers won 27 games and reached the Sweet 16 last season. Through 25 games this season, Indiana's free throw rate (FTA/FGA) ranks 2nd nationally at 49 percent and in conference play, the Hoosiers are setting the league pace at 51.1 percent. Wednesday night was no different as Nebraska ran into foul trouble almost from the opening tip. Nebraska's two big men, Andre Almeida and Brandon Ubel, both played limited minutes because they were unable to defend IU around the basket without fouling. It was the 20th game the Hoosiers have shot 20 or more free throws this season.
· When Watford plays well, Indiana plays well: He's often been called the "x-factor" for this team and once again, a strong performance from Christian Watford helped lead to an IU win. In IU's three losses this season, Watford is shooting just 8-of-24 from the field. But when he's engaged early, hits the glass hard, the Hoosiers are an elite team with Watford as a reliable third option. While he's overshadowed at times by Oladipo and Cody Zeller, Watford is putting together his strongest season in Bloomington. His effective field goal percentage (55.0), defensive rebounding percentage (20.8), free throw rate (55.0) and 3-point field goal percentage (48.8) are all career-bests.
· Indiana limits turnovers for second straight game: Turnover problems haunted Indiana in its loss to Illinois last Thursday. But for two straight outings, the Hoosiers have turned the ball over on less than 16 percent of their possessions, a fact that was not lost on Crean in his postgame comments. "When we don't turn the ball over, we're a lot better," he said. "When you score the points that this team scores, when you have the offensive efficiency that they have and you eliminate those turnovers, I don't know what our points per possession were tonight, but I know it was really high. (Note: It was 1.31.) And they're starting to really get that. [Graduate manager] Seth Cooper did a phenomenal job of showing them the value of a turnover. Not only to the other team, but how much it hurts us."
Filed to: Nebraska Cornhuskers