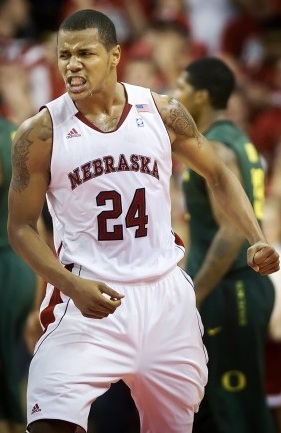 Coming off a signature road win at Ohio State on Sunday afternoon that helped it retain the No. 1 ranking in the Associated Press top 25 poll, Indiana returns to Assembly Hall on Wednesday night to host Nebraska. The Cornhuskers, led by first-year coach Tim Miles, are 3-8 in the Big Ten and 12-12 overall.
The game will be broadcast at 7 p.m. on the Big Ten Network with Eric Collins and Shon Morris on the call:
Indiana's final conference single play of the season, Nebraska, has struggled to find its footing since joining the Big Ten last season. The Cornhuskers are 7-22 over their first 29 Big Ten regular season games with one of the wins coming against the Hoosiers last January in Lincoln. If you believe Indiana has forgotten about that late collapse and subsequent loss, think again. Tom Crean was asked about it on Monday's Big Ten teleconference and the returning Hoosiers are well aware that it was a game they let slip away.
Miles, who took over for Doc Sadler last March, brings a lot of energy and passion to a program that has an uphill battle to become competitive in one of the nation's best leagues. Picked by many to finish last in the league, Nebraska has two of its wins over Penn State, which was knocked to the cellar when Tim Frazier suffered a ruptured Achilles tendon. The Cornhuskers are just 2-6 in road games this season and their last road outing ended in a 19-point defeat at the hands of Minnesota.
PERSONNEL
While Miles has achieved making his team somewhat respectable defensively, this group's woeful production on offense is the reason it's unlikely to win another game. Senior Dylan Talley and junior Ray Gallegos are both logging more than 35 minutes per game in the backcourt and neither player is shy about hoisting up shots.
The 6-foot-5 Talley (pictured) is using 26 percent of Nebraska's possessions and is shooting just 36.7 percent on twos and 31.8 percent on threes. Gallegos is more efficient from the field with an effective field goal percentage of 49.3. Gallegos has attempted 197 threes and is connecting on just 31 percent of those attempts, but has a strong percentage (54.7) on twos. Neither player turns the ball over much in large part because much of what Miles likes to do offensively involves running the shot clock down on every possession. The Cornhuskers are playing at the fourth slowest pace in conference games, averaging just 61.8 possessions.
Sophomore David Rivers has been starting as of late and at 6-foot-7 gives Miles some size and a player who likes to attack the basket. Rivers scored 13 points in a recent 63-56 loss to Ohio State. Freshman point guard Benny Parker, who has started 16 of the team's 24 games, is now coming off the bench thanks to a turnover rate (33.4 percent) that simply isn't sustainable in the Nebraska offense. By comparison, Yogi Ferrell's turnover percentage is 25.2 on a team that pushes the ball on nearly every possession. Shavon Shields, who averages 7.4 points per game, has a Big Ten freshman of the week award under his belt after scoring 47 points in a week in late January.
Brandon Ubel is easily the closest thing to a reliable frontcourt option on Nebraska's roster. At 6-foot-10 and 234 pounds, Ubel is third on the roster in scoring at 11.9 points per game and sets the pace on the boards with 6.7 per game. Ubel has been fairly effective at drawing fouls in the post (45.2 free throw rate) and shoots close to 79 percent from the foul line. Both Ubel and Andre Almeida, who stands 6-foot-11 and weighs 314 pounds, are solid on the defensive glass and shoot better than 50 percent on twos.
POMEROY PREVIEW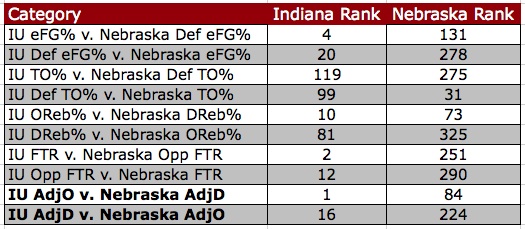 As mentioned briefly earlier, Nebraska's offense has struggled in nearly every category. In Big Ten play, the Cornhuskers rank 10th in both 2-point and 3-point field goal percentage and are scoring just .90 points per possession, which only tops winless Penn State. Not only does Nebraska miss a ton of shots, they don't crash the offensive boards at all which is a recipe for a lot of one-and-outs. One thing they do well is take care of the ball. They're only turning up the ball on 16 percent of possessions in league play, the third best percentage among Big Ten teams.
Defensively, Nebraska is holding conference opponents to just 28.2 percent shooting from behind the 3-point arc, but even if the Hoosiers do face some resistance in that area, there will be plenty of other deficiencies to attack. Conference opponents are getting to the foul line at a high rate (40.7 free throw rate) and grabbing plenty of offensive rebounds (33.7 OR%) against Nebraska, which plays right into two of Indiana's biggest strengths.
While Nebraska will look to establish pace and burn as much of the shot clock as possible, the likelihood of the Cornhuskers being able to make enough shots to keep this game close is not high.
WHAT IT COMES DOWN TO
Pomeroy likes Indiana to win 80-54 with a 98% chance of the Hoosiers moving to 10-2 in the conference. On paper, the Hoosiers are significantly better almost across the board and while Nebraska might be the toughest Big Ten opponent to get up for, the fact that the Cornhuskers knocked off IU last season provides a bit of a revenge factor.
Ubel should provide a decent test in the post for Cody Zeller, but Nebraska's perimeter players are completely outmatched and Victor Oladipo could make for a very long night for Talley. If Indiana shoots a reasonable percentage from outside and gets to the foul line, Nebraska will struggle to keep up with the nation's top offense in the Big Ten's toughest environment.
QUOTABLE
"There's no doubt that we'll go back and look at part of that film. We didn't finish the job there. That definitely plays into it, but there's a fine line between their memory and their future. And their future right now has gotta be 'OK, are we gonna be better today? Are we going to be better tomorrow? Are we going to absolutely be locked into what makes us better?'" — Crean on the Big Ten call when asked if he feels a sense of unfinished business from his team after losing at Nebraska last season.
All tempo-free stats via KenPom.com.
Filed to: Nebraska Cornhuskers, Tim Miles