Film Session: Offensive execution
The Hoosiers pumped in 1.22 points per possession against a stingy Ohio State defense en route to their 81-68 victory in Columbus on Sunday afternoon. Victor Oladipo (26 points), Cody Zeller (24 points) and Christian Watford (20 points) led the way. While Zeller got plenty of scores and trips to the line via post-ups, he also was the benefactor of some buckets out of a two-man game with Oladipo.
A look at both these scores as well as one each from Oladipo and Watford in the latest edition of Film Session:
I. PICK AND ROLL
The Hoosiers come rumbling down the court, as Will Sheehey looks to get in the paint. Unable, he comes back and passes to Christian Watford. Watford looks to make a move into the paint himself: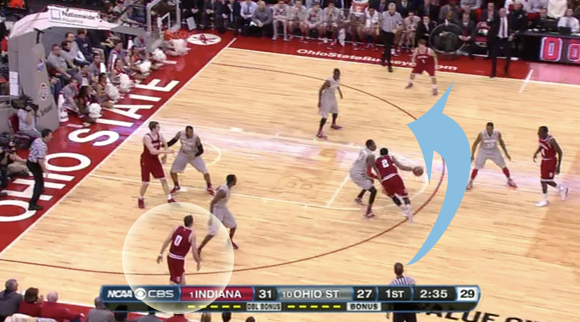 Cut off, Watford finds Hulls on the right wing. Hulls passes it up top to Oladipo: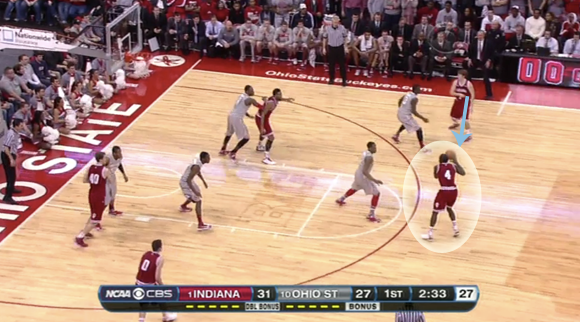 Zeller sets a ball screen for Oladipo: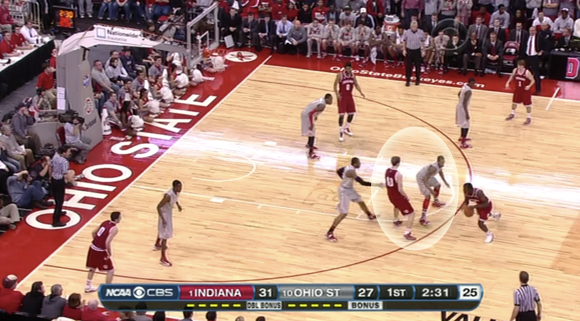 Oladipo finds a tiny pocket between Trey McDonald and Lenzelle Smith Jr. and makes the pass to Zeller: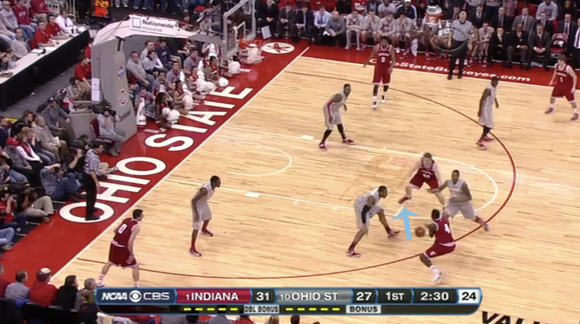 Deshaun Thomas does a great job of coming over from the left block and rotating over for help defense. As he sets himself to draw a charge, Zeller is able to go around him a bit left: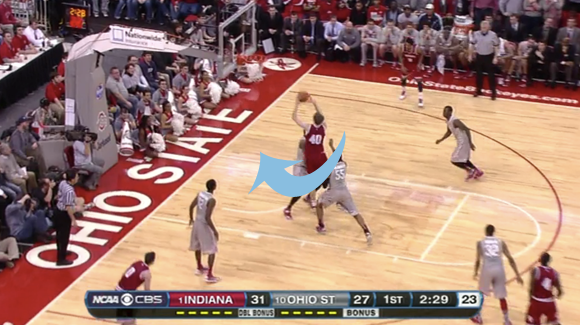 He draws minimal contact as he scores the bucket, resulting in a no-call: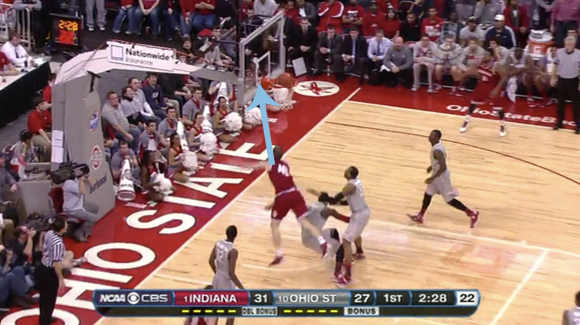 Ohio State didn't give Zeller and Oladipo a whole lot of room to work with here. But the two (likely) future NBA players simply took the space that was given, adjusted and made a high-level play.
Video:
II. OLADIPO OOP
Here the Hoosiers are doing some standard weave action on the perimeter as Hulls hands off to Sheehey: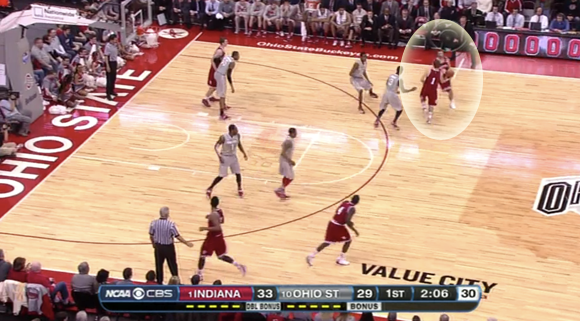 Sheehey hands off to Oladipo: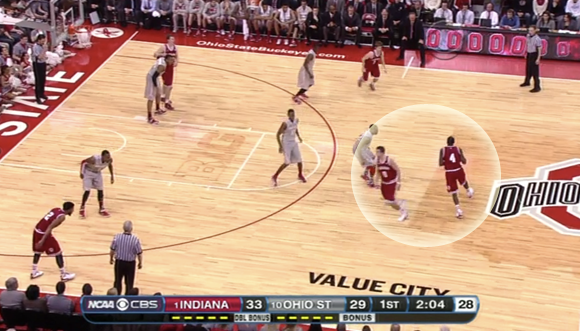 And it's back to Hulls: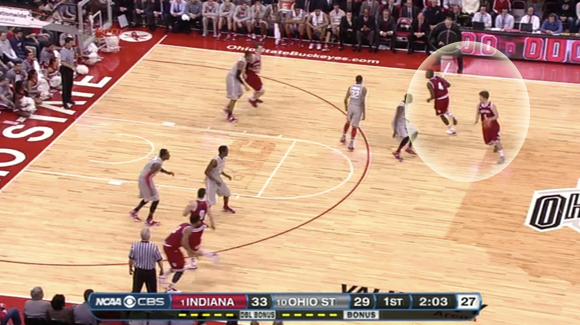 Here's where things get interesting. With Zeller on the right wing, he sets a pick for Oladipo and he beings to curl around to the basket. But Smith Jr. sniffs out what's happening and spins out of the contact to try and stick with Oladipo: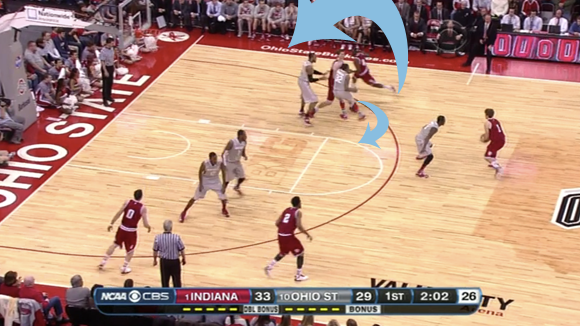 Hulls makes the pass as both players race to the right block: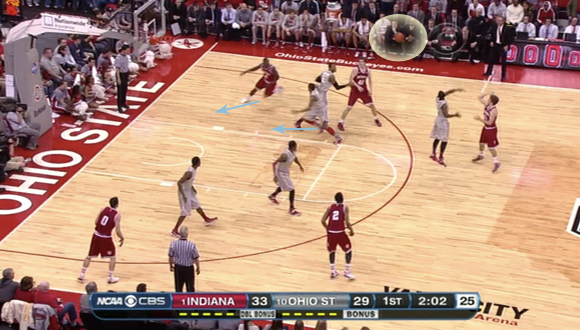 Smith Jr. actually comes quite close to getting a hand on the ball as Oladipo catches: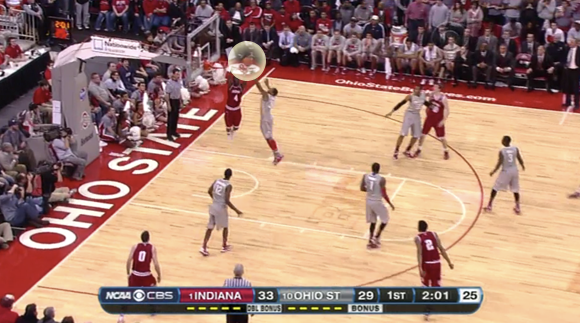 And as he often does, Oladipo slips to the other side of the rim, making sure that's as close as Smith Jr. will get as he puts it in for two: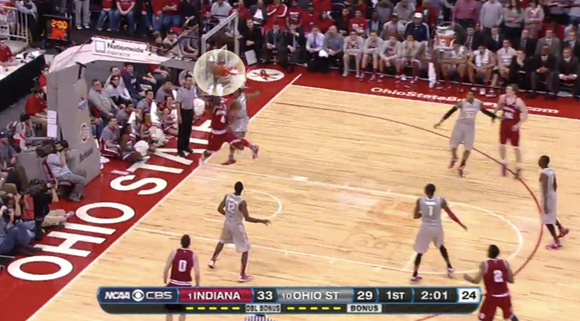 Again: Ohio State does a relatively good job defending on this play. It's just Indiana is able to out execute them once again.
Video:
III. VIC OUT OF THE CORNER
Oladipo grabs a rebound and the Hoosiers head down the court: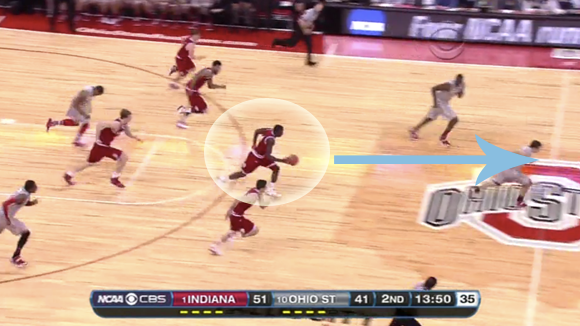 Oladipo turns and finds Watford filling the left lane and heading to a comfortable spot on the left wing for a potential trailer 3-pointer (In his postgame comments, Oladipo noted: "We just know each other tendencies. I know Christian's always going to be in that trail.")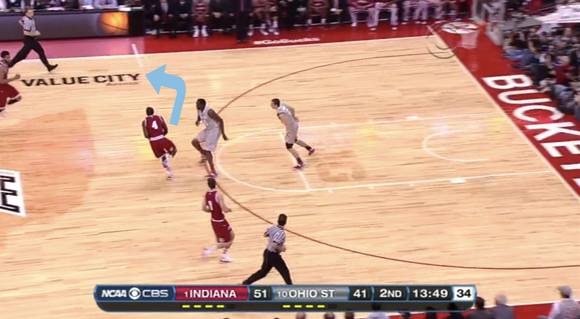 But Watford senses a defender behind him and opts against it: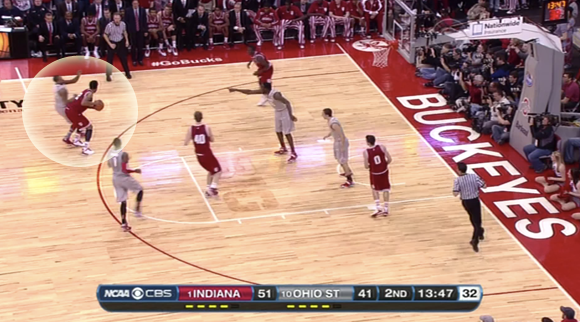 He passes to the trailing Hulls, and he gets the ball in a spot that's not out of the question for him to pop from assuming he steps into the shot. But with Ohio State's defense still sorting itself out — both Oladipo and Sheehey are options in the corners — Hulls passes to Oladipo: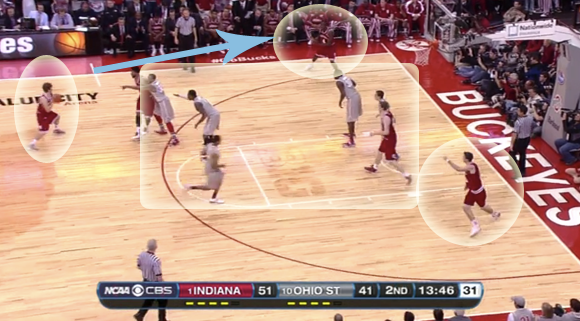 This draws the much bigger Evan Ravenel out to him, and Oladipo goes to work on the mismatch: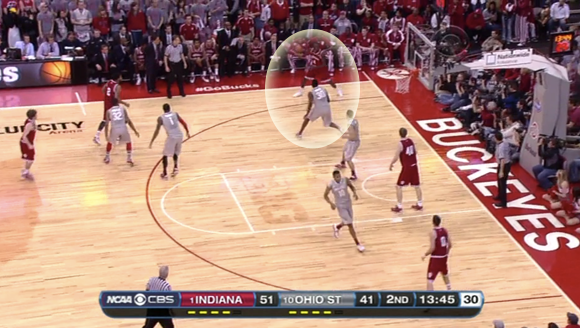 Oladipo goes with his right, puts the ball behind his back left and takes a lane to the hoop. As he does this, Zeller seals off Aaron Craft in another mismatch: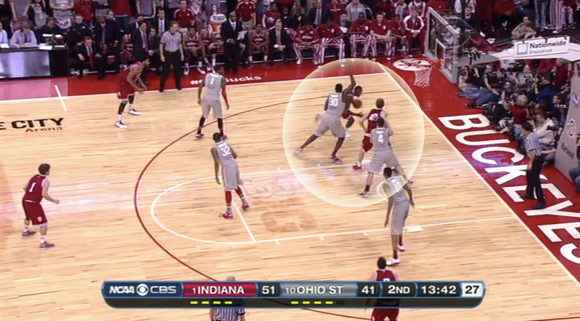 As Oladipo goes up for the shot and draws both of their attentions, he passes back to Zeller: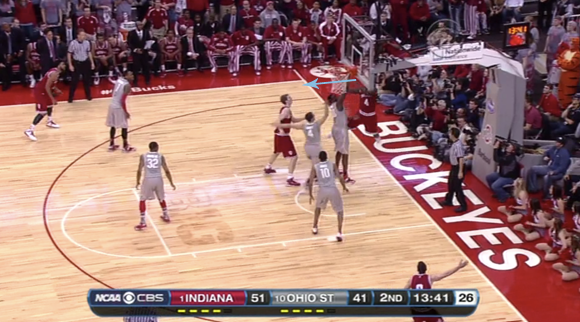 Craft offers little resistance and Zeller scores easily: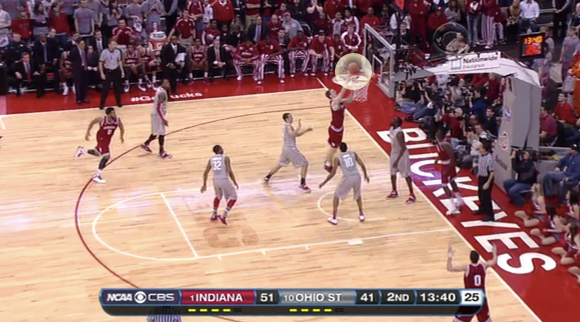 Indiana could have launched a 3-pointer earlier here. But by Hulls surveying the options in the halfcourt and sensing Ohio State's imbalance, it allowed for Indiana to get an even better look at the hoop from Zeller.
Video:
IV. WATFORD's 3
The Hoosiers are again pushing the tempo with Yogi Ferrell bringing it across midcourt and Sheehey, Zeller and Watford filling lanes: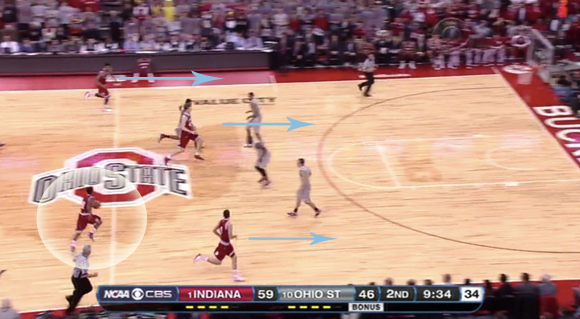 Watford again receives the pass on the left wing as Smith Jr. is at the 3-point line: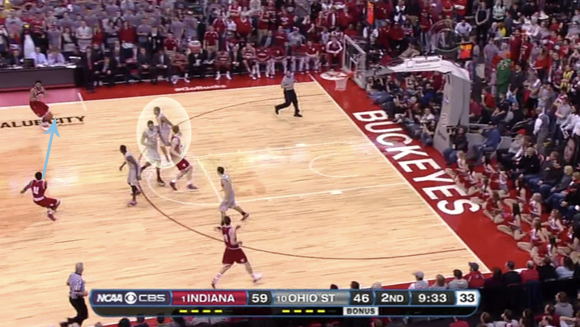 But as Watford catches and collects, Smith Jr. sinks back anticipating drive: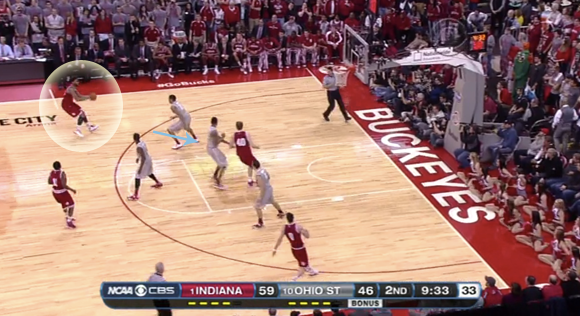 So this time Watford takes advantage of the extra space given and connects: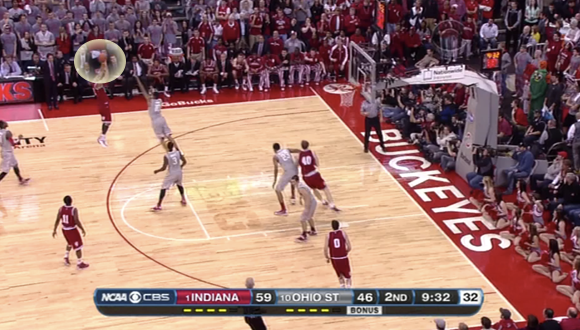 Watford connected on 4-of-5 from distance on Sunday and when he's able to catch in rhythm and shoot, he can be quite deadly.
Video:
Filed to: Ohio State Buckeyes