Big Ten Power Rankings: February 11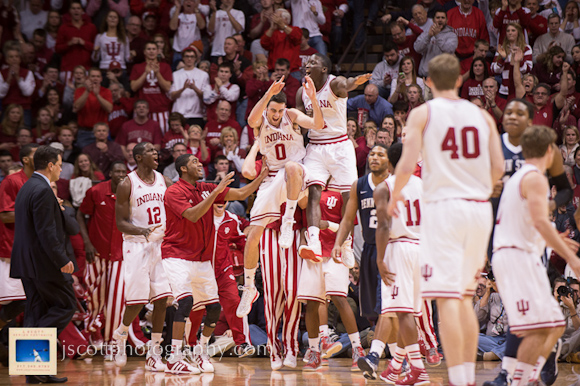 What a week in the Big Ten. Scratch that, what a weekend in the Big Ten. Ben Brust beats Michigan on Saturday, Indiana goes on the road and gets a big win at Ohio State, and Illinois finishes a strong week with a win at Minnesota on Sunday. You never know what to expect on any given night. I guess that's why they call it the best conference in college basketball.
12. Penn State (8-15, 0-11) (LAST WEEK: 12) … It seems unlikely the Nittany Lions will ever move out of the conference's bottom spot. Their last two games were against two of the more beatable teams in the Big Ten — Purdue and Nebraska — and they lost both of them. Now, Penn State plays Michigan twice in the next four games.
11. Nebraska (12-12, 3-8) (LAST WEEK: 11) … Two of Nebraska's three conference wins have come against Penn State. The third came at home against Northwestern. The Cornhuskers have played some teams tougher of late — they lost to Ohio State by just seven this week — but they have yet to beat a quality team in the conference.
10. Purdue (12-12, 5-6) (LAST WEEK: 10) … They have more Big Ten wins than Northwestern, Illinois and Iowa, but the eye test tells me that the Boilermakers aren't as good as any of those teams. Their only win in the last four came at Penn State. If Purdue can steal a road game at Illinois or Indiana this week, then it'll move up in the power rankings.
9. Northwestern (13-11, 4-7) (LAST WEEK: 8) … The Wildcats lost their only game this week, 71-57 at Iowa. Reggie Hearn, though, continues to look like one heck of a college basketball player. You may start to hear his name more going forward.
8. Iowa (15-9, 4-7) (LAST WEEK: 7) … The Hawkeyes are a team I still think could make the Big Dance, especially with their remaining schedule. They still don't have that signature conference win, but they're getting closer to getting it. Iowa fell in double overtime at Wisconsin this week.
7. Minnesota (17-7, 5-6) (LAST WEEK: 6) … A sign the Golden Gophers aren't quite elite? They are just 1-4 on the road in conference play, including a loss at Northwestern. This week, Minnesota fell by 11 points at Michigan State, and dropped a Sunday home game to Illinois.
6. Illinois (17-8, 4-7) (LAST WEEK: 9) … The Fighting Illini got themselves back into the NCAA tournament picture with a huge home win against Indiana on Thursday night, and then followed it up with a victory at Minnesota on Sunday. Illinois is a capable team when its making shots, but I believe the Illini rely too much on the 3-point shot at this point.
5. Ohio State (17-6, 7-4) (LAST WEEK: 4) … They were playing the best two teams in the conference, so it figured to be a tough week for the Buckeyes. And it certainly was. They lost by two points in overtime at Michigan and Tuesday and then dropped a 13-point home decision to Indiana on Sunday. Ohio State must find a reliable scorer outside of Deshaun Thomas if it is going to make a tournament run.
4. Wisconsin (17-7, 8-3) (LAST WEEK: 5) … It's time the Badgers start getting some respect, and they likely will from the voters when the polls are released this afternoon. Wisconsin has won three straight, including back-to-back overtime victories over Iowa and Michigan. The Badgers should remain in the Big Ten title race as they have several winnable games remaining on the schedule.
3. Michigan (21-3, 8-3) (LAST WEEK: 2) … This was a tough decision, but the good thing is we'll have a head-to-head between Michigan and Michigan State on Tuesday night. The Wolverines have dropped two of their last three games, including an overtime loss to Wisconsin on Saturday.
2. Michigan State (20-4, 9-2) (LAST WEEK: 3) … It doesn't get talked about much nationally because of the attention Indiana and Michigan garner from the Big Ten, but the Spartans are on some kind of roll. They have won nine of their last 10 games, with the only loss coming by five points at Indiana. If they beat Michigan at home on Tuesday night, maybe people will start to notice.
1. Indiana (21-3, 9-2) (LAST WEEK: 1) … Thursday night's loss at Illinois seemed bad at the time, but that can be all but forgotten after the Hoosiers' impressive win at Ohio State on Sunday. Perhaps the most important thing about that victory is the Hoosiers proved they can win in the halfcourt against an elite defensive team. Now, Indiana faces fairly easy home games with Nebraska and Purdue.
Filed to: Big Ten Power Rankings, Indiana Hoosiers, Michigan State Spartans