Five takeaways from Indiana's win at Ohio State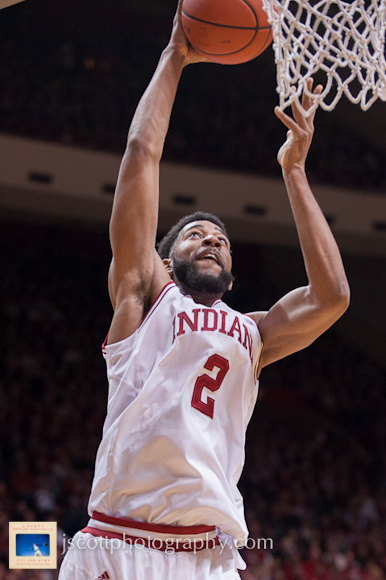 COLUMBUS, Ohio — Indiana bounced back from its third loss of the season the same way it did for the first two: with a victory. The Hoosiers (21-3, 9-2) established control late in the first half and never relinquished it for the program's first road win over a top 10 conference opponent since 1993.
Here's a look at five takeaways from IU's fifth conference road win of the season:
· The Hoosiers closed the door on a big-time opponent: Indiana entered Sunday with four Big Ten road wins, but some still doubted whether this team could deliver a signature victory away from home. Coming off a disappointing loss at Illinois where it blew a 14-point lead in the second half, Indiana needed to beat Ohio State to keep pace at the top of the conference standings and to prove it could bounce back after a tough road loss. The Hoosiers, who never trailed by more than two points, looked like a totally different team down the stretch than the one we saw on Thursday. Instead of just trying to hold on, Indiana kept attacking and eventually demoralized Ohio State with timely buckets and free throws. The end result was the most impressive road win for Indiana under Tom Crean and more importantly, a win that builds confidence with games at Michigan State, Minnesota and Michigan still on the slate.
· Indiana is tough to beat when Watford plays like he did Sunday: The Hoosiers are a good team when both Cody Zeller (24 points, eight rebounds) and Victor Oladipo (26 points, eight rebounds) play like they did on Sunday. They're a great team when Christian Watford plays like he did on Sunday. Watford, who has been inconsistent at times, bounced back from his worst conference game to-date with 20 points and six rebounds. While he's typically started quickly and struggled in second halves, Watford had 10 points in each half of this game and hit 4-of-5 of his 3-point attempts. The rest of the team went a combined 3-of-13 from distance.
· Indiana was the aggressor and the free throw numbers prove it: When the Hoosiers are playing their best, they're getting to the foul line frequently and that's exactly what happened on Sunday. Indiana had a free throw rate (FTA/FGA) of 57.1 on Sunday and Ohio State was in foul trouble all afternoon. It started inside with Zeller attacking both Amir Williams and Evan Ravenel and IU's perimeter players were also able to foul out Aaron Craft, who came in averaging just 2.7 fouls per 40 minutes. In all, Indiana made more free throws (22) than the Buckeyes attempted (20). "Amir [Williams] going out early was a big blow to us defensively," Ohio State coach Thad Matta said. "He has the ability to alter a lot of shots inside and he has been playing well for us. The game also seemed to be called a little tighter, but we just didn't adjust." Williams played just 11 minutes on Sunday and blocked only one shot.
· Only six guys played double figure minutes: Crean said in his postgame comments that it wasn't necessarily by design, but IU's top six players played 180 of the team's 200 minutes. Indiana's depth was considered a strong suit in the non-conference, but as the meat of the conference schedule presses on, the rotation is becoming smaller. It certainly helped that IU didn't have any foul trouble, but the Hoosiers should get credit for being conditioned enough to have four guys play more than 32 minutes with such a short turnaround. Ohio State, meanwhile, typically plays a smaller rotation but was forced to play more guys because of foul trouble, and looked outclassed by IU from a conditioning standpoint despite having two more days of rest.
· Turnovers weren't much of a factor for IU: I called turnovers IU's Achilles heel in the game preview, and despite playing at their pace for much of the afternoon, the Hoosiers took care of the ball on Sunday. Indiana only turned the ball over 10 times and its turnover rate of 12.6 percent was its third-best mark in conference play behind wins at Northwestern and Purdue. Yogi Ferrell and Jordan Hulls, who were guarded by Craft for a majority of the afternoon, combined for two turnovers and while Oladipo posted a team-high with three, you can certainly trade those mistakes for his aggressiveness and a career-high in points for the IU junior.
Filed to: Ohio State Buckeyes