Film Session: Breakdown of the breakdown
From the 2:49 mark onward, the Illini finished Thursday night's upset on a 12-2 run (13-2 over the last 3:33). Beyond Indiana's breakdown on the final play of the ballgame, the Hoosiers were also out-executed on D.J. Richardson's back-to-back 3-pointers.
A look at these three plays, as well as Indiana's final possession in the latest edition of Film Session:
I. FIRST RICHARDSON 3-POINTER
On an inbounds play on the baseline, Tyler Griffey and and D.J. Richardson come to meet inbetween the left wing and the left elbow: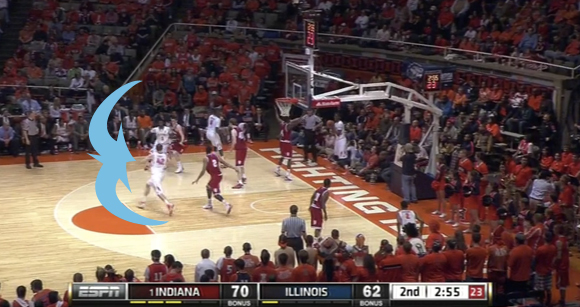 Griffey eventually gets a body on Sheehey, and Richardson pops out and starts to make a move and curls to the corner: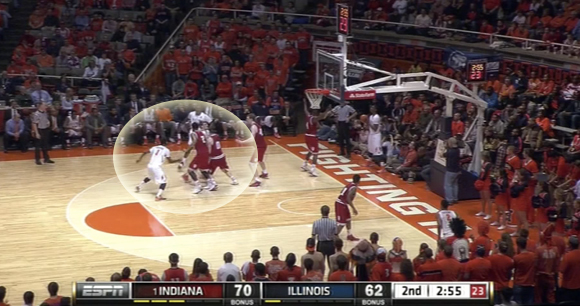 Griffey continues to get a body into Sheehey. Sam McLaurin is now involved. As Watford looks to switch and follow Richardson, here comes another screen from McLaurin: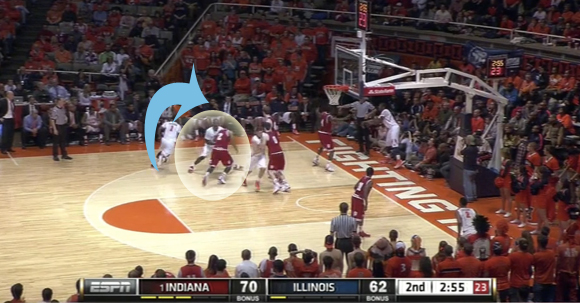 He slides a bit and brushes Watford, giving Richardson enough space to catch: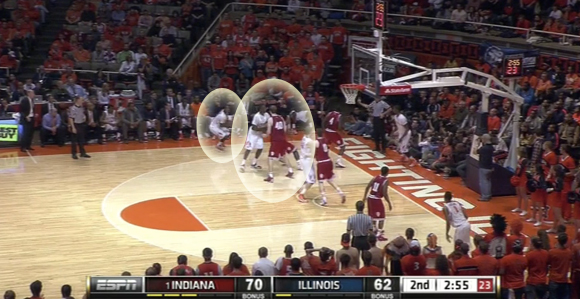 Rise up and hit: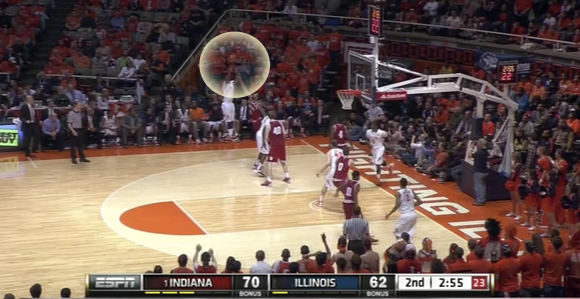 A little difficult to pick out IU's goat here. This is a tough play to defend with so many bodies in the mix to create this sliver of space — especially with McLaurin setting what some may define as a "moving screen." But if you look at the above five captures, Zeller almost never moves; he's a statue.
Video:
II. RICHARDSON'S SECOND 3
Here we see the Illini — as they so often do — start this possession with a ball screen on the perimeter. Zeller switches and hedges onto Brandon Paul as Victor Oladipo switches and sticks with McLaurin on the roll: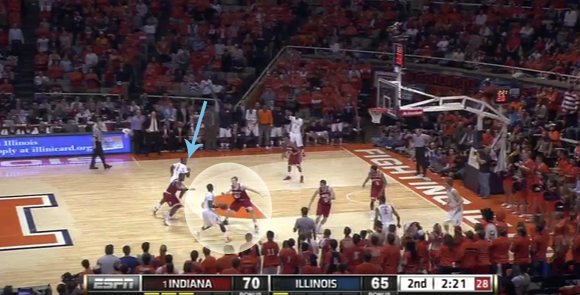 The ball eventually finds its way back up top to Paul. An Illini assistant holds up a white board; John Groce points to it:
It's another ball screen. Paul takes it from McLaurin; Zeller assesses the situation: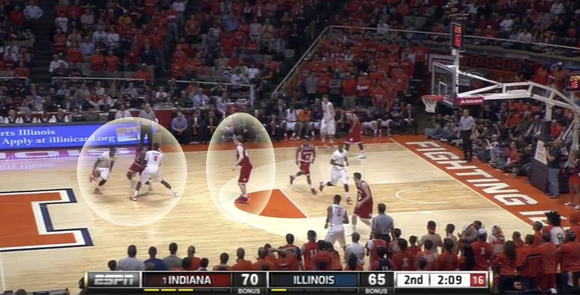 He again decides to hedge. But Oladipo has come over the top of the screen and tries staying with Paul. So Paul draws them right, stops, looks back left and sees the open McLaurin. He begins to pass the ball. Yogi Ferrell sees it all transpiring and pinches in off the corner to bring the help defense: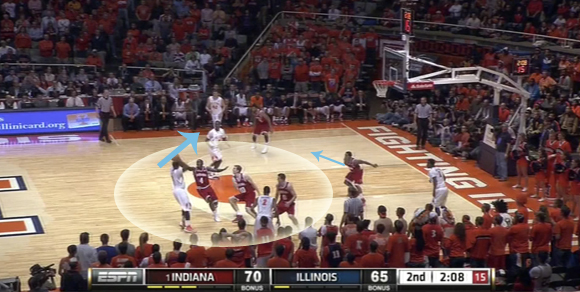 This leaves Richardson wide open in the corner. McLaurin makes the pass and Sheehey tries to rotate down: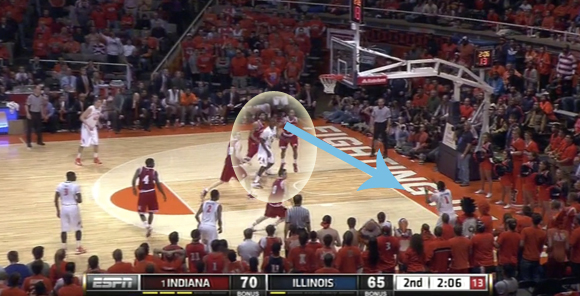 He comes late, the shot goes up and falls: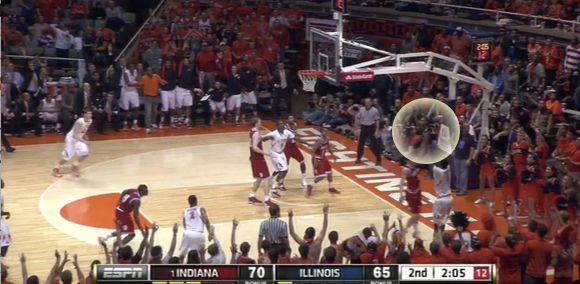 With Zeller and Oladipo not communicating and both chasing Paul to right wing, this allowed the Illini to exploit Indiana's D and cut the lead to two points.
Video:
III. OLADIPO'S TURNOVER
Ferrell dribbles up top to drain the clock. As Hulls furiously waves both his hands for the ball, Yogi passes to Oladipo: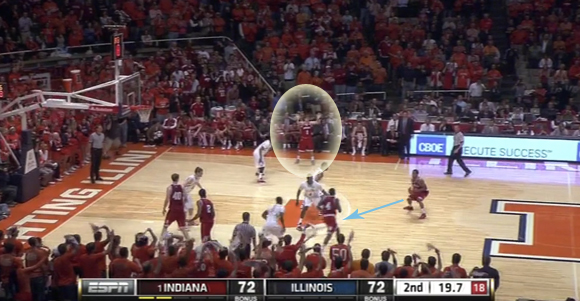 As Oladipo gets the ball, Hulls still appears to be ballhunting: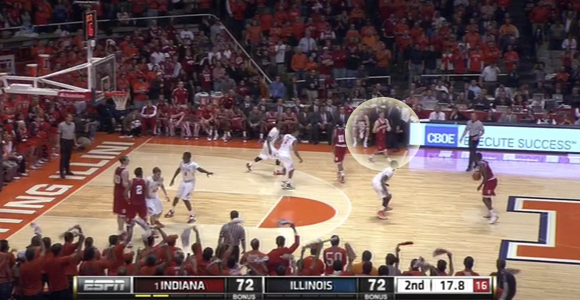 With Oladipo coming left, Tom Crean calls out the play: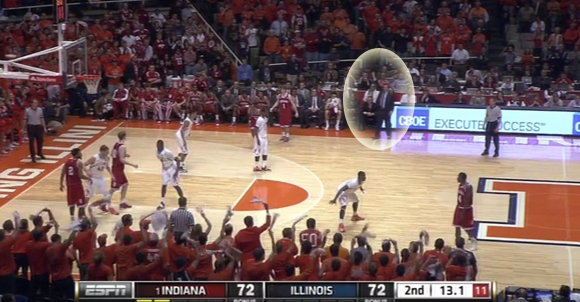 Zeller eventually comes up and sets a ball screen for Oladipo: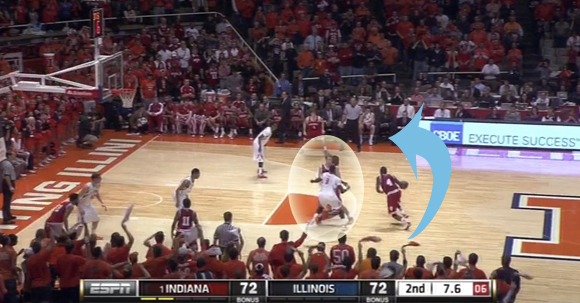 Oladipo takes it right and Hulls comes behind him, seemingly looking for a potential handoff. Oladipo instead goes behind the back, as he has room in the lane, as detailed here: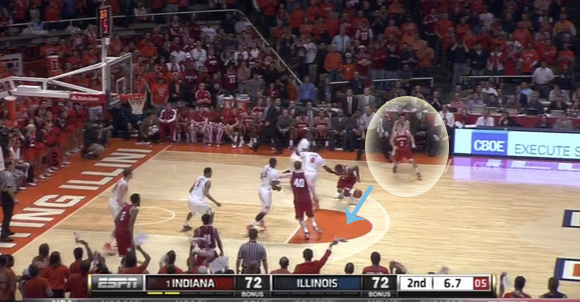 But the behind-the-back dribble ends up getting away from Oladipo, and Richardson takes it the other way: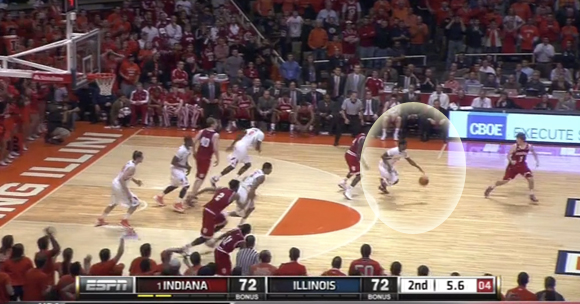 The coincidental thing about Hulls looking for the ball — remember: Crean was subbing Hulls on defense for offense here and you wonder if he just badly wanted to be involved — is that it allowed him to at least get in front of Richardson on his drive to the hoop. If he hadn't come around to the back of Oladipo, it could have been ballgame before Griffey's basket, as Oladipo may not have been able to chase him down without Hulls slowing him a tiny bit.
Video:
IV. THE GAME-WINNER
Here we see Richardson and Griffey coming to each other between the right elbow and the right wing. This appears to be the exact same play the Illini ran on Richardson's first 3-pointer over on the left side of the court: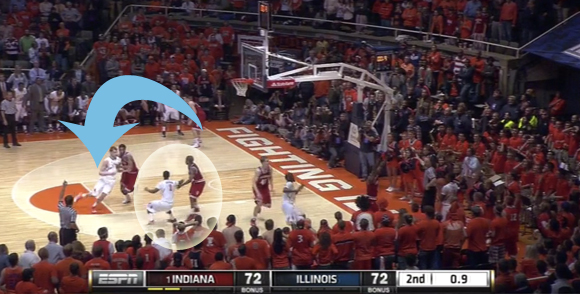 Again, Griffey finds a way to get his body in and Richardson comes free behind him once more: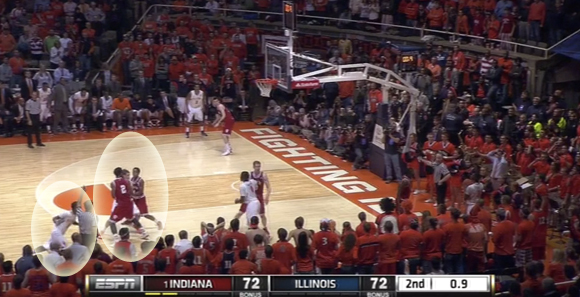 With McLaurin again coming into the picture and setting a screen on Ferrell, he tries fighting through as Watford is trying to get to Richardson before it's too late. Zeller is looking at Richardson as well. So we have all three Hoosiers paying attention to one guy and not communicating: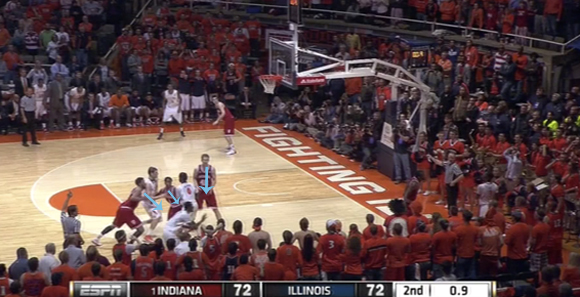 With Watford through, Yogi hidden behind McLaurin's body and Zeller again staying statue-esque and looking at Richardson, Griffey begins to make his cut to the hoop: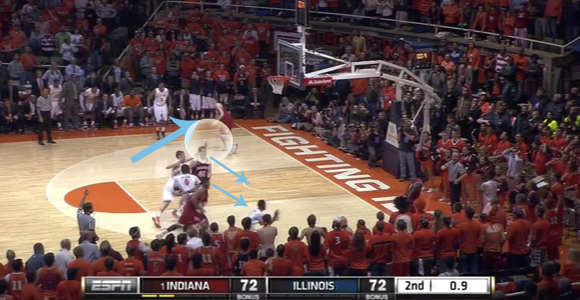 He receives the ball: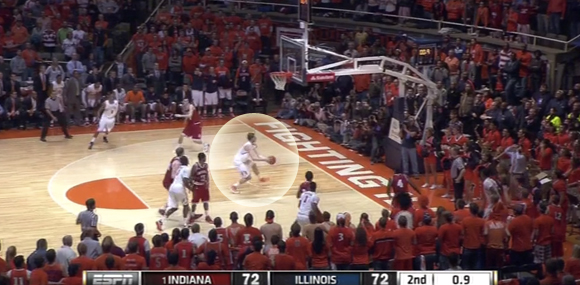 And all five Hoosiers can only watch it unfold: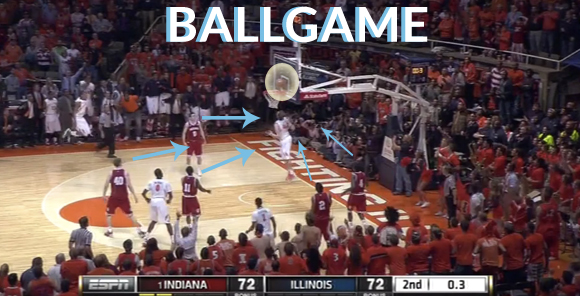 With all the attention going to Richardson — and perhaps rightfully so after he hit back-to-back 3-pointers, a stepback jumper to tie the game and then stole the ball and nearly scored the game-winner — Griffey was able to sneak behind for the score.
Video:
Filed to: Illinois Fighting Illini