The Minute After: Illinois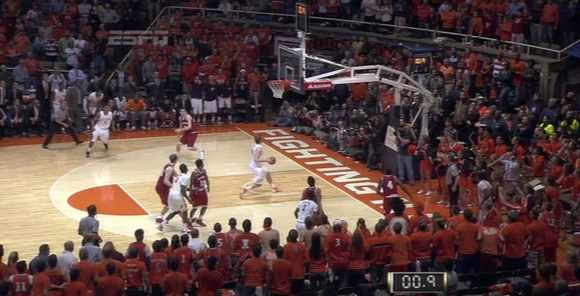 Thoughts on a 74-72 loss at the hands of the Illini:
"We didn't put them away when we had the opportunity. That's really the bottom line." — Tom Crean
The Illini hung tight, never letting the Hoosiers step on their throats, never letting this game reach blowout territory. So they would stay within striking distance all second half, the lead oscillating between 6-13 for the first 17-plus minutes. And then it happened. On a night when the Illini had been struggling from distance once again in conference play, D.J. Richardson connected on a triple to cut the lead to five at the 2:49 mark. An empty Indiana possession. Another Richardson 3-pointer. Lead down to two. A missed Will Sheehey 3-pointer, a Richardson jumper, a tie ballgame at 70-all.
But there was Victor Oladipo, so calm and cool, driving to the bucket and scoring to put the Hoosiers back on top. Oladipo fouled Paul on the ensuing Illini possession. He would badly overshoot his first free throw; it hit the backboard, the rim, and the backboard once more before finding its way into the net. Just the way he drew it up. His second would fall. We were tied once more.
Indiana's last possession of the ballgame saw Oladipo trying to go behind his back. It resulted in a turnover and Richardson was about to put the Illini up again. But Oladipo, so calm and cool, would chase down Richardson and swat his shot into the stands. Just 0.9 remained. The Illini needed a miracle or we were headed to OT. They got it. The Hoosiers got crossed up on the inbounds. Watford, who had been marking Tyler Griffey, switched with Yogi Ferrell and went with Richardson on a screen near the right corner. Another screen came from Sam McLaurin, and Griffey cut to the basket behind Cody Zeller's and Ferrell's back and had a free run to the hoop. Griffey, who had missed a bunny just minutes earlier and had scored just 14 points over his last five games, scored his 14th tonight at the buzzer to pull off the upset.
No. 1 falls once more this season in college hoops on the strength of a 13-2 finishing run for the Illini, and Indiana's second grasp on the top spot in the land is gone with it.
II. Tweeted this in the closing minutes of this one, but get this: Indiana, a team that runs and runs and runs, did not score a single fast break point tonight. But it (almost) didn't matter the Hoosiers weren't getting their normal easy looks in transition, because they were strong enough in the halfcourt tonight (1.15 points per possession). Time and again, Indiana would attract the Illinois defense and find the open man. It allowed them several strong looks from 3, and they hit over 50 percent of them (9-of-17). This included two from Jeremy Hollowell who hadn't hit one from distance since Dec. 1 against Coppin State.
And when Indiana wasn't hitting the open man beyond the arc, they were finding guys moving off the ball and to the rim. Chief among them was Will Sheehey, a benefactor of catching the sleeping Illini D for dunks and lay-ins. He finished the night with 13 points and a technical he probably picked up based on his taunting reputation. The Hoosiers were also stellar again from the line (13-of-14, 92.2%) and that's starting to become a trend. IU also pumped in 1.15 points per possession. Not terrific, but (almost) good enough to win. It was also a balanced attack with Zeller (14 points), Watford (12 points), Jordan Hulls (11 points), Oladipo (nine points) and Ferrell (seven points) all chipping in to go along with Sheehey's 13.
Yet, here's what it came down besides just failing to close this one out: The Hoosiers allowed the Illini 1.12 points per possession, up from what they'd been averaging in conference (.98 points per possession). And Indiana, a team that's continuing to turn the ball over too much, did it again tonight (16 turnovers, 23.1 turnover percentage). The Illini scored 28 points off these turnovers, which comes out to 37.8 percent of their points.
You can get away with it sometimes. But sooner or later, you waste too many of your possessions, the other team capitalizes and you end up on the wrong end of the W.
Filed to: Illinois Fighting Illini